The Battle for the World's No. 1 National Team
1952 Summer Olympics, Helsinki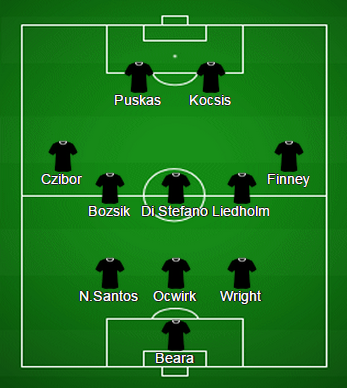 World Select XI 'Dream Team' of the first half of the 1950s.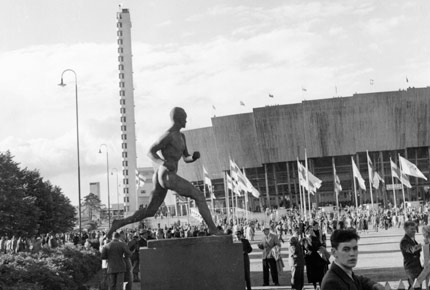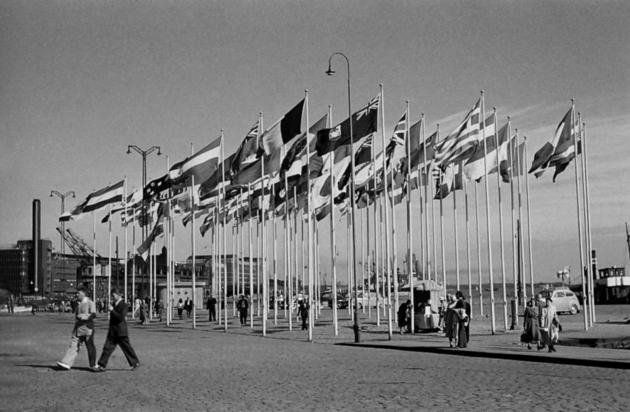 The very memorable 1952 Olympic Games in Helsinki was taken very seriously by the Hungarian politicians, and their team managed to earn third place honors for medals behind the vastly bigger United States and Soviet Union.

The following is the record of the Hungary national team's home and away matches from May 1948 to their meeting with Yugoslavia in the 1952 Olympic championship match.
No.

Date

Venue

Type of Gm

Opponent

Goals For

Gls Ag

Opponent World Rank

1.

5.23.1948

Away

Gero Intl. Cup

Czechoslovakia

2

1

No. 16

2.

6.6.1948

Home

Balkan Cup

Romania

9

0

No. 41

3.

9.19.1948

Away

Balkan Cup

Poland

6

2

No. 33

4.

10.3.1948

Home

friendly

Austria

2

1

No. 15

5.

10.24.1948

Away

Balkan Cup

Romania

5

1

No. 40

6.

11.7.1948

Away

Balkan Cup

Bulgaria

0

1

No. 57

7.

4.10.1949

Away

Gero Intl. Cup

Czechoslovakia

2

5

No. 21

8.

5.8.1949

Home

Gero Intl. Cup

Austria

6

1

No. 16

9.

6.12.1949

Home

Gero Intl. Cup

Italy

1

1

No. 2

10.

6.19.1949

Away

friendly

Sweden

2

2

No. 3

11.

7.10.1949

Home

friendly

Poland

8

2

No. 42

12.

10.16.1949

Away

friendly

Austria

4

3

No. 16

13.

10.30.1949

Home

friendly

Bulgaria

5

0

No. 46

14.

11.20.1949

Home

friendly

Sweden

5

0

No. 5

15.

4.20.1950

Home

friendly

Czechoslovakia

5

0

No. 20

16.

5.14.1950

Away

friendly

Austria

3

5

No. 13

17.

6.4.1950

Away

friendly

Poland

5

2

No. 44

18.

9.24.1950

Home

friendly

Albania

12

0

No. 63

19.

10.29.1950

Home

friendly

Austria

4

3

No. 14

20.

11.12.1950

Away

friendly

Bulgaria

1

1

No. 55

21.

5.27.1951

Home

friendly

Poland

6

0

No. 43

22.

10.14.1951

Away

friendly

Czechoslovakia

2

1

No. 19

23.

11.18.1951

Home

friendly

Finland

8

0

No. 82

24.

5.18.1952

Home

friendly

East Germany (non-FIFA but full international)

5

0

No. 30
provisional

25.

6.15.1952

Away

friendly

Poland

5

1

No. 45

26.

6.22.1952

Away

friendly

Finland

6

1

No. 75

27.

7.15.1952

Neutral

1952 Olympic Games Grp.

Romania

2

1

No. 33

28.

7.21.1952

Neutral

1952 Olympic Grp.

Italy

3

0

No. 5

29.

7.24.1952

Neutral

1952 Olympic Quarterfinal

Turkey

7

1

n/a

30.

7.28.1952

Neutral

1952 Olympic Semifinal

Sweden

6

0

No. 11

Defensive and Offensive Averages in 30 starts: 24 Wins, 3 Draws, 3 Losses
Winning Percentage: 85.00 % / Undefeated Percentage: 90.00 %
in equiv. top-tier professional American football, 24-3 (45.7 points/game)

4.57

gls/gm

1.20 gl/gm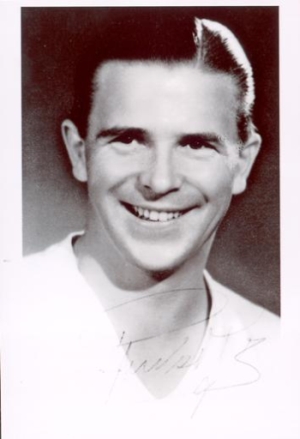 Before Puskás played on or managed teams that entered the European Cup finale six times he had been a hero and already the world's greatest international goalscorer and world's finest player, a megastar at home, a world superstar abroad with a very famous world career that gave him half his greatness. Before his Spanish playing years, he'd won 5 domestic titles with Honved-Kispest along with four national MVP (Most Valuable Player) scoring honors. Öcsi holds the major distinction of playing on three of the supremest sides of all-time.
Years of modern well-performed football, a voyage of a venture of classic men with Ferenc Puskás always the head and ideal, was now to batter the gates in denser games in the summer of 1952. Puskás, charmed with a sparkling left-foot and keen footballing brain that leaves many admirers, was the sportsman whom the late 1940s to the mid-1960s European football fêted most. He is a factor in all their games and victory's dazzle with the most solid announcements of any. He inaugurates all to many domestic titles and hoist-ups of international wins by giving them an exhaustless long rolling attack and is the greatest who contributes the greatest original example. Marking through these in duplicate power is Sándor Kocsis and the old campaigner Hidegkuti, and the game's mariners' compass where perceiving is side to side and upfield, the all-supplying József Bozsik.
Like a mighty, gallant ship on a course a little over two years unbeaten since May 1950, Hungary was continually advancing the most devastating conclusions that would successfully imply a rich, sonorous and new thematic handle. But in 1952, they occupied the position of the strangely talented who do not fail to please current tastes with prepossessing sights and orchestral thinking as a team mightier than any other in recent memory.
Most of their games were superb by any measure that made fabulous gains as a team of good hope. With the energetic go-getting Puskás, the star who lead the athletically advanced, they abound in surging scores that made it reveal hoards of goals and delighted in ransacking defenses to overstep their last twenty rivals by averaging 5.10 goals/game as most sides were overwhelmed by the players astride the Danube that describes a team that was always on the move. News traveled along the footballing grapevine that a vibrant, skillful and determined team from Central Europe was rising and able to test the resilience of the much bigger teams.
In the lead up to the 1952 Summer Olympic games held in Finland, Hungary hard-hitting Hungarian campaign carried all before them, the upshot of their strenousity dashing teams astray with scoring aura yielding to aura such as Europe had never seen before.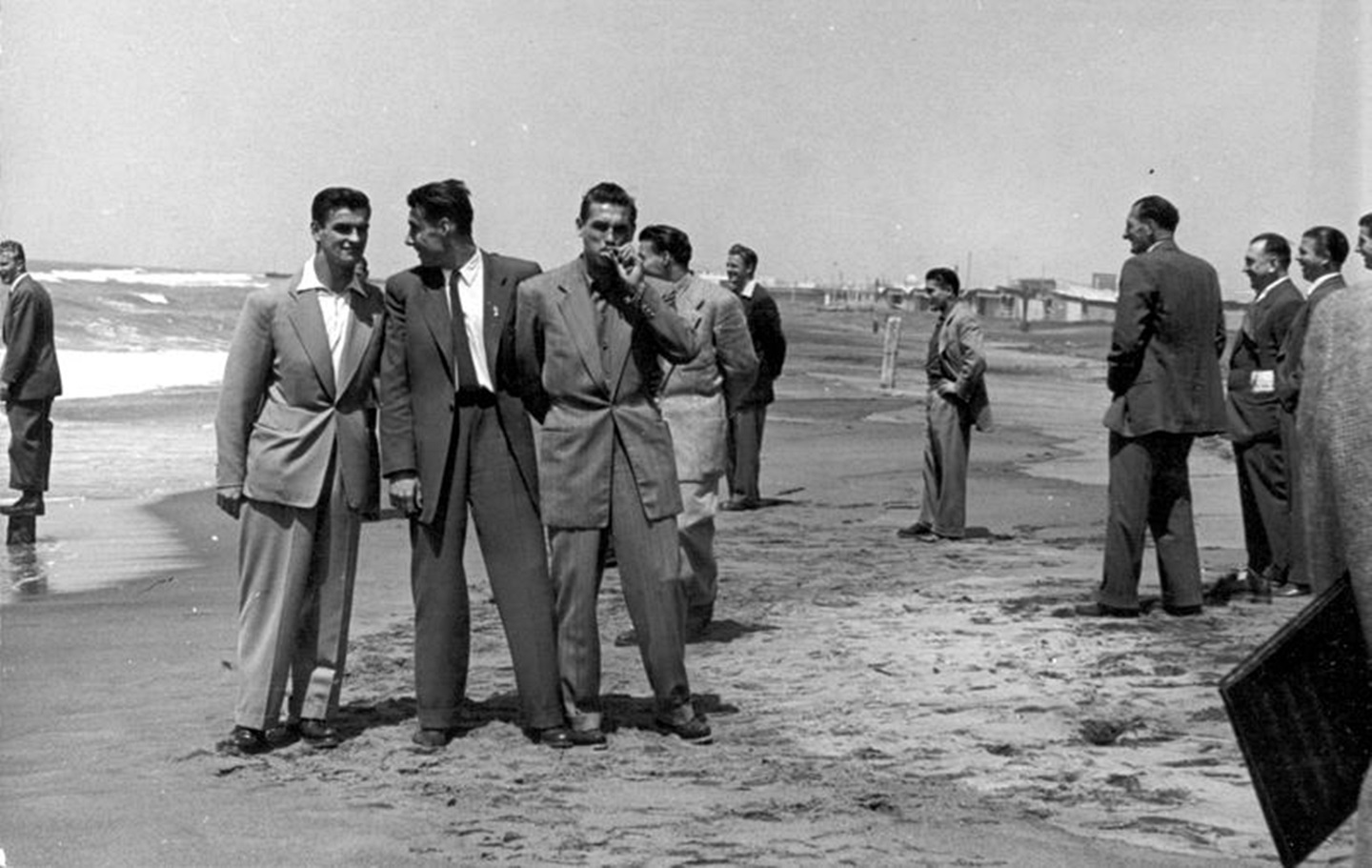 The great Magyar team on the beach in Finland, July 21, 1952 before their game with the world's No. 5 Italy at the 1952 Olympics.

With craft-oriented turns of an already a strong drive, the Hungarian team turned up to the 1952 Summer Olympics as preludes to further glory in a highly entertaining men's football tournament where their command of the game was first practically tested and saw them first triumphantly launched. The spirit of the Hungarian team traveling to Finland, one of only two countries in Europe with a kindred language related to Hungarian, was high and the players were beginning to find fame as very solid reputations were achieved that earned them a good reception with the Western press. Good press by sports commentators offered better visibility outside the Socialist Bloc and with its many affirmative talents aligned the team's status quickly climbed from that of a creative novelty to that of an acknowledged master waiting for its long-sought releasing monument.

The team soon lit up the tournament in a five game public showing, first defeating Romania 2-1, then Italy 3-0, before routing Turkey 7-1 in the quarterfinals. Facing them squarely in the semifinal were the 1948 defending Olympic champions who had earned a third-place finish at the 1950 World Cup in Brazil, a much-fancied Swedish team thought to pose a grand challenge for the Hungarians.

Showing new tactical signs and meeting the examples of old and new heroes and finding them unchanged from earlier greatness, it was an hour prophetic in a triumphant tutti. Disporting an exultant offense shaking teams with a high-scoring grandiosity, the Swedish team would feel sublimely attacked by an exuberant derring-do of men answering the call of colossal matches in a alluring football language at once pioneering and swiftly leapt beyond Sweden like something escaped from the anchorage and driving free.

In a performance highly rated as one of their finest, a Puskás first minute goal was the start to a thoroughly emphatic game that served positive notice to the most influential circles in the European football community. It was clearly this one game with Sweden where they won easily 6-0 that marked them out in the public's mind and unmistakably first brought Hungary to the world's attention, and it resonated with one especially, Stanley Rous, secretary general of the English Football Association and future FIFA President. Having cast a superior view upon the day's matchless drama and enjoying the elemental contest below, Stanley Rous relished the spectacle as wholly delightful, smiled a deferential salutation, put in a significant handshake, praise and turned to his Hungarian counterpart. Freely translated his words are these: "Look, you'll have to come to London and play England soon. Let's shake hands on it."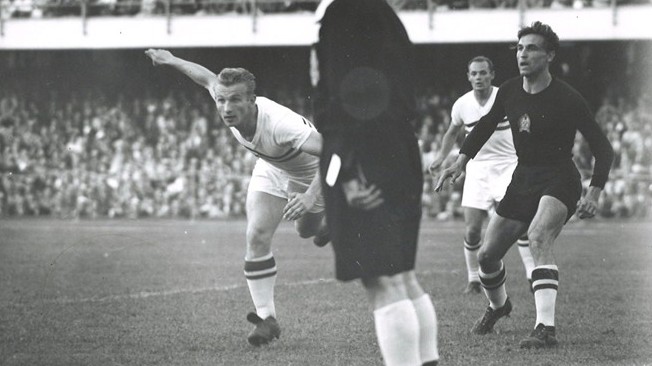 Defensive mainstays Lantos (left), Buzánszky and keeper Gyula Grosics in during a defensive sequence in the 1952 Olympic games.
The following is the record of the Yugoslav national team's home and away matches from Dec. 1949 to their meeting with Hungary in the 1952 Olympic championship match.
Date

Venue

Type of Match

Opponent

Goal For

Goal A.

Opp. World Rank

12.11.1949

Neutral

World Cup qualif.

France

3

2

No. 20

5.28.1950

Home

friendly

Denmark

5

1

No. 19

6.11.1950

Away

friendly

Switzerland

4

0

No. 23

6.25.1950

Neutral

1950 World Cup

Switzerland

3

0

No. 24

6.29.1950

Neutral

1950 World Cup

Mexico

4

1

No. 14

7.1.1950

Neutral

1950 World Cup

Brazil

0

2

No. 4

9.3.1950

Away

friendly

Sweden

2

1

No. 5

9.7.1950

Away

friendly

Finland

2

3

No. 81

9.10.1950

Away

friendly

Denmark

4

1

No. 19

10.8.1950

Away

friendly

Austria

2

7

No. 14

11.5.1950

Home

friendly

Norway

4

0

No. 42

11.22.1950

Away

friendly

England

2

2

No. 4

2.6.1951

Away

friendly

France

1

2

No. 24

5.6.1951

Away

friendly

Italy

0

0

No. 3

6.24.1951

Home

friendly

Switzerland

7

3

No. 23

8.23.1951

Away

friendly

Norway

4

2

No. 41

9.2.1951

Home

friendly

Sweden

2

1

No. 7

6.25.1952

Home

friendly

Norway

4

1

No. 38

7.15.1952

Neutral

1952 Olympics Games

India

10

1

No. 49

7.20.1952

Neutral

1952 Olympics

Soviet Union

5

5

No. 26

7.22.1952

Neutral

1952 Olympics

Soviet Union

3

1

No. 26

7.25.1952

Neutral

1952 Olympics

Denmark

5

3

No. 20

7.29.1952

Neutral

1952 Olympics

West Germany

3

1

n/a

Ave: Goals Scored | Goals Against | Strength of Opposition in 23 matches (16 victories, 3 draws, 4 losses)
Winning Percentage: 76.09 % / Undefeated Percentage: 82.61 %
in equiv. top-tier professional American football, 16-4 (34.3 points/game)

3.43 gls/gm

1.74 gl/gm

average:


No. 23.9
---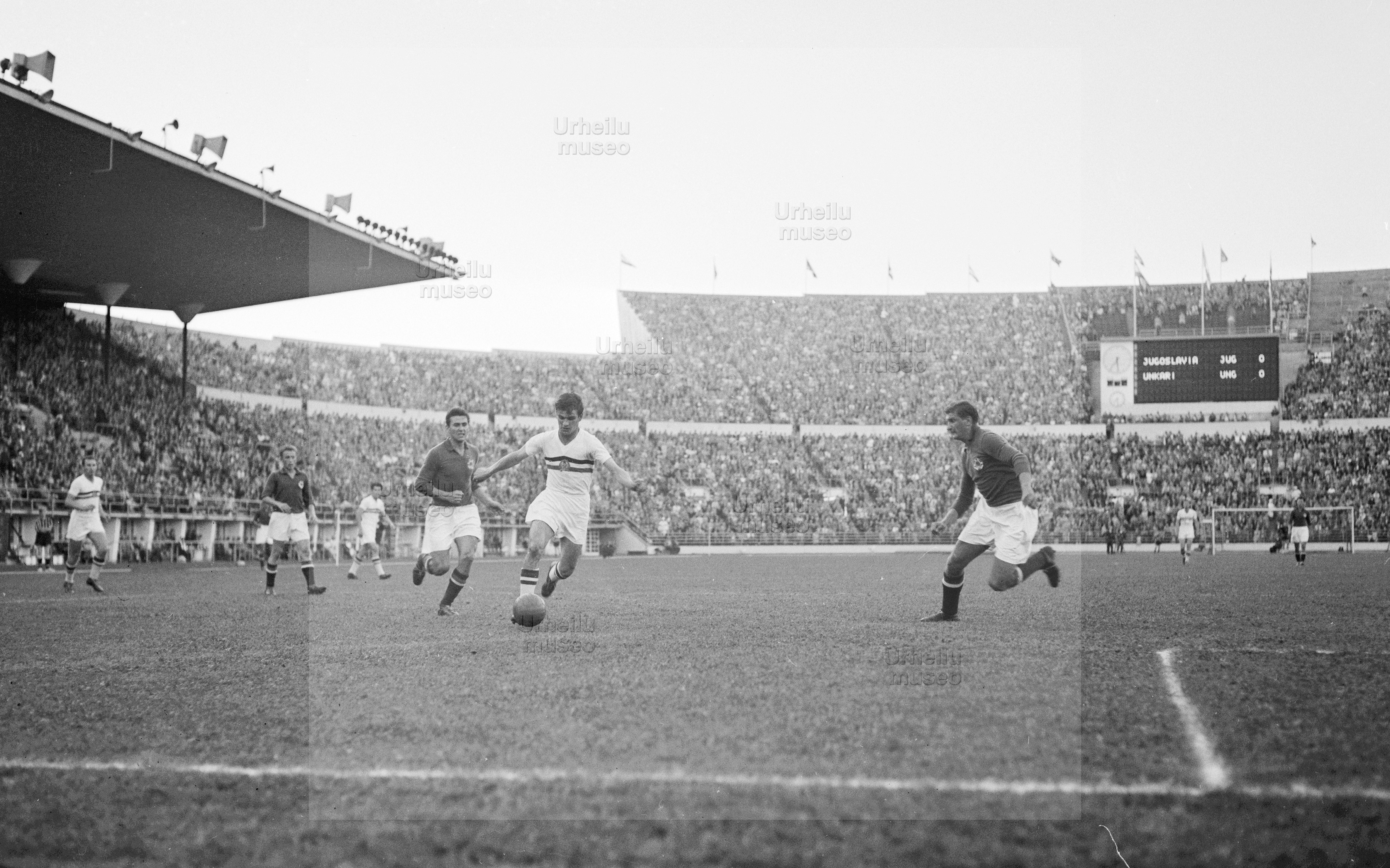 Supreme forward Sándor Kocsis going upfield against the Yugoslavs in a hard and skillful match in front of the largest audience ever to see a football game in Finland.
Placed before them in the championship Final in Helsinki Olympic Stadium were the world's No. 5 team — their neighbors to the south, with whom good relations foundered on ideological political fault lines. This kindred neighboring power, Yugoslavia, under the Marshal Josip Tito had taken a more moderate course and had maneuvered into a traditional position that was largely unrelated to the politics of Moscow, and Tito as politician was not very committed as a fledged partisan of the old Soviet dictator Stalin.
Intensively practiced in the surest material of the game, the 1948, 1952, 1956, 1960 Olympic Finalist Yugoslavia was clearly a strong force making toward an emerging tier-one European footballing power rivaling the great Hungarians to the north. During this period Yugoslavian football evoked a strong sense of place among Europe's stalwarts with a well-coordinated, stout attacking genre. This resurgent offensive team had successfully assailed Sweden in September of 1950 with a 2-1 win in Stockholm and nearly brought down England's footballing empire in London on November 11 with a hard-fought 2-2 match. In the spring of 1951, they met the world's number-three in Milan and had battled the Italian side in their prime to a scoreless tie. Getting past West Germany 3-1 in the Olympic semifinal will bring Yugoslavia into the presence of a team unlike any other of recent times, a scintillating side far more definitive that averaged 4.57 goals/game and conceded 1.2 goals/game while mastering 24 wins and 3 ties in thirty previous matches.
With the stakes so high, everyone could feel the unimpeachable sense of destiny of two high-scoring irrepressible tides and competent strides about to clash, the winner to demonstrate a new-found power as a footballing lodestar in Europe, the game's meaning all the more inspired and informed by the intersection of politics and sport. Prior to his travel to the games, the communist dictator Mátyás Rákosi phoned up the national coach himself to say that losing in the final would not be tolerated by the authorities.
Of the many foreign correspondents writing of the tournament was a young Spanish reporter who wrote about the success of the Hungarian footballers at the 1952 Olympics. He was no less a person that Juan Antonio Samaranch, who was then a correspondent for the Spanish newspaper La Prensa. Samaranch was later to become one of the century's most recognizable public spirits who cut a grandiose figure in the Olympic movement as the future President of the International Olympic Committee (1980–2001).
The Olympic gold medal game against the Yugoslavs was a hard and rough affair and spiritedly played, the outcome balanced on palpable tension for much of the game with 60,000 Finnish fans supporting the Hungarian athletes to the finish. Puskás missed from the penalty spot but Yugoslav players struggled through Hungary's set of defensemen directly within Grosics' province and can find no edge. Braced in the beams by a tenacious, acquisitive and tireless defense, each man hits his place and Yugoslav players begin to feel the puzzle of puzzles and are reached at by what never tires, an adhesive Magyar defense that does not give out.


Parity was broken in the 70th minute when the Yugoslav backline was penetrated by Puskás, who muscled past a defender to seize a long rebounding ball, dodged the sprawling goalkeeper and neatly tucked a short grounder past two desperately onsetting defenders in front of an empty goal. Hungary 1 : 0 Yugoslavia ( Puskás ) 70th minute
Zoltán Czibor broke off from a tangent and direct action at flank with a long supportive volley at the 88th minute that sailed inside the left post as they go towards the best toward something great and sent a new, great commanding team among the elite. Hungary 2 : 0 Yugoslavia ( Puskás 70', Czibor 88' ) Final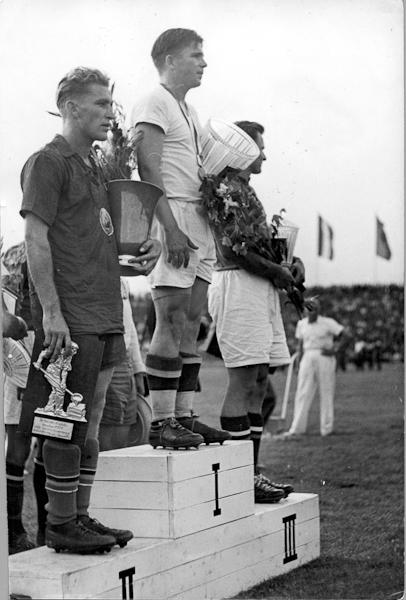 Taking a podium stand in first-place, the effervescent Puskás.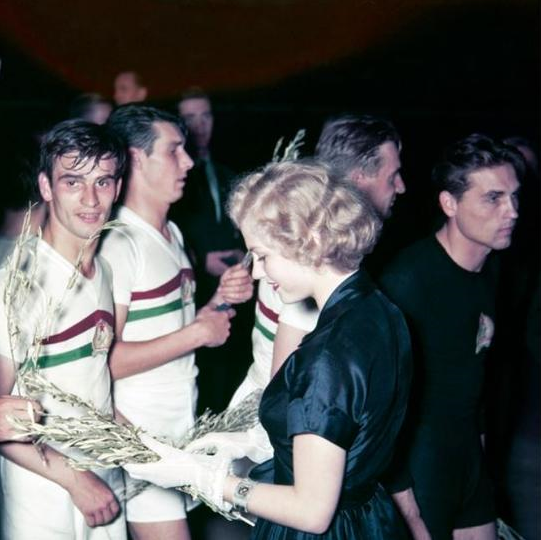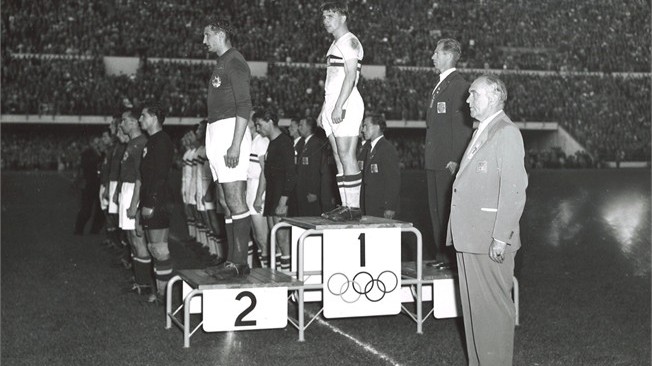 Puskás took the podium stand with joyful acceptance, proud that his class had graduated to the pinnacle of Olympian acclaim. In the ceremonies on the field, the gold medaling footballers were congenially greeted and given flowers by the lovely Finnish Armi Kuusela, who months before became the world's first to hold the title of Miss Universe that she won in the United States. The admired Mrs. Kuusela lead a charming storied life in Finnish cultural zeitgeist, and after many travels, detours and globe-trotting stations in between with noted celebrities as a reigning beauty and glamour girl finally found welcoming abode in La Jolla, an affluent suburb of San Diego, California where she currently resides as a donor in philanthropic causes.
San Diego, California right after its capture from Mexican government forces in 1849 was a small nondescript slumberous harbor town straddling the Mexican frontier 30 miles to the north. After liberating American triumphant procession into San Diego, Count Agoston Haraszty was a patriotic Hungarian aristocrat who would classically lodge into the tapestry of California's historical society for two very important accomplishments: first as the pioneering founding father and curator of the world famous California wine industry that was started in Sonoma, and as the first justice of the peace and sheriff of San Diego County the year California became part of the Union in 1850. Count Haraszty helped lay down to rules for the small burgeoning town to take on momentum moving forward for succeeding years and the small town he help rechristen later came to a title of 'America's Finest City.'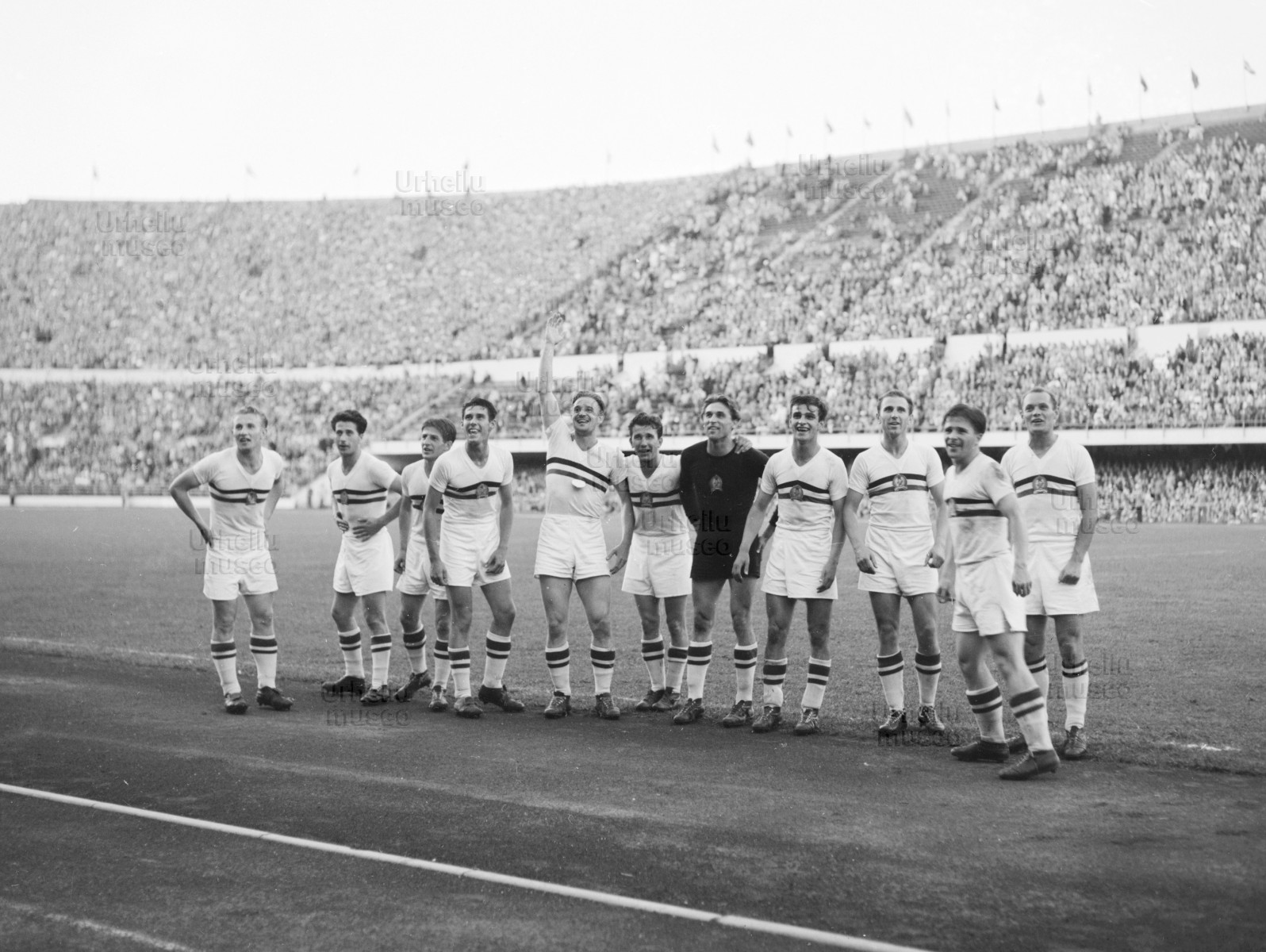 The greatest national team to ever enter and win the Olympics tournament, 1952 Hungary. Afterwards the celebrated eleven became known as the 'Golden Team' in Hungary.
| | | | | | | |
| --- | --- | --- | --- | --- | --- | --- |
| Olympic Rank | Winning Nation | Year | Goal Diff. | Goal Diff/Game | Star Catalyst Player | Goals |
| 1. | Sweden | 1948 | + 19 | 4.75 (4 matches) | Gunnar Nordahl | 7 goals |
| Tie 2. | Hungary | 1952 | +18 | 3.60 (5 matches) | Sándor Kocsis | 6 goals |
| Tie 2. | Uruguay | 1924 | + 18 | 3.60 (5 matches) | Pedro Petrone | 7 goals |
| Tie 3. | Great Britain | 1908 | + 17 | 5.67 (3 matches) | Harold Stapley | 6 goals |
| Tie 3. | Argentina | 2004 | + 17 | 2.83 (6 matches) | Carlos Teves | 8 goals |
| Tie 4. | Hungary | 1964 | + 16 | 2.67 (6 matches) | Ferenc Bene | 12 goals |
| Tie 4. | Poland | 1972 | + 16 | 2.29 (7 matches) | Kazimeriz Deyna | 9 goals |
| 5. | Hungary | 1968 | + 15 | 2.50 (6 matches) | Antal Dunai | 6 goals |
Defeating Sweden 6-0 and Yugoslavia 2-0, and scoring 20 goals and conceding only two during the whole tournament are among the grander monuments for Puskás and his teammates. Hungary's 2-0 Olympic victory signaled a rise from a Continental to that of a world power and its reveille had been sounded. The sobriquet 'The Golden Squad' first became a popular term of endearment back in Hungary and they paraded down Budapest's grand boulevards turning out handsomely in well dressed sartorial elegance at the head of the victorious homecoming Olympic squad in front of hundreds of thousands and became the property of the sweet city and nation as prominent citizens. In the summer Olympics, up to the present, Hungary has been the great representative of footballing success, winning three Olympics gold medals (1952, 1964, 1968) and managed a second-place silver in 1972, and a third place in 1960.

Hungary's Success at the Summer Olympic Football Tournament: (1900 - 2012)
| Nation | Gold (3 pts) | Years | Silver (2 pts) | Years | Bronze (1point) | Years | Total Points |
| --- | --- | --- | --- | --- | --- | --- | --- |
| Hungary | 3 | 1952 | 1964 | 1968 | 1 | 1972 | 1 | 1960 | 12 points |
| Yugoslavia | 1 | 1960 | 3 | 1948 | 1952 | 1956 | 1 | 1984 | 10 points |
| Great Britain | 3 | 1900 | 1908 | 1912 | - | - | - | - | 9 points |
| Soviet Union | 2 | 1956 | 1988 | - | - | 3 | 1972 | 1976 | 1980 | 9 points |
| Brazil | - | - | 3 | 1984 | 1988 | 2012 | 2 | 1996 | 2008 | 8 points |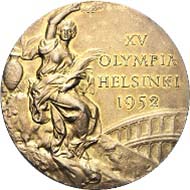 Right-winger László Budai's Olympic gold medal he received after the 2-0 victory over Yugoslavia.
The triumph of the team on a patch of green grass where joyous life and great freedom flourished to imitate art, unfettered from sobering realities that affected the masses, was a subset of a remarkable larger than life journey that pushed the limits of human possibilities. The influence of Hungary at the 1952 summer Olympics, in proportion to its population, is quite astonishing. The memorable games provided a brief and reliable uplifting interlude of joy and pride for a small resilient nation of just over 9 and a half million seven years apart from the devastation and displacement of World War II before passing into the orbit of a communist police state and into a highly restrictive society. Biding defiance to very long odds, it was during these games that Hungary compiled an amazing Olympic record to manage finishing third in the medals table behind the vastly more prodigious United States and the Soviet Union, earning 16 gold medals along with way with a total count of 42 of all colors. Nothing testified more convincingly to the values cherished by the Hungarian communists and the special importance the Hungarian regime was willing to attach to a full commitment of sporting excellence for the political capital it would confer and made to be a part of the consciousness of Hungarian citizens, young and old, and considered an element of unity and prestige representing the people and accommodated to the purposes of political power.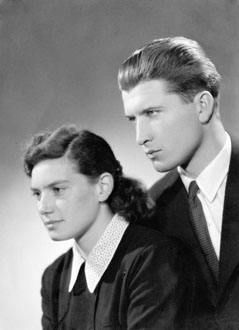 A celebrated and famous marriage of aquatic Hall of Famers: Éva Székely (gold medal at 1952 100 meter breakstroke, a silver medal at the same event in the 1956 Olympics) and husband Dezső Gyarmati, probably the greatest water polo player in history (three Olympic gold medals - 1952, 1956, 1964, a silver medal in 1948, and a bronze in 1960).
Running in parallel with performances on the football field, another sporting force from Hungary again produced glowing recognition, Hungary's water polo team earned gold medal honors in Helsinki — a team that is still regarded in the world as the unsurpassed touchstone. Begun in 1928 at the Amsterdam Olympics and up to the 1952 Olympics, Hungary had managed to win three gold medals along with two silvers the previous five Olympiads.
The team that traveled to Melbourne Australia in December of 1956, three weeks after the Soviets' re-seizure of power over Hungary after the 1956 Revolt that ended the glory of the freedom fight, wherein Puskás, Kocsis, Czibor defected to the West to inhabit an anti-communist Western world in Spain, is thought of still as the most famous and best ever team of them all. They played a Soviet Union team in the semifinal on December 6th in an infamously densely tense and piercing match memorialized by the press as the "Blood in the Water Match" where an aggrieved and physically accosted Hungarian team gained worldwide support and sympathy and went onto to win 4-0. The next day on the 7th of December, they played a Yugoslavia team for the gold medal and won 2-1 and Hungarian water polo were enshrined as the greatest ever, an event which was later made into a moving picture.

Hungary is the considered by all consensus and awarded medals to be the top power in water polo history in Olympics tournaments (1900-2012 as shown below), the FINA Water Polo World Cup and the FINA World Aquatic Championships.
| Nation | Golds (3 points) | Years: | Silvers (2 points) | Years: | Bronze (1 point) | Years: | Total Points: |
| --- | --- | --- | --- | --- | --- | --- | --- |
| Hungary | 9 (27) | 1932 | 1936 | 1952, 1956 | 1964 | 1976 | 2000 | 2004 | 2008 | 3 (6) | 1928 | 1948 | 1972 | 3 (3) | 1960 | 1968 | 1980 | 36 points |
| Yugoslavia | 3 (9) | 1964 | 1984 | 1988 | 4 (8) | 1952 | 1956 | 1964 | 1980 | 1 (1) | 1980 | 18 points |
| Italy | 3 (9) | 1948 | 1960 | 1992 | 2 (4) | 1976 | 2012 | 2 (2) | 1952 | 1996 | 15 points |
| Great Britain | 4 (12) | 1900 | 1908 | 1912 | 1920 | - | - | - | - | 12 points |

Final Medals Count at 1952 Summer Olympic Games
| | Nation | Total Medals | Gold | Silver | Bronze |
| --- | --- | --- | --- | --- | --- |
| 1. | United States | 76 | 40 | 19 | 17 |
| 2. | Soviet Union | 71 | 22 | 30 | 19 |
| 3. | Hungary | 42 | 16 | 10 | 16 |
| 4. | Sweden | 35 | 12 | 13 | 10 |
| 5. | Germany | 24 | 0 | 7 | 17 |
| 6. | Finland | 22 | 6 | 3 | 13 |
| 7. | Italy | 21 | 8 | 9 | 4 |
---

The Inclusion of Nándor Hidegkuti, Sept. 1952

Great as Puskás and Kocsis are said to be, the national side was far better than it was often assumed because the team, like anything great and elaborate, had an extra content that added considerable starch to better seize every mode of play in advance of their competitors—a remarkable scoring motion man who makes a lot of difference, Nándor Hidegkuti, who helped the team to fame.
He wound in and out to put in his browsing expeditions to score goals and fulfilled many forays and was a solid compelling figure, the best backer of the legended line established at a superb center who favors scoring and playmaking the same. Since he was an astute navigator he frequently could (with 39 goals in 69 appearances) and sent to the team another impeccable member able and famous. He later became a famous enfranchised player of the Golden Team and the century's 2nd winning-est player after Sándor Kocsis of those that scored 35 goals or more. With the great scoring rondure of Puskás-Kocsis up front and a self-directing third arrow unpinioned in Hidegkuti the team had become inestimably enhanced that throbs the live sensational game.
Star Catalyst Players

Country

Goals

Wins

Ties

Losses

No. 1

Sándor Kocsis ( 'The Cube' )

Hungary

75

52

10

4

86.36%

No. 2

Nándor Hidegkuti ( 'The Old Man' )

Hungary

39

53

7

7

84.33%

No. 3

Zico

Brazil

48

51

17

3

83.80%

No. 4

Ferenc Puskás (' Öcsi ')

Hungary

83

63

10

10

81.93%

No. 5

Pele

Brazil

77

67

14

11

80.43%

No. 6

Gerd Muller

West Germany

68

45

9

8

79.84%

No. 7

Bebeto

Brazil

39

50

16

9

77.33%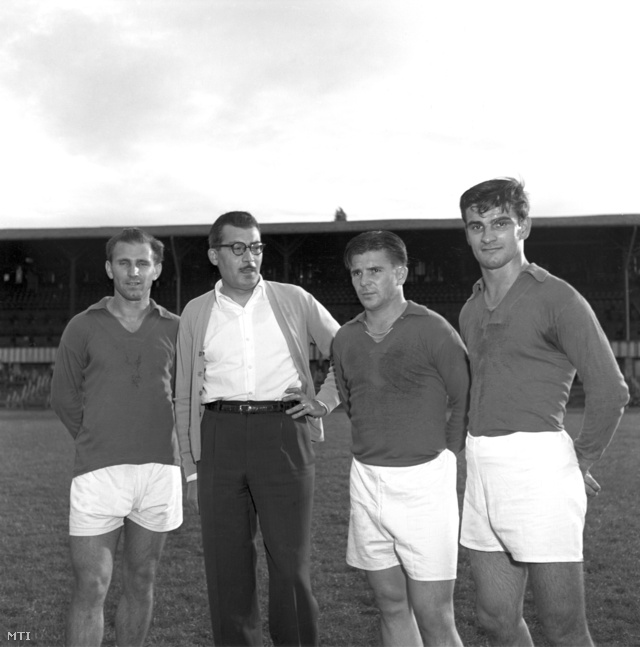 source:http://rsssf.com/miscellaneous/century.html#goals

One of the greatest contributions of the Golden Team had been their campaigning of a prototype player that would lead the path to a tactical furthering— the playmaking withdrawn center-forward. In the midst of the highly versatile and amazingly powerful model, Sebes unveiled a high value surreptitious centerpiece player that was of such sovereign use for great and far-reaching ends. Of a different mold but similarly influential, Sebes introduces a sharp-witted Nándor Hidegkuti as a free trading player behind Puskás and Kocsis. This something subtle and profound nuance of moving Hidegkuti off the main line put the game on a new course and later into football's lexicon entered the fluid station called ' playmaker ' — akin to a browsing, parsing and personally scoring player who directionalizes progressions down field resembling a quarterback in American football.
The unease that his created within opposing lines left them disjointed by drawing a natural tendency from defenses to leave him unmarked and operate freely in space un-buffeted by not being truly an advanced player. With event-driven spontaneity, Hidegkuti provided crashing sorties as ball movement dictated to the center goal area and unlocked in the false No. 9 position a new autonomous menacing robust character in football operating on the event horizon between midfield and the opposing rearguards and between creator and goalscorer. In Hidegkuti were equally blended the instincts of a center-forward and the roving spirit of an attacking midfielder who had many moments of being a rather remarkable player and has, with good reason, been called the 'father of Total Football'.
What wonderful productions of wit, equal verve and profusion of sportive sallies that makes approaches to footballing perfection was Puskás, Kocsis and Hidegkuti involved on? There was, perhaps, no team, however hardened by deep skill and long training, that was better. As players, they continued to meet the one decisive criterion for greatness, that is prevailing even against the most mountainous competition, battling the era's greatest combination talent to triumph: in big classic confrontations against the world's elite (World's Top #12-ranked) they managed to beat 19 teams, while drawing four times and lost but once.
The rolling offense, a spectacular merger of three great players, that lambent sweet rhyme, that repertoire, seeing their designs with a good aroma of glorious verve lead the charge into "modern football" was such an accumulation of feats that won domination over half of their matches (32 out of 60 games from May 1950 to February 1956 ) by a three goal difference or more. Such is often the end of games that Puskás-Kocsis-Hidegkuti played in, the Magical Magyars were sown thick with unquestionable proofs—the three players by October, 1956 stood at the head of their profession with 194 goals between them.
The place is the Wankdorf Stadium in Switzerland, the time is the summer of 1952, the terms re-gained as Nándor Hidegkuti added, completed and extended the main line.
Right after the Olympics were won, Hungary played Switzerland in the ongoing Central European International Cup in a delightful match that was to form and decide identity for the inevitable upfront group and fashion the ensemble's full character for four more years. This international tournament was historically the first between European sides (a forerunner to the European Championship established in 1960) which was a regional playoff with home and away legs between Hungary, Italy, Switzerland, Austria, Czechoslovakia and Yugoslavia.
Since its creation in 1927 Hungary had never won the title, but equipped at last, the 1948-1953 tournament had a fine side presented in it in the newly-minted 'Golden Team' who capably scaled down the tough opposition in the Cup's 1948-1953 reiteration with Puskás being the leading scorer. Manager Sebes had principally used Péter Palotás from MTK in the just-invented withdrawn center-forward position during the Olympics who got along well enough to win his way into the lineup against the Swiss, but one of their changes vivified their game that put them through a yet-record 49 month unbeaten reign.
Early on the Swiss were doing things well and within eleven minutes were two goals to the good that presented cause for concern for Sebes. Sebes was seeking the right answer to keep off a worsening 0-2 score and needed a sparking that was equal to the challenge. With victory wavering, in Palotás' stead came Hidegkuti's insertion in the thirty-first minute in a hopeful bid to see how things compose with Hidegkuti, and he gave them their full return. Mere minutes later, Sebes seemed to be looking at a pleasanter world, a new prosperity that greatly impressed him — it an all the more completely sounder handle on the game where Sebes had seen something of the extraordinary concert moment: "The transformation was amazing. He seemed to complement the partnership between Puskás and Kocsis perfectly, and beautiful passes began to flow amongst them. Before half-time, Hidegkuti laid two goals on for Puskás and we were on level terms."
With the eyes of a familiar compound player more clearly explaining the team, the Hungarian players press on to the theme with all the perplexities of the 0-2 shortfall heavy about them, but there is a special gist that for four years would be triumphantly there, including the neatly enlivening converse Puskás, Kocsis and Hidegkuti had with the ball. Their teamwork revealed a true connection that did not take long for it to become effervescent, breaking towards that fireworks display of sharpened sallies of attacking football. Here all see the bright, visible, blatant beauty of Hungary's game cutting fast across the field to build a remembered comeback.
This last effort of Hidegkuti had a certain ease about it, honing down the storm to fill out the implied harmonies and the players reacted with energy. By setting up Hidegkuti, he connected with Puskás, who added matching goals at the 36th and 45th minutes just before the break and Sándor Kocsis put them ahead in the 56th minute. Moreover, a Hidegkuti extra point in the 74th minute impressively marked the revival with the final score 4-2. In the rebounding event, Sebes had re-taken a shine to Hidegkuti and made up his mind then to have the thirty-year old player (nicknamed the 'Old Man') address the No. 9 position and deployed him in a residence ten meters back of Puskás and Kocsis. Ostensibly, the standing three would essentially define the interior alpha to omega of what was possible at the attack point marshaling a ponderous flood of works around the goal area, each one pretty as the next.
---

1948-1953 European Championship Final, Rome 1953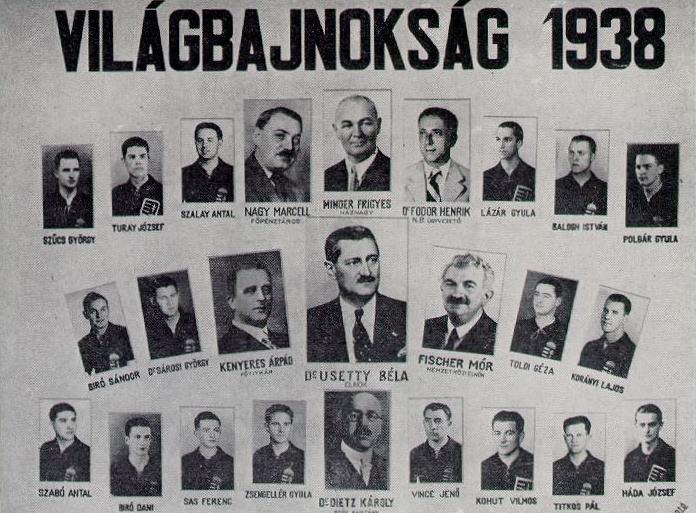 The 1938 Hungarian team that went to the 1938 World Cup Final coached by Károly Dietz, with Dr. Béla Usetty being FA President, was one of the world's premier teams of the 1930s. Hungary entered the 1938 World Cup finale in Paris averaging a goal difference of 4.00 goals per game, the 2nd highest all-time in World Cup history.
On a soaring course since the 1920s of football's growth in Europe, the strongest-lasting forces of Continental football was Italy who put overtures of excellence into the footballing world. The Italian team, the two-time world champion towering in the arena in perfect condition, would play the No. 2-ranked Magical Magyars team in the world for the European championship.
Italy was, in many ways, the frontier for European continental footballing ideas in the early arrangement of the game. Between the two world wars, seventy-eight Hungarian experts, coaches and professionals began working in the Italian domestic league that many many considered ' missionaries '. With a firming up of new training formulations and new standards, football in Italy was brought to a center of excellence. But a rigid form was to control the scoring aptitude of other teams, yet a standard defense did not go into the thinking. The Italians were used to paying particular attention in bringing up teams that held up against demanding standards in work after work and began to venerate hard even aspects as the right method for their football. There was a preference in Italy to naturalize a game marked by masterly economy of impressive depth that evoked unquestioned masterpieces in the 1930s. The happenings of that decade reflected the move towards conservative, foiling designs that was meant to indulge and exhaust other teams, and one of their key innovations had been in modeling a complicated backline that was intended to prevent goals using the Metodo system which was the conspicuous form that kept fascinating Europe.
The magnificent official inaugural of the Stadio Olimpico in the Eternal City, Rome in May 1953. To christen the athletics, the Mighty Magyars were there to play the strongest defense in the world in Europe's Championship decider.
The most thoroughgoing and influential of teams in the 1930s, Italy climbed those most famous mountain-heights of the world, grandly filling tournaments with a compact, well-joined scheme and their success was charmingly saluted by winning two World Cup titles in 1934 (where Czechoslovakia was defeated 2-1) and 1938 (where Hungary was defeated 4-2 in Paris) and a gold medal at the 1936 Olympics in Germany with a heroic and athletic football sporting mantle famous in pre-war Europe. By the end of the decade, Italian football had been transformed into a real force and the guidelines that were to support it in succeeding decades had already been laid down. The long shadow cast by admirable national Italian teams influenced many attitudes of how to rightly play the international game tangibly with a physical scope that was broad and active and tougher than anything. These were the strokes of the master sportsmen of the south, superior to all comers.

Europe's two-time titleholders bestrode the world with one of the planet's untrodden defenses one could meet, and indelibly illustrated a case in point that championships hinged on defensive bedrock that could halter everyone. Their attacking volte face skillfully began the task of edging their way into their opponents and with this last chemistry had run up above them all. Apart a single notable defeat to England in 1948 in Turin, the Azzurri had not competitively suffered a home loss since days of Benito Mussolini since 1934 — never allowing more than two goals into their net in 36 home internationals. Italian teams were carried along by a renowned impetuous which was both rich and strong. Rome was their footballing castle built on constructive power and Italian players kept adding new wings to it all the time to clinch their special domain as the foremost team in Europe to win for itself a place second only to that of the English. Hungary voyaged towards the Italian capital and toward a welcoming foreign ambiance to play in the inaugural of Italy's newly re-designed famous Stadio Olimpico that loomed as Italy's new magnificent basilica of football, the Continent's hardest football company is there who had foreign football geniuses unmanned on their chastened complicated team.
---

Italy National Team from January 1931 to May 1953
Date

Type

Nation

Goals For

GA

Opp. World Rank

1.

1.25.1931

friendly

France

5

0

No. 36

2.

2.22.1931

Gero Intl. Cup

Austria

2

1

No. 6

3.

5.20.1931

friendly

Scotland

3

0

No. 4

4.

11.15.1931

Gero Intl. Cup

Czechoslovakia

2

2

No. 8

5.

12.13.1931

Gero Intl. Cup

Hungary

3

2

No. 10

6.

2.14.1932

Gero Int. Cup

Switzerland

3

0

No. 43

7.

11.27.1932

friendly

Hungary

4

2

No. 11

8.

1.1.1931

friendly

Germany

3

1

No. 13

9.

5.07.1933

Gero Intl. Cup

Czechoslovakia

2

0

No. 9

10.

5.13.1933

friendly

England

1

1

No. 5

11.

12.3.1933

Gero Intl. Cup

Switzerland

5

2

No. 33

12.

2.11.1934

Gero Intl. Cup

Austria (' Wunderteam ')

2

4

No. 3

13.

3.25.1934

World Cup qual.

Greece

4

0

No. 58

14.

5.27.1934

1934 World Cup

United States

7

1

No. 13

15.

5.31.1934

1934 World Cup

Spain (Plays legendary Spanish goalkeeper Ricardo Zamora to a draw.)

1

1

No. 5

16.

6.01.1934

1934 World Cup

Spain

1

0

No. 3

17.

6.03.1934

1934 World Cup SF

Austria (' Wunderteam ')

1

0

No. 1

18.

6.10.1934

1934 World Cup F

Czechoslovakia (Italy wins 1934 World Cup on home soil.)

2

1

No. 7

19.

12.09.1934

friendly

Hungary

4

2

No. 8

20.

2.17.1935

friendly

France

2

1

No. 33

21.

11.24.1935

Gero Intl. Cup

Hungary

2

2

No. 9

22.

5.17.1936

friendly

Austria

2

2

No. 9

23.

12.13.1936

friendly

Czechoslovakia

2

0

No. 5

24.

4.25.1937

Gero Intl. Cup

Hungary

2

0

No. 10

25.

5.15.1938

friendly

Belgium

6

1

No. 41

26.

5.22.1938

friendly

Yugoslavia

4

0

No. 23

27.

11.20.1938

friendly

Switzerland

2

0

No. 21

28.

12.04.1938

friendly

France

1

0

No. 33

29.

3.26.1939

friendly

Germany

3

2

No. 15

30.

5.13.1939

friendly

England

2

2

No. 5

31.

3.03.1940

friendly

Switzerland

1

1

No. 16

32.

4.14.1940

friendly

Romania

2

1

No. 38

33.

5.05.1940

friendly

Germany

3

2

No. 13

34.

12.01.1940

friendly

Hungary

1

1

No. 9

35.

4.05.1942

friendly

Croatia

4

0

No. 11

36.

4.19.1942

friendly

Spain

4

0

No. 4

37.

12.01.1946

friendly

Austria

3

2

No. 16

38.

4.27.1947

friendly

Switzerland

5

2

No. 18

39.

5.11.1947

friendly

Hungary (Puskás scores 1 goal in his 7th cap, Romeo Menti scores winner in 90th minute.)

3

2

No. 7

40.

12.04.1947

friendly

Czechoslovakia

3

1

No. 12

41.

5.16.1948

friendly

England (England's most famous postwar win inspired by Tom Finney.)

0

4

No. 3

42.

2.27.1949

friendly

Portugal

4

1

No. 26

43.

5.22.1949

Gero Intl. Cup

Austria

3

1

No. 18

44.

3.05.1950

friendly

Belgium

3

1

No. 35

45.

5.06.1951

friendly

Yugoslavia

0

0

No. 12

46.

6.03.1951

friendly

France

4

1

No. 25

47.

11.11.1951

friendly

Sweden

1

1

No. 13

48.

5.18.1952

friendly

England

1

1

No. 4

49.

12.28.1952

Gero Intl. Cup

Switzerland

2

0

No. 23

Strength of Opposition in 49 matches (36 victories, 11 draws, 2 losses)
Winning Percentage: 84.69 % / Undefeated Percentage: 95.91 %
in equiv. top-tier professional American football, 36-2 (26.5 points/game)

2.65 glsgm

1.06 gls/gm

No. 15.99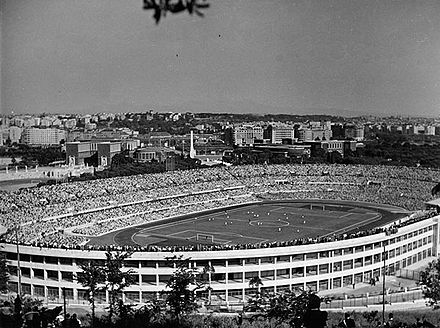 Rome's famous Stadio Olimpico inaugural, May 17, 1953.
The summer of 1953 saw general elections happening in Italy that marked a sizable political rise by the Italian Communist Party, and understandably nowhere was the political campaigning more plainly witnessed than in the capital city Rome. The train that the Hungarians boarded for their journey arrived at the Termini railway station where domestic affairs were conspicuously displayed in the station with uplifting anti-communist pavilions fashioned for crowds, passersby and travelers to behold as a guide to the good life. According to Mr. György Szepesi, the famous Hungarian journalist who broadcast the wonders of the team for his country on radio, once the Hungarians appeared with Puskás at the helm they drew the attention of a crowd of Italians who fraternized with the visiting heralded champion footballers. After passing the Italian frontier, Italian railworkers on finding who were lodged in the caboose, beckoned to show off their new train engine and behold the gregarious Puskás piloting it down the track with a lively sense of winning mirth.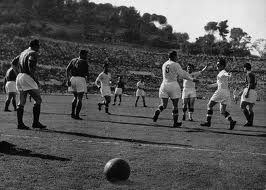 A celebratory scene, a score against the vaunted Azzurri.
A huge Roman audience over 90,000 came to see what finally befalls and has always finally befallen many very good teams. Immense in passion, pulse, and power sweeping the present to the future based on the ancient pinnacle of unfaultering balance and powerful defense, tones of unseen mystery are all here to the throbbest pride, brave confronters of Europe's best. Romans announced their beloved team on savored scoring parsimony that knocked the remnants of vigor and strength out of foreign sides.
Italy, the yet unrivaled one, the team of teams, would face Hungary borne through their marvelous attacking presence that sang the good finales of things on the field. The Magical Magyars came at last into the big football clash in prosperous form proceeding in a kind of mosaic advance and real vision football. It would bring the game's two prototypes face to face: the original makers of giant teams who enjoyed a taxing football dwelling resolutely at home and the feats performed by the finest forward line and the Hungarians' picturesque looseness of carriage that flowed with easy freedom belying tactical guile—the irresistible, of the new and good names from the Olympics to march against Europe's old guard.

With staves of running and a day's strong work comprising of a passing repartee, speed, power and technique, the Magical Magyars so sedulously won over the indefinable hard Azzurri defense that befell every visitor with a strange dulling inertia. By the later edge of the first half, the élan of the Hungarian front gainfully unfastened the rigors of the Azzurri defense by a dialogue of passing from midfield in line with Sebes' advice to coax out the main Italian line to the rewardingly cast deep ball. In the 41st minute Nándor Hidegkuti raced straight into the left side of the penalty area, took the ball away and plowed into it for the first goal. Hungary 1 : 0 Italy ( Hidegkuti 41' )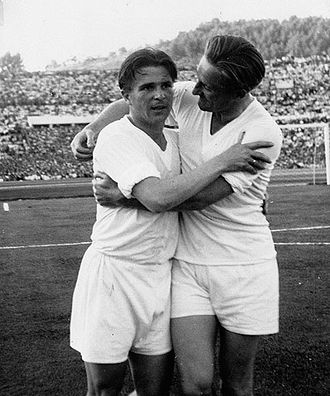 In the 63rd minute, a Sándor Kocsis headed ball found Puskás just above the left corner of the six yard box who firmed up the ball as three defenders scrambled to button down aisles open to Puskás. Initially Puskás deftly cut inside thereby dodging the first defender who brushed past him, and in a flash volleyed home the ball from a tight angle between four softly tumbling legs from the corner for their second score more delicious than any to mingled cheer and applause. Hungary 2 : 0 Italy ( Hidegkuti 41', Puskás 63' )

Five minutes later, Puskás stamped the coloring finish on the match and sublimed away a very memorable feat. The winger Budai got a bouncy pass from Puskás and took possession outside the penalty box on the right, and then played it inside to Péter Palotás. Palotás then skips the ball to Puskás who took up a spot in the penalty arc. A sallying defender from the interior was given a charming cajoling sidestep move by Puskás' cut inside and he slid to the turf raising a cloud of dust and grass. Now Puskás has precious few moments and a tight window open to him before a second defender to his right could reach the ball. In one swift go of it, Puskás drives the ball in a telling straight line from just inside the penalty box past the unbelief of keeper Lucidio Sentimenti and the great prize, a European championship, they see issues at last. They were now a long waked giant team. Hungary 3 : 0 Italy ( Hidegkuti 41', Puskás 63', 68' ) Final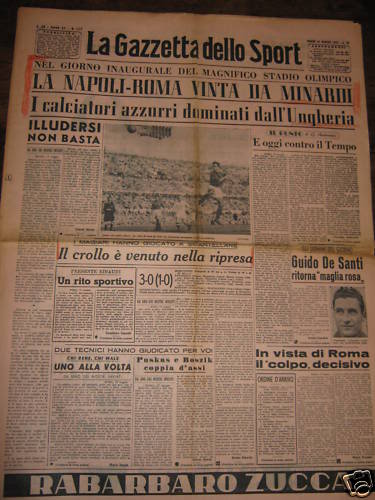 To cap it all, so irrepressible was Puskás not only to win, that while leading 2-0 late in the game he was still shouting his team to speed in the rush of a successful charge, canvassing the others to do the same for continued attacks and keeper Gyula Grosics to give him the ball at every opportunity. Puskás' exhortations has to many ears a thoroughly fantastic sound and Puskás had again done something aptly famous. His attitude delighted Italian fans who though much of the wonderful football efforts they witnessed. Respectful ovation descended on the Hungarian heroes, who were cheered off the field as victors of the five year long tournament. The Italian press was full of praise the day following and described the Hungarian team as the best in the world. Nominated a few months after this game, the very consistent and successful Hungarian coach, Lajos Czeizler, was put in charge of leading Italy at the 1954 World Cup.