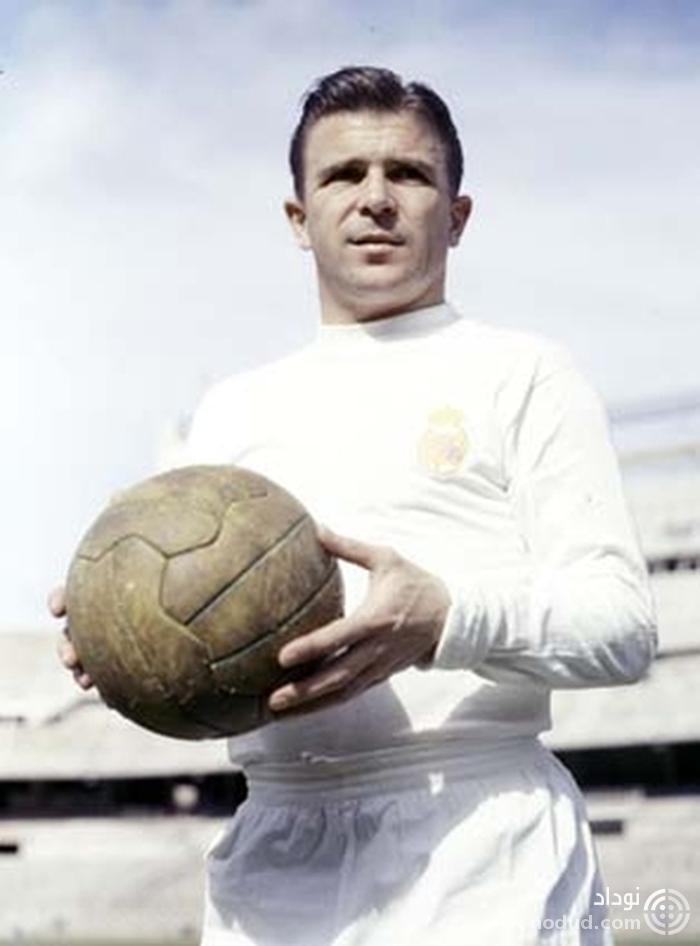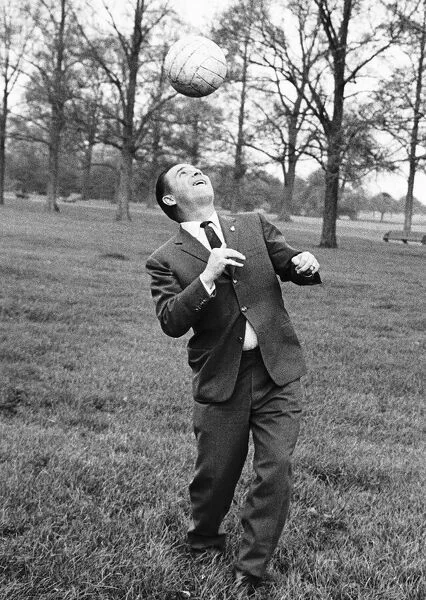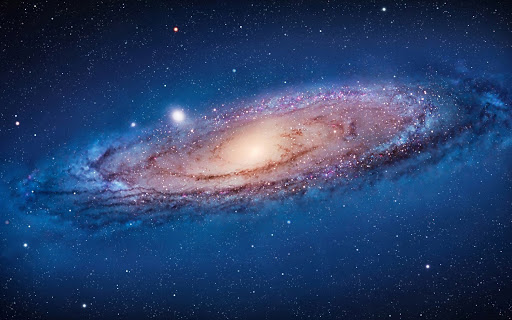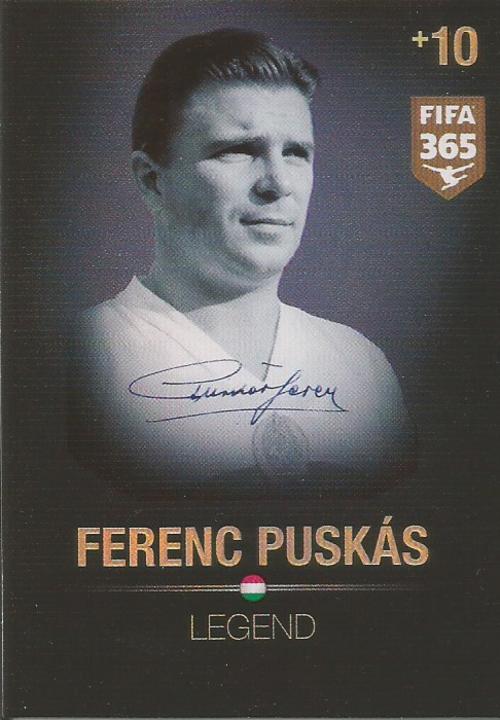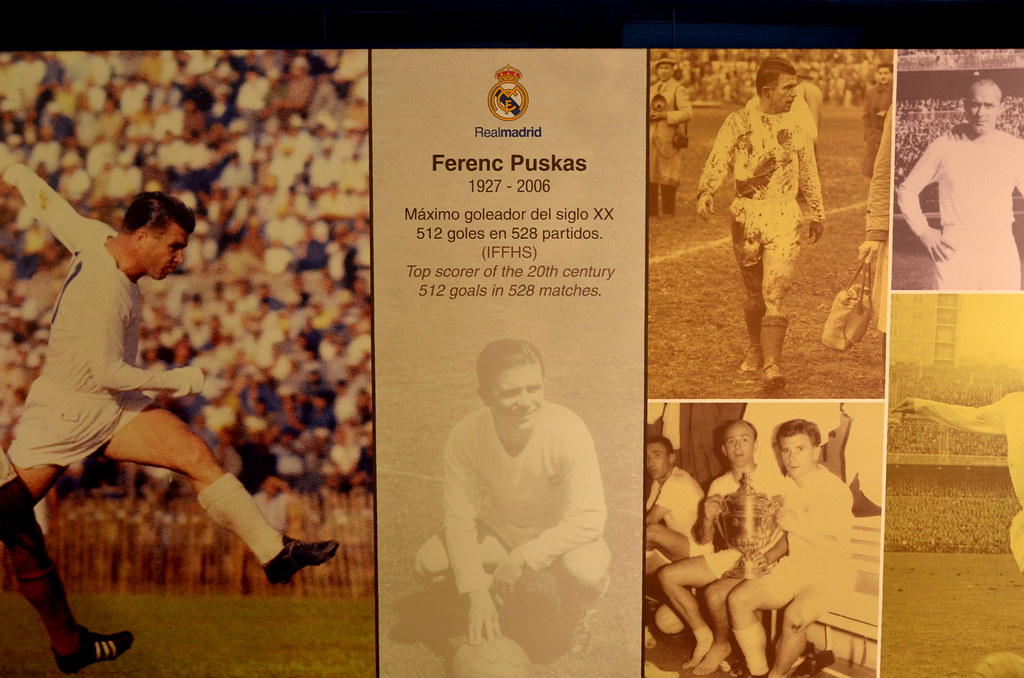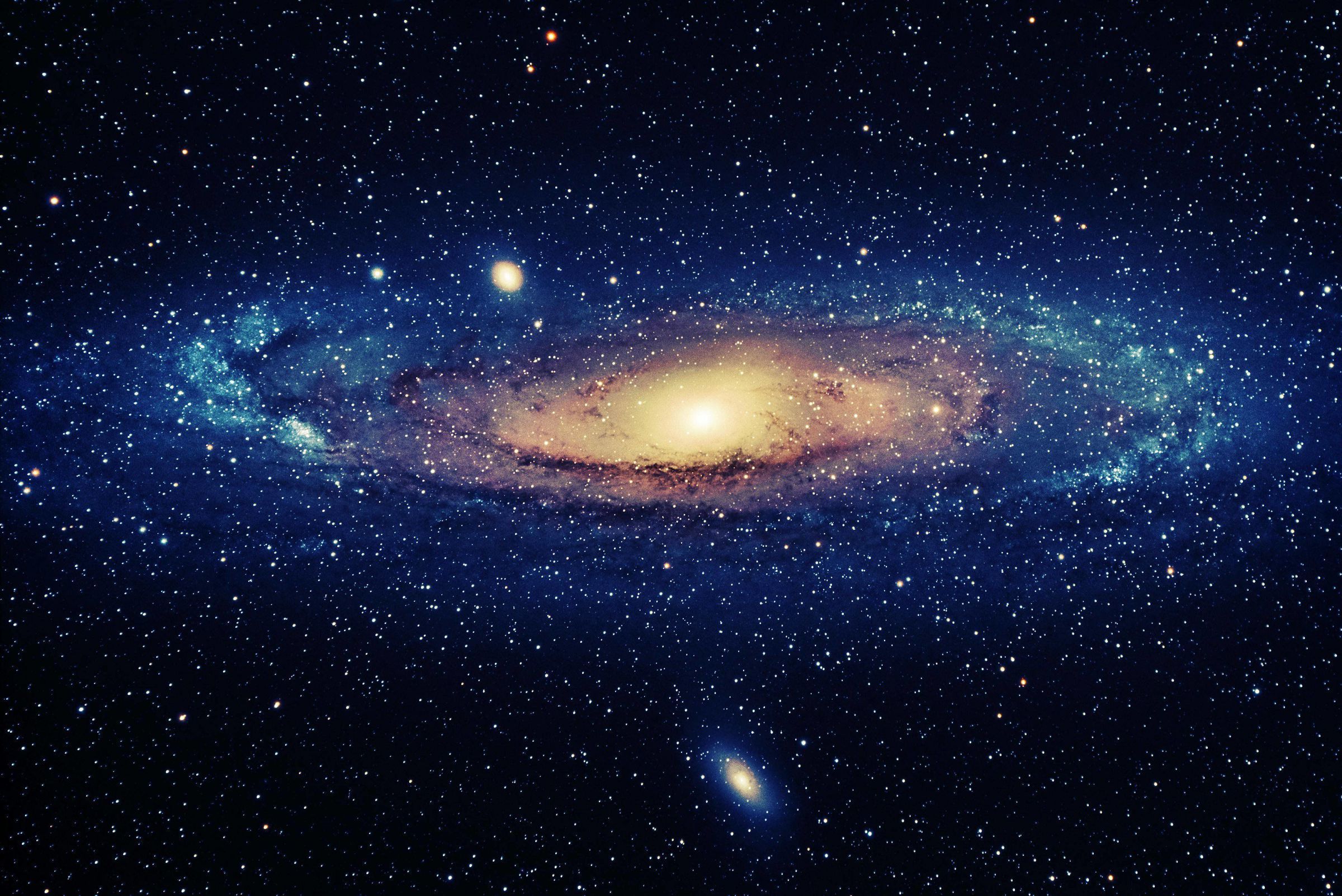 Best Viewed At 50% to Higher Zoom View Magnification
For: George, Liz, Toni II, Peter, Toni I
***** Ferenc Puskás (1927-2006) *****

' The Greatest Pure Offensive Optimum/Maximum Bandwidth Action Team Game Player & Leader '

The Case For: ' The Greatest ' = ' The Very Best Ever '

'The Greatest' Ever Of 19th And 20th Centuries'

' The Greatests '

All Time Top Ranked National Teams

source: www.eloratings.net

' The Greatests '

The 20th Century's All Time Top Ranked League Teams

source: http://clubelo.com/Stats/Highest

20th Century Rank
Franchise Club
Peak Elo
Peak Date
Star Players

No. 1. Gold

Real Madrid
2069
March 19, 1961

Puskás-Di Stéfano-Gento-Santamaría

No. 2 Silver
AC Milan

2052

3.18.

1993
No. 3 Bronze

MTK Budapest

2037

10.20.1955

Hidegkuti-Palotás-Lantos-Zakariás

No 4.
Barcelona

2006

10.6.1960

Kubala-Kocsis-Czibor-Suarez

All Time Rank
Nation
Peak Elo Points
Date Set

No. 1. Gold

Hungary

(Captain Ferenc Puskás)

2232
July 4, 1954
No. 2 Silver

Germany

2223

July 13, 2014

No. 3 Bronze

England

2216

Nov. 9, 1912

No. 4

Brazil

2195

Nov. 28, 2022

No. 5

Spain

2165

June 23, 2013

No. 6

Argentina

2160

April 3, 1957

No. 7

Belgium

2158

June 27, 2021
Winning Scoring Bandwidth In All Career Tournament Matches

***** Ferenc 'Sonny' Puskás | 'The Swabian' | 'The Galloping Major' | 'The Little Booming Cannon' | 'Pancho' *****

In 17 World Career Tournaments From 1947-1965

Including the pressed described: 'The Matches of the Century I & II'

Tournament Occasion
1947 + 1948 Balkan Cups
1952 Summer Olympic Games
1948-1953 Central European Cup
'Matches of the Century I & II'
1954 World Cup
1955-1960 Central European Cup

European Cup/'Champions League'

(1955-1965)

Franchise World Cup (1960)

17 World Tournaments:



73 Matches

= equals =

73 Goals

Games | Goals
6 Games | 8 Goals
5 Games | 4 Goals
8 Games | 10 Goals
2 Games | 4 Goals
3 Games | 4 (or 5) Goals
6 Games | 5 Goals

41 Games | 36 Goals

(9 European Cup Campaigns)

2 Games | 2 Goals
No. 1 Gold

Winner (1947)


No. 1 Leading (1948)

Winner
Winner
Two Wins ( Away & Home)

Officially No. 2 Silver Finalist

Unofficially '1954 World Champion'

3-Time Team Winner
Winner
No. 2 Silver
No. 2 Silver Finalist
3-Time Silver Team Finalist As Player or Head Manager

1.00 Goals-per-Career Tournament Match
Greatest Ever Team 'Plus Ultra' Game Players by

Optimum/Maximum Offensive Team Production By Scoring Play Throughput

The Greatest Leading Offensive Bandwidth Action Team Rocket Players per Association Sport

Association Sport

Major Top Level Soccer (Franchise & National)

Major Top Level Baseball
Major Top Level American Football
Major Top Level Hockey
Major Top Level Basketball

Criteria

&

Source:

Goals + Assists / 90 minutes

Opta Criteria For Assists

source: Recent Data From 2021

On-Base + Slugging % per Career

Quarterback Passer Rating per Career

Minimum: 35,000 Aerial Passing Yards

source: NFL Career Passer Rating Leaders | The Football Database (footballdb.com)

Points (Goals + Assists) / Career Game

source: NHL & WHA Career Leaders and Records for Points Per Game | Hockey-Reference.com

Points + Assists / Career Game

Minimum: 750 Games

Who Has The Most Points Plus Assists Ever Average | StatMuse

No. 1 Gold

*****

Ferenc Puskás

'Galloping Major / Pancho'

1.48 G+A / 90

*****

*****

Babe Ruth

'The Bambino'

1.16 OPS

*****

*****

Aaron Rodgers

'A-Rod'

103.6 Rating (ongoing)

*****

*****

Wayne Gretzky

'The Great One'

1.92 Points / Game

*****

*****

Michael Jordan

'Air Jordan'

35.4 P+A / Game

*****

No. 2 Silver

Pelé

1.40 G+A / 90

Ted Williams

1.12 OPS

Russell Wilson

100.2 Rating (ongoing)

Mario Lemieux

1.88 Points / Game

Oscar Robertson

35.2 P+A / Game

No. 3 Bronze

Lionel Messi

1.26 G+A / 90 (ongoing)

Lou Gehrig

1.08 OPS

Drew Brees:

98.7 Rating

Mike Bossy

1.50 Points / Game

Lebron James

34.5 P+A / Game (ongoing)

-- Ongoing Tie --

Wilt Chamberlin

34.5 P+A / Game

No. 4 Semifinalist

Eusébio

1.22 G+A / 90

Barry Bonds

1.05 OPS

Kirk Cousins

97.8 Rating (ongoing)

Connor McDavid

1.49 Points / Game (ongoing)
***** The Hallmark Titan Rocket Magic Herald Player at Mastery at Three Dynasties *****

***** Ferenc Puskás (1927-2006) *****

-- The Great Epic Crackerjack Goalscorer Whoever Lived --

-- The First Original 'Golden Boy' 'Superstar' of Joie de Vivre --

Twice Winner/Hero of "The Match of the Century" | The Inspiring Captain of the European Cup's (Champions League) Establishment in 1955 with 1954 Honvéd vs. Wolverhampton.

The Only Man in History to Have Scored in A:

Olympic Final (1952), European Championship Final (1953), World Cup Final (1954), European Cup Final (1960, 1962), Intercontinental Final (1960) & Spanish Cup Final (1960, 1961, 1962)

---

10 National Championships | 8-Time League M.V.P. Top Scorer

6-Time European Cup Team Finalist (3-Time European Cup Team Winner: 1959, 1960, 1966)

5 Tournaments Top Scorer | 1947 Balkan Cup Winner | World's Top League Scorer (1947-1948) | 1952 Olympic Games Winner | 1948-1953 Central European Tournament Top Scoring Winner | 1954 World Cup M.V.P. |

3-Time European Cup Top Scorer (1960, 1962, 1964) | 1960 Intercontinental Cup Top Scoring Winner | 1962 Spanish Cup Top Scoring Winner

references: https://www.en.wikipedia.org/wiki/Ferenc_Pusk%C3%A1s & https://www.en.wikipedia.org/wiki/List_of_footballers_with_500_or_more_goals

Total Official Matches
Total Official Assists
National Hungary (1945-56)
Top National, Kispest-Honvéd (1943-56)
Top National, Real Madrid (1958-66)
European Cup/'Champions League'

Hungarian Cup

Spanish Cup (Copa del Generalísimo)

792 total matches | 802 goals

1.01 goals/game

404 Assists

source: 404 Assists for Puskás

83 matches | 83 goals

1.00 goals/game

367 total team matches | 383 goals

1.04 goals/game

262 total team matches | 242 goals

41 matches | 36 goals

11 matches | 20 goals

1.82 goals/game

41 matches | 49 goals

1.20 goals/game

Phenom +800 Career Goal Mark
(Sport All Time High)
World Record Holder (1953-1980)

0.92 goals/game

(Franchise 20th Century Peak for Major Player)

0.88 goals/game

All Time High, (minimum 35 scores)

1.20 goals/game

All Time High, (minimum 26 scores)
' The Greatests '

The 20th Century's World Greats

Europe's & The Western Hemisphere's Top National

Goalscorers of the 20th Century

source: List of top international men's football goal scorers by country - Wikipedia

20th Century Rank

Star Player
Country
Goals
Matches
Goal Ratio

1. Gold

Ferenc Puskás

Hungary

83

83

1.00
2. Silver

Pelé

Brazil

77

92

0.836

3. Bronze

Sándor Kocsis

Hungary

75

66

1.136

No. 4

Gerd Müller

West Germany

68

62

1.097

No. 5

Imre Schlosser

Hungary

59

68

0.87
' The Greatest ' Ever of the 19th and 20th Centuries
Mission Accomplished: 1943-1966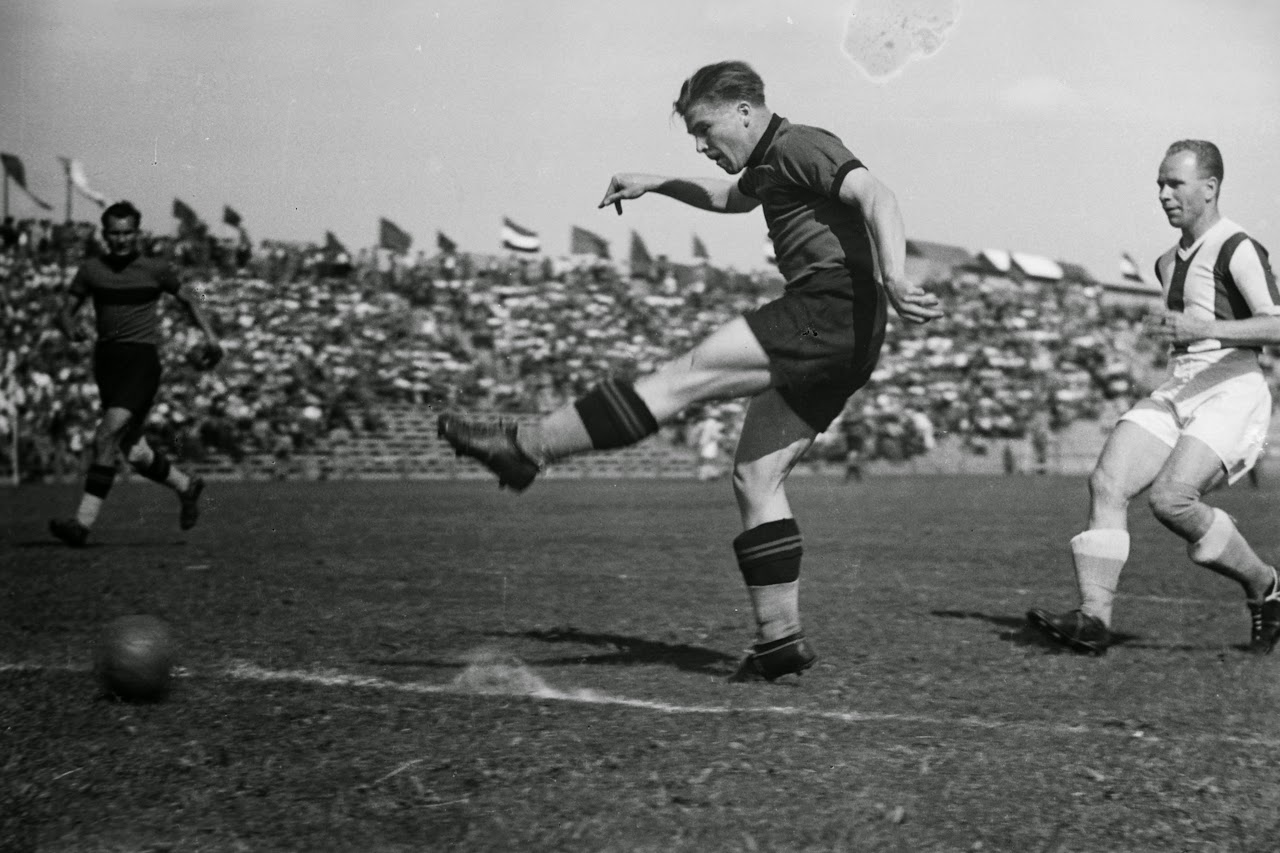 The Highest Rated National Team Of All Time (1954-1956 Hungary).
World Record Holder For Most National Goals (1953-1980).
IFFHS Verified World Record Holder For All Time Most National Top Division League Goals.
The Most Recorded Total Assists All Time.
Surpassed The Sports World's Greatest Ever 'Home Field Advantage' Of 90 Years.
The 20th Century's Highest Rated Top Division Franchise.
Played On the Sports World's Greatest Ever 'Home Field Advantage'.
Helped Reinvent & Redefine Association Football.
The Co-Captain Who Helped Inspire In The European Cup's Establishment in 1955.
Widely Considered The Greatest Goal-Shooter Of All Time.
Held The National International World Record For Most Playing Appearances in 1956.
' The Greatests '

All Time National Top Division Zenith League Goalscorers

The International Federation of Football History & Statistics (update January 5, 2022)

All Time Rank

Star Player

Nationality

Goals

1. Gold

511*

3. Silver

3. Bronze

Puskás was banned from playing by FIFA for 18-months for his defection from Hungary from 1956-1958.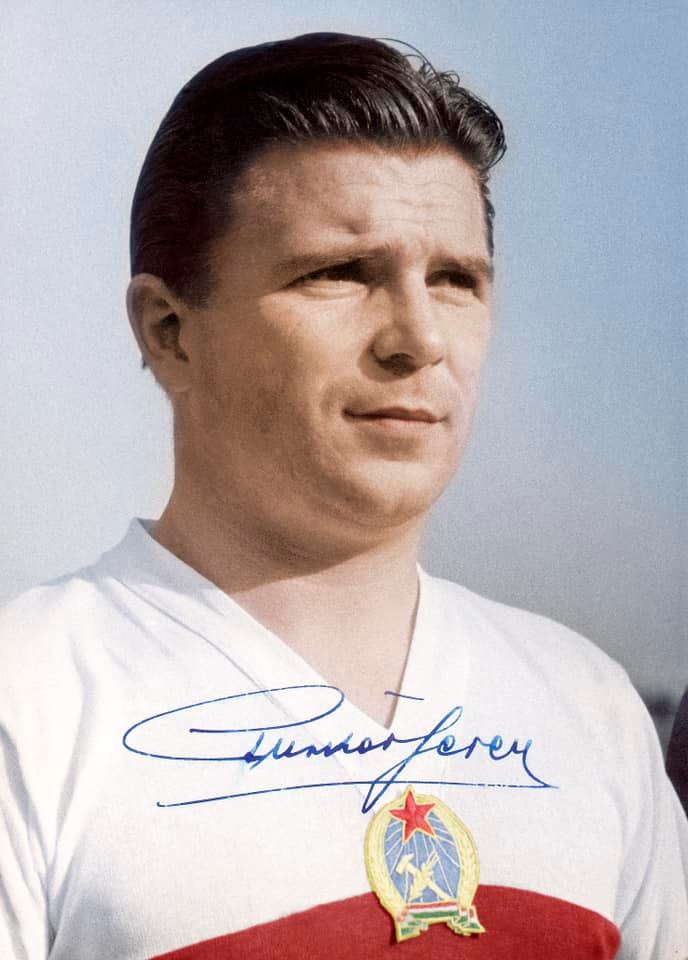 ***** Ferenc Puskás *****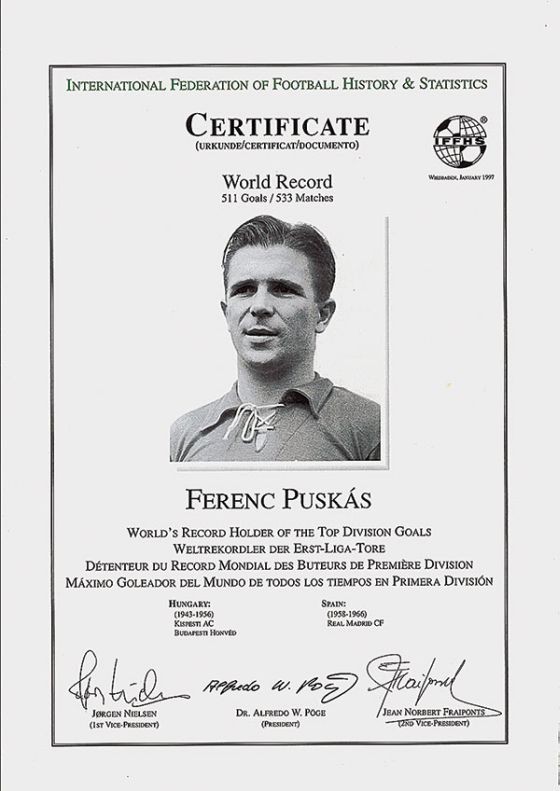 Football's Folkloric Great Legend, Scoring 'Bambino', Tournament Extraordinaire, Horatio Alger & Coaching Ulysses
The Greatest Dynamic Top Level Offensive Scoring Playmaking Game Player & Team Leader
The Quintessential Prolific Influential Champion Re-Defining Zenith Player at the Heart of All Time Game & Sport-Changing Historical Greatness:
' Match of the Century I & II '
1954 World Cup Final (ala Hungary 1 : 0 / 3 : 2 / 3 : 3 West Germany)
Honvéd vs. Wolverhamption (1954)
***** If The Master Association Football Equation Is: *****

Modern (post-WW2) Top Level League and International Per Capita Most Effective (Very Best/Optimum) Major Leading Prolific Highly Decorated Offensive Multi-Champion Successful Top Ace Goalscoring Player = Sport's 'Greatest'

As Any Official Match's Key Winning Difference-Maker To Decide Outcome As Rule No. 1 (To Outscore): Game-Altering Consistent Successful Goalscoring Magic > Luck & X-Factor Variables In Favor > Ball Possession > Defending > Goalkeeping

Ranking The 2021 Year Univ. of Oxford's Leading Index Players For Optimal Game Winning By Official Top Ace Goalscoring (min. +500 Official Goals)

All Time Rank
Optimum Scoring Top Ace Catalyst

Official Matches

Goals
Goal Ratio
No. 1 Gold
Ferenc Puskás

792

802

1.01

No. 2 Silver

Pelé

846

778

0.92

No. 3 Bronze

Lionel Messi

1002

822

0.78

Tie No. 4

Alfredo Di Stéfano

704

515

0.73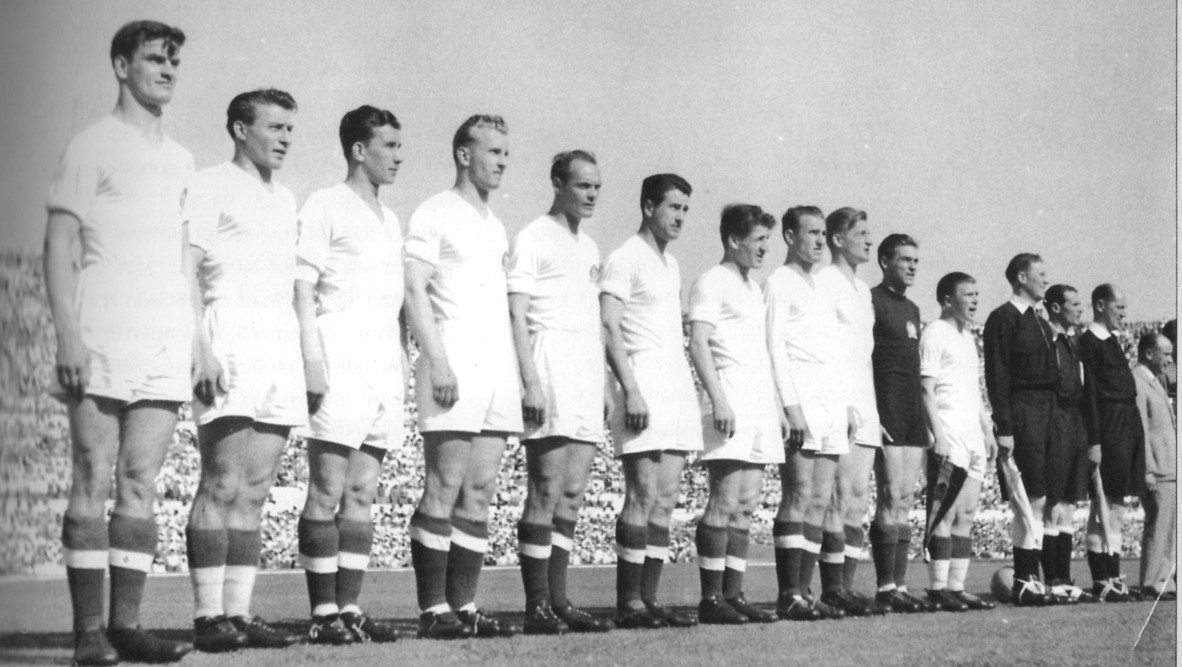 Simply the Greatest! (1949-1956 Hungary)
The Fantasy Team | The Dream Powerhouse | The Oracle Renaissance World Magic Olympian Team | The Top Legendary Crackerjack Side | A Sporting Avalon - the classic lineup of the Hungarian 'Golden Team/Magical Magyars': Kocsis-Budai-Zakariás-Lantos-Buzánszky-Bozsik-Czibor-Hidegkuti-Loránt-Grosics-Puskás (pictured May 17th, 1953, in Rome), the highest rated national team of all time. The 'Golden Team' went 49 wins, 9 draws, and 1 unwon (with the omission of the 1954 World Cup Final for a 98.3% undefeated percentage) over the course of seven years that brandished a historic tour de force blockbuster offense in a class of its own that scored 4.36 goals per game at the sport's highest level.
| | | | | | | | |
| --- | --- | --- | --- | --- | --- | --- | --- |
| Wins | Ties | Losses | Win % | Undefeated % | goals/match | goals ag./m. | goal diff./match |
| 49 | 9 | 1 | 90.68% | 98.31% | +4.36 gls./gm | -1.17 gls/gm | +3.19 |
* Does not include the 1954 World Cup Final due to various controversies. The games against the 'Soviet Union' on May 24th and 27th 1952 was played against a ' Moscow Select XI ' (Moscow city teams' selection and not the 'national Soviet Union team') and also will not be included in the statistics.

List of footballers with 500 or more goals - Wikipedia (update 7/26/2023)

Stars meeting stars, Ferenc Puskás and Hollywood star Rita Hayworth at the big game.

All Time Rank

Top Level Player

Official Matches

Goals

Goal Ratio

5.)

Cristiano Ronaldo

1204

856

0.71

6.)

Lionel Messi

1085

836

0.77

7.)

Ferenc 'Sonny' Puskás

792

802

1.01

8.)

Ferenc 'Bamba' Deák

514

+795

1.56
| | |
| --- | --- |
| | |
| Hungary manager (1949-1956) Gustáv Sebes with the 1954 'Golden Team' portrait. | The greatest carrying the great, Puskás and Lev Yashin hoist up the legendary Stanley Matthews at Victoria Ground, UK (1965) after the winning World Select XI defeat England 7-6. |
***** If The Master Association Football Equation Is: *****
'A Great Offense Is The Best Defense > 'The Best Defense Is A Good Offense'
Offensive Team Balance w/ Rule No. 1 (To Outscore) > Conservative Team Balance > Defensive Team Conservatism =
No. 1 'Total-Team' Offensive Power Bandwidth Rocket Player =
'Sonny' Puskás | 'The Swabian' | 'The Galloping Major' | 'The Little Booming Cannon' | 'Pancho'
Budapest Kispest (1943) ----> Budapest Honvéd (Finest World Club Side Before The European Champions Cup) ----> Hungary (Greatest Ever) ----> Real Madrid (Greatest Ever)
source: (3) ... (@Trachta10) / Twitter
(3) ... (@Trachta10) / Twitter

The Iconic Titan Legendary Six All Time Rankings

Team Goals per Career Match
Goals + Assists - Penalty Kicks / 90 minutes
No. 1 Gold
Ferenc Puskás
Ferenc Puskás
No. 2 Silver

Johan Cruyff

Pelé

No. 3 Bronze

Pelé

Lionel Messi (ongoing)

The SemiFinalist

Lionel Messi (ongoing)

Johan Cruyff
***** 43 Important Tournament Matches *****

Puskás In The 'Champions League' & The Intercontinental Cup

128 Total Tournament Goals ÷ 43 Matches = 2.86 Goals/Match.

Puskás: 1.42 G + A per Match

1.42 ÷ 2.86 = Puskás Scoring Play Team Bandwidth % = 49.65%

Teams Wins

Team Ties

Team Losses

Win %

Goal Diff./Match

Goals + Assists / Match

26

7

10

68.60%

+1.51 Goals

38 Goals + 23 Assists

---

1.42 G + A / Match
Budapest Kispest (1943) ----> Budapest Honvéd (Finest World Club Side Before The European Champions Cup) ----> Hungary (Greatest Ever) ----> Real Madrid (Greatest Ever)
'The Greatest' of the 20th Century

Joyous and winsome 'Pancho' Puskás training to be fit as a fiddle three days prior to the 1964 European Cup Final match.

Puskás On Top Level (National) Teams

Team Matches With Puskás

Puskás' Goals + Assists / Match

Team Goals / Match With Puskás

G + A per Match Scoring Play Team Bandwidth %

Team Goal Diff. / Match

Distinctions & Honors

Budapest Kispest

(1943-1948/49)

174
1.42
2.72
52.2%
+0.84

World's Top League Scorer, 1947-48

(50 goals in 31 Matches)


5 National Championships

4 Time Scoring M.V.P.

Budapest Honvéd

(1949/50 - 1956)

164
1.98
4.30
46.0%
+2.79

Real Madrid

(1958-1966)

262
1.44
2.72

52.9%

(Scoring Play Involved 52.9% of Time In All Matches)

+1.70
Highest Rated Club of 20th Century (2069 Elo points)

5 National Championships | 4 Time Scoring M.V.P.

3 Gold + 2 Silver European Cup Team Title | 1960 World Club Title

Played On 121 Back-to-Back Undefeated League Matches (World Record)

Hungary

(1945-1956)

85
1.58
3.99
39.6%
+2.58
Highest Rated Team of All Time (2232 Elo points)
Two of Hungary's most famous native sons from Budapest, Ferenc Puskás and his great strike partner and teammate Sándor Kocsis were fateful survivors of the pivotal and strategic 'Siege of Budapest' that lasted from December 24, 1944 to February 13, 1945. 18-year-old Ferenc Puskás' debut in the Hungarian national team was on August 20, 1945 ('Saint Stephen's Day') which was Hungary's second match in the bellwether turning-point and tough crucible turbulent year. The teenager 'Öcsi' ('Sonny') and 'the Swabian' Puskás scored first in Puskás' famous inaugural 5-2 win over the world's No. 7 Austria in Budapest 104 days after 'Victory in Europe Day' on May 8, 1945.
All association sporting teams have before it an icon of unexampled production, the true favorited ideal perfect soleil of the offense, or the idol of the super 'beyond further' (plus ultra) power Midas rocket player.
There is a player everyone has heard of, the annual FIFA Puskás Award well receives those players who have scored the most 'aesthetically significant' or most 'beautiful goal' in a calendar year. Puskás was honored for being named the top national 1st division goalscorer in the 20th century by the International Federation of Football History & Statistics (I.F.F.H.S) in 1997. With Hungary Puskás became the international world-record holder for goals with 83 goals in 83 'full national' appearances and who also held the world-record for most national top league goals with 511. Puskás was also a historic plus ultra ('further beyond') 'total-team' game player to dazzle with a dividend of such enlivening converse and decisive final-pass delivery to teammates to still hold the all time world-record with 404 total assists. Puskás would admit the whole triumphant answer with the goals that win, with the assists that glow to form them into a fine scoring athletic ensemble of unparalleled amplitude there lies all the length and breadth and the bravado of the fondest player, Ferenc Puskás was the 'The Greatest Player of the 20th Century'.
Once there came a man from very humble origins who pursued football's horizons during times severely tried by the calamities of the 20th Century and as by some vast undivided magic played together with the greatest players of the ages on fabulous teams modern as any who helped make European, athletic and sports history and who universalized the greatness of two renowned titan teams of all times. As a player who was never bought or sold in his life Puskás spent his entire career at the very top-flight of his profession that seemed to raise his game to a sublime level.
Ferenc Puskás (b. April 1, 1927, Budapest) also known worldwide as 'Öcsi' (Sonny), 'The Galloping Major' and 'Pancho' was the great maximally élite top level 'total-team' transcending sport-changing mercurial triumphant high fidelity action player as the conductor par excellence of such leading command for whom formalists and sports leaders had been searching for ever since the early 20th Century. With Puskás playing a key role as captain and primarily the No. 10 forward all great teams that he played for statistically soared as the highest scoring and highest ranked everlasting teams of all time.
If the sport of association football is keyed to the tenor of the ruling goal on a perfectly functional team to decide a match's result not necessarily possession then there was no other more influential history-making, landscape-shaping and efficient powerhouse top-flight offensive star player in the game than Ferenc Puskás. Puskás is still considered the most eminent national and national top division goalscorer unified in the sport. As a master milestones-making goalscorer Puskás was somebody who rows somewhere far on a sojourn to set in the sky high scoring numbers, records and historical precedence. But scoring goals is not everything but also conceived in well versed team participation rejoicing with high skill and a decided playmaking presence for players who could excel and perform well with others and for Puskás there is a centerstage to that praise being recognized as one of the 'very greatest players' the sport has ever seen.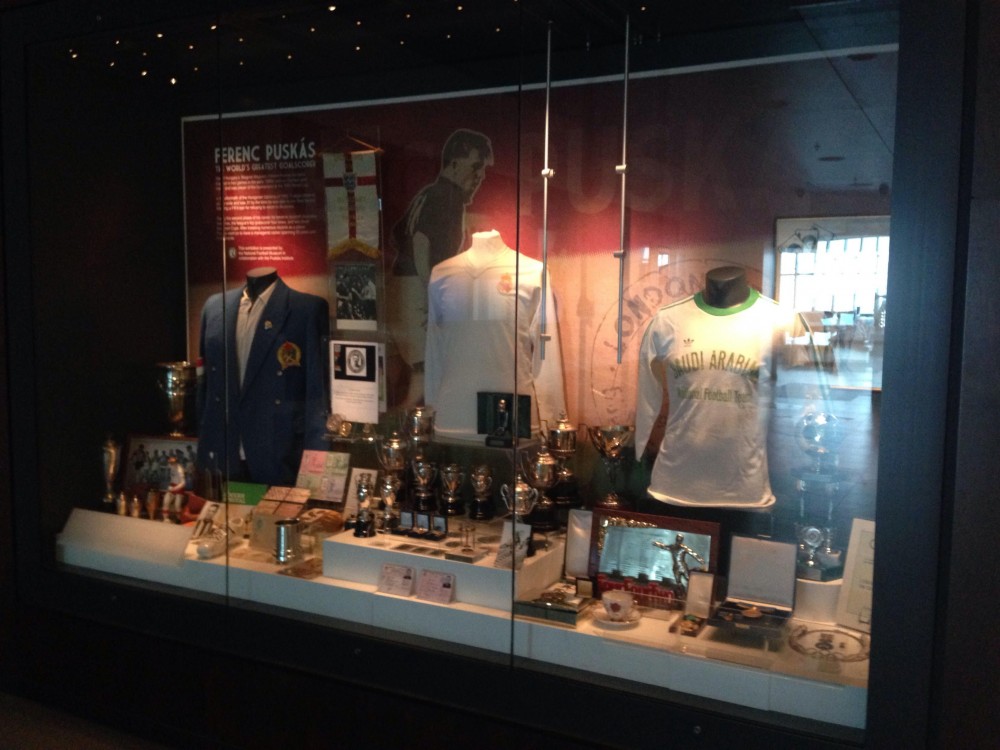 "The World's Greatest Goalscorer"

, an exhibit to an exceptional player, Ferenc Puskás at the National Football Museum, Manchester, United Kingdom, 2015.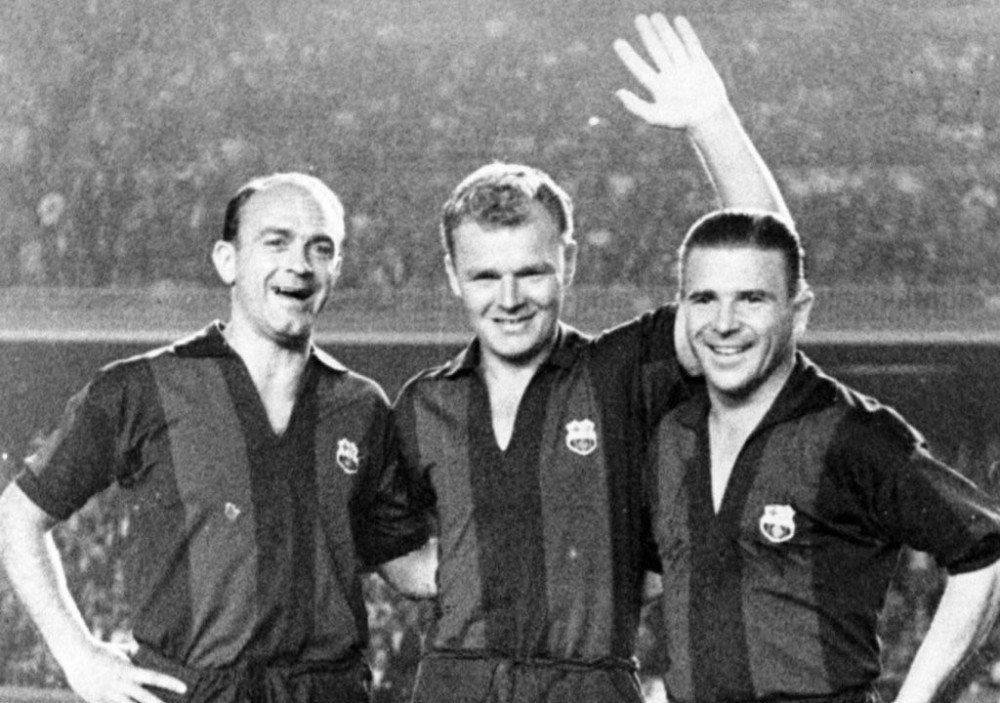 Three Iconic Immortal All Time Master Pioneering Legends: Di Stéfano, Kubala (the man whomade 'Camp Nou' in Barcelona famous) and Puskás.
2069 Elo points, 20th Century High
***** Greatest Franchise Team Of The 20th Century *****
1961 Real Madrid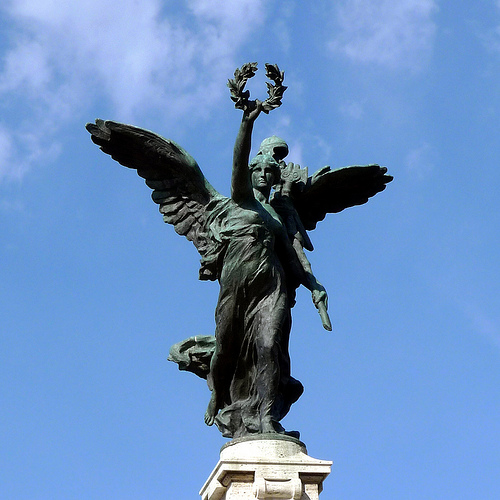 On March 19, 1961 the world great Real Madrid team with 'Pancho' Puskás became statistically the 'Greatest Ever' of the 20th Century.
--- Match Starting Lineup ---
Puskás
, Di Stéfano, Gento, Del Sol, Santamaría, Vidal, Canario, Casando, Pachín, Marquitos, Vicente
Ferenc Puskás' unequalled modern inside No. 10 long forward sublime game of winding ways through alley and trick, the heavy stride and the hard prelude run with the thunderstrike cannonball with teams of magnificent stern array (Budapest Honvéd, Hungary, Real Madrid) who rained goalscoring aura yielding to goalscoring aura as his co-led teams waged contention in 17 huge tournaments (1.00 goal/career tournament match with 73 goals in 73 matches) and 10 national championships that attracts to crush with powerful ardors. With sweet buds of speed and acceleration purposing the playmaking jazz and conjuring the forward missioning winning spirit of gladness as fierce artificer from offensive zone to defensive zone Puskás satisfied the game's full relish, bandwidth and circumference to supersede all teams into the maximally élite record-books of all time rank.
Engaging defensive lines with aplomb in the midst of it all is Puskás as the No. 10 forward fronting the surging tumult ahead where his keener cannonball lightnings flashed who came across with the big-play deft passing who flung the ball to the most difficult spots on the springing grass with chisel legwork to rebuild it as Puskás had gone to bring again 'greatness' for the most fond imponderable dream. His potent, felt, interior command has the quality to strike deep as a marvelous athletic pillar affirming the natural passing scheme that drummed and hummed with a famous familiarity, scoring goals with his many assists that imbues Budapest Honvéd, Hungary and Real Madrid with a particular genius of hale crushing charms; and there is a Midas inexhaustible fund of buoyancy as Puskás help build one superb team after another with a remarkable talent through him the current and index of three risen great master teams that will rank as defining sport-changing powerhouses equal or better than the greatest sides known as the maestro key player with three of the highest peaks ever assembled.
We can view the 20th Century sport's evolution with perspective with Puskás as the great master player whose teams most completely indicated the ways and the times in which football turned from the traditions of much earlier times to the new mode in the second half of the century. Only he holds the proud distinction of being on three of the most fulsomely hailed teams: mighty Budapest Honvéd (1949-1956), Hungary (1945-1956) and Real Madrid (1958-1966), the latter two have remained for many the greatest teams to be seen in all the records of the sport and the two principal and paramount teams of all time.
Three of his great matches ('The Match of the Century', the 1954 World Cup Final and Real Madrid 7, Eintracht Frankfurt 3) were massive, elemental, becoming widely famous foundational wonder games of the age demanding depth and insight. In these games where Puskás was the chief participant, the 6-3 win over England where he scored two goals and made two more, the 1954 World Cup Final match (the world championship decider where he opened and closed the scoring with two legitimate goals) that lived under a cloud of suspicion and huge controversy and the 7-3 win over Eintracht Frankfurt in the spring of 1960 where he scored four goals are among the best ever done.
The velocity and phenomena of Ferenc '(Öcsi' or 'Sonny' pronounched: 'Uhchee') Puskás, the astute navigator with giants with Hungary from 1947-1956 and with 1958-1966 Real Madrid was the prize-winning sport hero who was on the dial with the serene power of his on-field generalship as a player of superior craft always acting as the true helm of the attack who pressed deep inside with insights and who plays with a profound magical crackling irrepressible 'total-team' game that moved from prim goalscoring who fired goals' certainties (802 total goals in 792 official matches | 1.01 goals / career match) to his idyllic playmaking élan that magnified his on-field greatness.
Mustering game-altering top level scores of the quality of the first and all time greatest American baseball player icon Babe Ruth (the 'Bambino' who scored a world-record 714 homeruns) Puskás never did acclimate to using his nondominant right foot for much except to dribble and he also scored few goals with his head. Footballs warm, break and crackle at his feet with dazzling masteries of swiftness and precision as somebody who lost tough clinging opponents by something he was prized and was renowned by, who upon the sylvan scene on the wide pitch gave the great thunderstone left-footed matchless resplendent hot levitating goal-striking cannonball that Puskás is still widely considered the greatest goal-shooter who has ever played the game.
Considered in relation to any national team on the promontory of all time rank of extraordinary production Puskás was the leader and captain of the magical Hungarian 'Golden Team', the postwar re-inventing renaissance side that glows appraisable as statistically the 'Greatest Ever' (all time high 2232 Elo points); and when faith, hope, and promise around his determination's totem was needed after the 1956 Hungarian Revolt and Revolution he became the star main goalscorer at star-studded Real Madrid that outlined a great team that became the 'Greatest Ever' club franchise in the 20th Century (20th Century high 2069 Elo points). He arrived to his second stunning career and this new powerful Real Madrid team after languishing in exile out of shape, overweight and without much practice in Italy and Spain aged 31 at a rounding time when most players think of retirement.
Before Puskás Real Madrid had won the first three European Cups after the competition opened; after his arrival and on his retirement the Real Madrid team would win three more European Cups plus two runner-up silver medals in the tournament and a top division 'world championship' in 1960 after eight years of service with the top rated franchise of the 20th Century. By his honored retirement in 1966 it could be well said that Puskás had journeyed through statistical records as the greatest ever offensive 'total-team' bandwidth power rocket player (1.48 Goals + Assists / 90 minutes) who has ever lived after a 22-year unprecedented career, road of adventure and life on the pitch who leaves all great on-field teams solved having beat every mountain tower steel diamond team with sports all time gloria with a prodigious vaunt of goals united to a near unreachable number of assists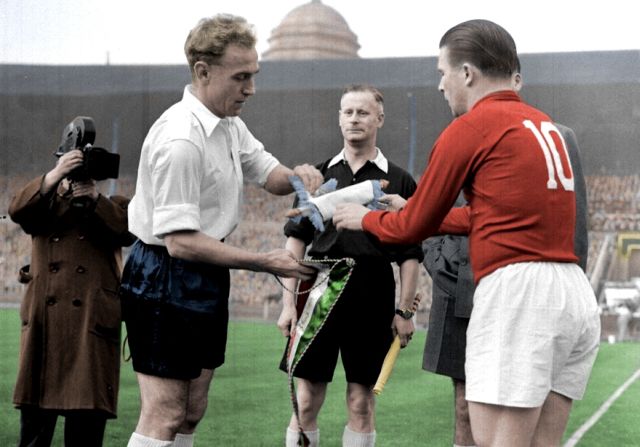 National Top Division League Scorers: Imre Schlosser (417 goals in 1928) ----> Ferenc Puskás (511 goals in 1965) ----> Cristiano Ronaldo (512 goals in 2023 ongoing)
International Federation of Football History & Statistics - Wikipedia
---
National Teams Scorers: Imre Schlosser (59 goals in 1927) ----> Captain Ferenc Puskás (60 to 83 goals from 1953 to 1956) ----> Mohamed Mokhtar (84 to 89 goals from 1980 to 1985)
Players with 100+ Caps and 30+ International Goals (rsssf.org)
---
National Team Appearances: Severino Minelli (80 appearances in 1956) ----> Captain Ferenc Puskás (80 to 83 appearances in 1956) ----> Captain Billy Wright (84 to 105 appearances from 1956-1959 and first to accomplish 100 national playing matches)
' The Greatests '

***** 1954 FIFA World Cup All-Star Select XI *****

Forwards
Midfielders
Defenders
Goalkeeper
Ferenc Puskás (1954 World Cup MVP)
Jóseph Bozsik

José Santamaría

Gyula Grosics (1954 World Cup Golden Glove)
Sándor Kocsis (1954 World Cup Golden Shoe)

Fritz Walter

Ernst Ocwirk

Nándor Hidegkuti

Djalma Santos

Zoltán Czibor

Helmut Rahn

The very famous national sports superstar 'Öcsi' Puskás enjoying the good time high successes of the team with classic charms of musical acccompaniment in Hungary.

***** The Prime Time Big Leaguer Tournament Puskás *****

Tournament Occasion or Final
Opposing Teams
Winner
Puskás' Scoring Bestowal

1947-1948 top division Hungarian Nemzeti Bajnokság

16 domestic league teams

Puskás' Best League Year

50 Goals In 31 Matches

1.61 Gls./M.

Lead All Players In World For Seasonal Year.

1948 Balkan Cup tournament

6 national teams

Hungary lead table

+17 goal diff. & 4-1-1 record

Puskás Leads Tournament With

5 Goals

1950 International Year

6 national teams

Hungary

4 wins, 1 draw, 1 loss

Puskás' Best NT Year

12 Goals In 6 Matches

2.00 Gls./M.

1952 Olympic Games Final

Yugoslavia

Hungary 2-0

+18 goal diff.

1 Goal + 1 Assist
1948-1953 Central European Championship Final

Italy

Hungary 3-0

+10 goal diff.

2 Goals

Puskás Leads Tournament With

10 Goals

'Match of the Century'

England

Hungary 6-3

2 Goals + 2 Assists

Surpasses 90-Year Old Invincible Athletic Team Sports Reign

Puskás Becomes World Record-Holder With 60 Goals

'Match of the Century II'

England

Hungary

7-1

2 Goals + 1 Assist

England's Heaviest Loss

1954 FIFA World Cup

South Korea

Hungary

9-0

2 Goals

World Cup History's Largest Win Margin

1954 FIFA World Cup

West Germany

Hungary

8-3

1 Goal

West Germany's Heaviest Loss

1954 FIFA World Cup Final

West Germany

omitted due to controversies

Hungary stands at +18 goal diff.

1 (2) Goals

Puskás Scores 4 Goals In 3 Matches

1.33 Gls./M.

Puskás 1954 World Cup MVP

1958-1959 European Cup SemiFinal Playoff

Atlético Madrid

Real Madrid

4-3

(agg. in 3 matches)

Puskás Scores 2 Goals In 2 Matches

Puskás Scores Winner In Playoff

1959-1960 European Cup Final

Eintracht Frankfurt

Real Madrid 7-3

+21 goal diff. in European Cup

4 Goals

(Yet Record),

Puskás Leads Tournament With

12 Goals

1.71 Gls./M.

1960 Intercontinental Final (decisive return fixture)

Peñarol

Real Madrid 5-1

+25 goal diff. in two tournaments

2 Goals + 2 Assists

Puskás Leads Intercontinental Cup Scoring

1961-1962 European Cup Final

Benfica

Benfica

Real Madrid at +20 goal diff. in tournament

3 Goals

Puskás Leads Tournament With

7 Goals

Yet Record: 7 Total Goals In European Cup Final sHistory

1963-1964 European Cup Final

Inter Milan

Inter Milan

Real Madrid at +17 goal diff. in tournament

0 goal

Puskás Co-Leads Tournament With

7 Goals

1965-66 Pre-Final European Cup Campaign

Tournament Champion,

Real Madrid 2-1

Real Madrid at +11 goal diff.

Puskás Co-Leads Team Tournament Scoring

Puskás Scores 5 Goals In 3 Matches

1.67 Gls./M.
2232 Elo points, All Time High
***** Greatest National Team Of All Time *****
1954-1956 Hungary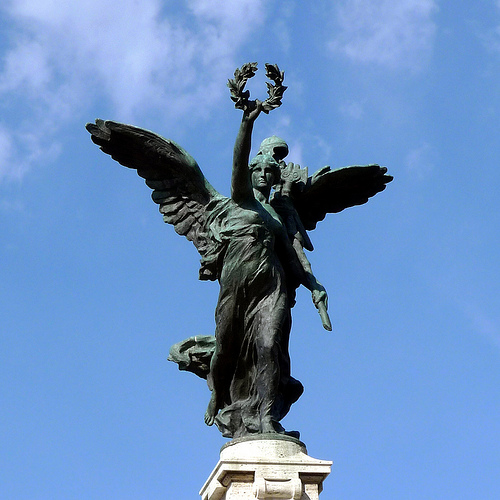 On July 4, 1954 the world great Hungary team with 'The Galloping Major' Puskás became statistically the 'Greatest Ever'.
--- Match Starting Lineup ---
Puskás
, Kocsis, Hidegkuti, Bozsik, Czibor, Grosics, Lantos, Buzánszky, Lóránt, Zakariás, Tóth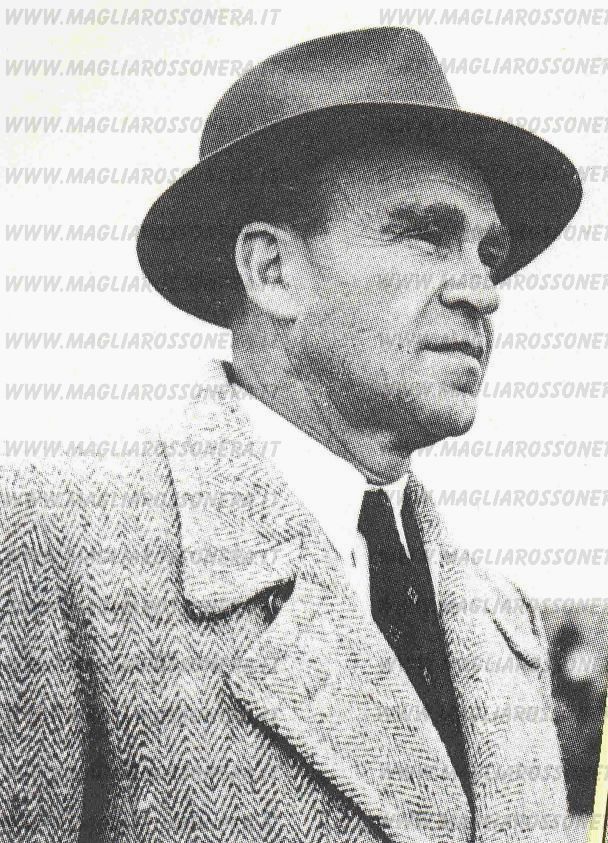 Under the coaching tutelage of world renowned Béla Guttmann in the 1947-1948 Budapest Kispest team, Guttmann's only management year at Kispest after replacing Ferenc Puskás Sr. as coach before it became the Army sponsored Honvéd in 1949, Puskás would have his most advanced and breakout prolific scoring year with 50 goals in 31 league matches to lead all players in the world.
Under a radio and newly live televised age of roaring cheers and whistles of the greatest ever sides known, wholly in the midst of goalscoring prowess shouts three dynasties, Budapest Honvéd, Hungary and Real Madrid that forever changed and revolutionized and dominated football and amazing Puskás, needful to teams as elemental gist and key heaver, became the greatest top level offensive player of the ages. And yet no action of any contemporary or other future player is as so well valuably efficient as the incomparable skills of Puskás.
With bursts of speed whose thoughts were summer lightning on the field with a waltz tune of expert control a strong scoring flair plays ever through them for teams have found nothing mightier than Puskás. Puskás graces teams with octaves of unique skills and unimpeachable long big-play deft passing who brings the new wellspring and style to the association sport to help produce immense electric teams that grew athletically great and far more astonishing from what anyone supposed. Puskás was extrovert, in him drifts of great pace and a daring highly competitive genius. He was a rigorous player who showed like a banner his resilient and contriving wit who was possessed with every and all ingenuity that his keen brain matched his otherworldly accuracy to orient invigorating situations as the whole splendidly cavalier well-wheeled high scoring landscape rang and Victory looks gigantically up.
Across it all in his total 719 official career top level matches Puskás-led teams held the banner true of a supreme emblematic figure of what most considered the qualities of an ideal team to be and in vigorous participations piled on the triumphs with every team he was on scoring 3.11 goals/career match as day occasions for Budapest Honvéd, Hungary and Real Madrid ordinarily became one-sided swept avalanching débâcles and tour de force routs with a win margin of +1.67 goals. With the broad width and stage of world international football with Hungary where famous heralded games exacts long devotions from 1945-1956 in 83 'full internationals' the Hungarian teams that featured Puskás scored 337 goals to average 4.06 goals with a average win margin of +2.61 goals.
With Puskás the air is blue, crisp and prodigal and filled with victory's perfume with the three teams Puskás was on broadening outward as they crossed and re-crossed the pitch calling out for gain and in the activity and destiny of eleven performers where the very good, the best and the legended move fantastically, the art is long, turning loose the system of practiced skills for the new maneuver and the unconsciously coordinated acts and upsprang the near perfect team.
With teams of indeed mighty legitimate Olympian scope, match after match with strict inscrutable élan with scoring aura yielding to aura the three teams Puskás played on sparkle hot, outlasting all and were not detainable, kept creations at ease and moved more ways than one amid the palings of their rivals. All fashion of opposing defending unable to douse the old witty one-two-three as Puskás chanced upon the spot and with his rotund body's full consent rend open the candescent heat, the unavoidable Puskás straight beam cannonball sizzling inside over decades of the thoroughly dominant.
It is no more in the legends than as if in some colossal sports drama all along postwar history everywhere on tournaments' geography and conning the new times from the large Cold War politics of the late 1940s, the entire soccer revolution made real by a new race of outdoor athletes with the 1949-1956 'Magical Magyars' to 1958-1966 Real Madrid's peerless compositions, top-flight football seemed to culminate to its crowning stage after its re-invention and set records still altogether unreached. There among 20th Century lanes and paths at forward inside-left all postwar and 'modern football' took its cadence from Ferenc Puskás as the game found the tremendous power rocket player as the captain of the near invincible Hungarian 'Golden Team' that pronounced 'total-team' 'socialist football' chic and outmoded it all and as the key goalscorer at Real Madrid, Puskás' extraordinary double career flashing between gold levels presided over dream teams of the most elevated players and illustrated what it was to play the game accurately as a vision of joy and perfection.
During a busy decade of a difficult rebuilding world in the postwar era in the arc light and formative glow of nascent mass media with a global reach and increasingly networked newswires at the dawn of live television that meet audiences as never before made possible a new kind of connectedness and a new kind of culture that is called 'popular culture'. Around this time Puskás became the game's first superstar both at league and in the world game who foreruns the likes of Alfredo Di Stéfano, Pelé, Johan Cruyff, Diego Maradona and it was Puskás who first spoke to and for this new era as his 'Golden Team' re-invented the game and telecommunications effectively shrank the world.
Mentally striding in to take the lead Puskás became an expert in the management of matches that revealed his calling as the darling 'golden boy' of the regime in communist Hungary. Many thought that no one had a keener relish for the texture of the game than Puskás whose agile intellect came with a precocious talent at an early age making the national team all of eighteen as a supreme possessor with a heroic scoring indulgence on the ball that succeeded in catching the eye of Europe.
Much of what Puskás would come to stand for was determined long before his playing days at Real Madrid. Before the 'Golden Age' of soccer in the 1950s, 1960s, 1970s, 1980s and 1990s properly declared itself, Puskás, armed with his rhapsodic talent, matchless whistling fastball and insights in the Budapest Kispest team before he reached ripe manhood's brink of twenty-one years showed his true worth scoring 50 goals in 31 matches in the league to lead all players in the world. At present by the 1948-year Puskás had set the current of opinion that he had qualified as one of the elites in the game. His well-known journey at Kispest-Honvéd saw Puskás score 358 goals out of his 350 games that effected an immense enlargement for the club's international prestige and elaborated a climax of Budapest Honvéd as the finest club side in the world before Real Madrid and the Brazilian Santos. Already an initial career like this would have culminated with a first entry into Europe's pantheon of all time greats.
He is both extraordinary in the theme of his world-famed classics that are among the most colorful parts of the mid-century and in the amassed work of his throughput and succeeded in catching the flavor of a time and place in European history the sport shall never see again. The career of Puskás that stretched across the whole modern post-war period showed how a truly great player can reflect the varying developments of his age yet maintain an unmistakable individual sovereignty, unique and inimitable.
He had intuition with extra sensory awareness to grasp other sides' nuances with novel thinking and an encompassing eye in less than fifteen minutes of play by issuing a stream of instructions to align the team and in his younger years often yelling at players many years his senior as a 'playing coach' solving ever-changing game vistas on the run. He had legendary assured urbanity and a smartness during the match's commotion and flux joined to the feel and rippling strength of his left leg that prized out the tightest defenses from distance done with a rocketed ball of honed dexterity.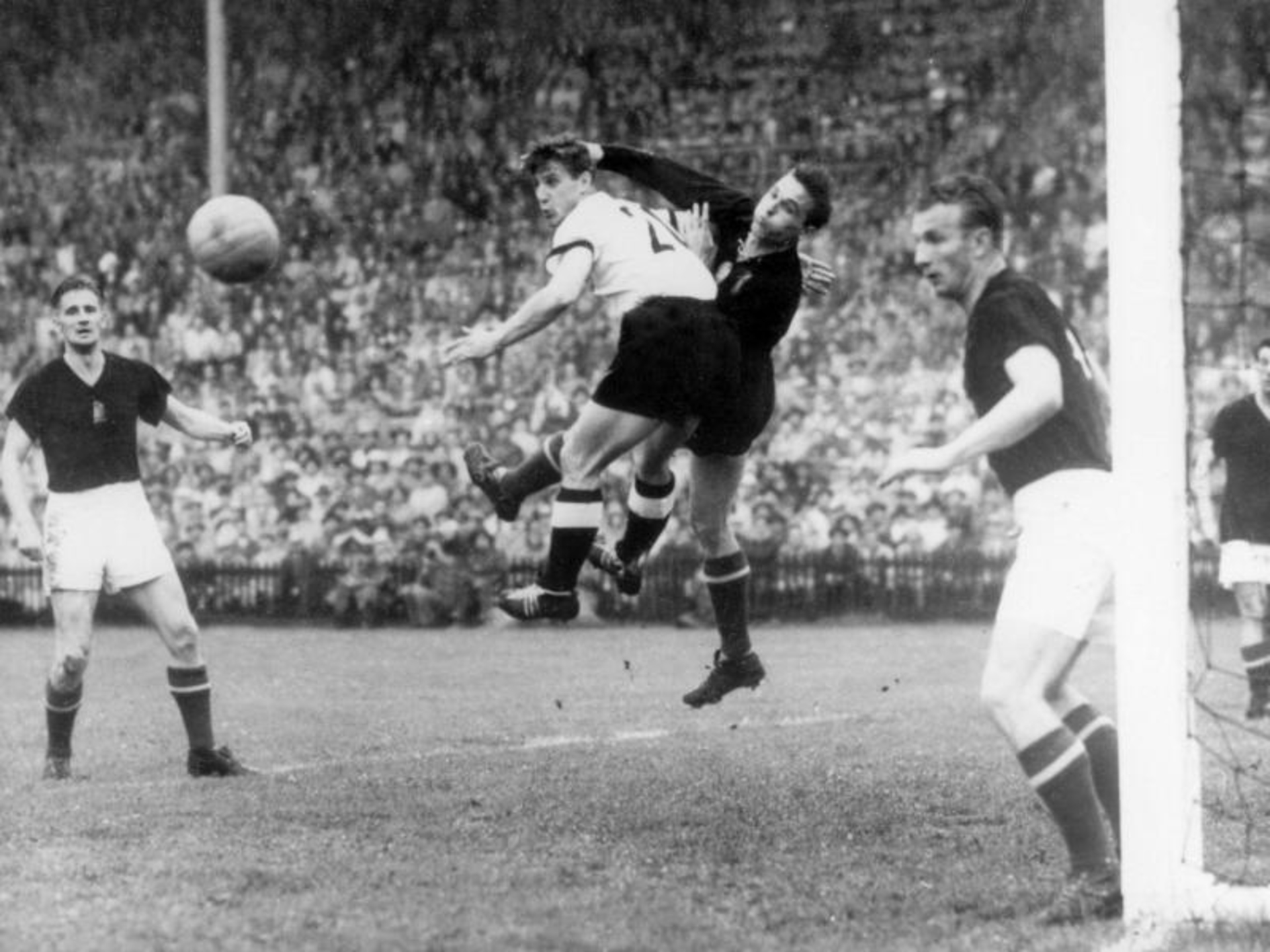 A defining moment: the un-whistled and uncalled illegal flagrant rough mid-air interference foul on goalkeeping Gyula Grosics by Hans Schäfer in the 18th minute that tackled and brought down Grosics to the turf. Since Grosics was unfairly tackled the ill-guarded goal was scored upon by Rahn seconds later to re-make an ascendant 2-0 Magical Magyars lead into a heavily contested 2-2 match in the highest rated match of the 20th Century, the 1954 World Cup Final title game.
Puskás was a match symphony-maker, a conspicuous student of the game and a teacher of athletes and his presence was soon felt at Budapest Kispest in the 1945-46 year where he scored 36 goals in 34 matches as a future player that legend could sing of as a paragon of vitality bringing happiness directed by a wily uomo universale of renaissance dreams who became the sport's first world superstar.
Very few players had careers or stories to tell quite like Puskás for a number of occasions. In all that reporting of his career a common thread in playing days that made him unique, simply that there is an air of the precious about almost all that he did, a glinting Midas touch, everything he touched on the field turned to gold in his life's work. Puskás only played on three teams: Budapest Kispest-Honvéd, Hungary and Real Madrid, three teams that were to take turns in dominating his life amid their greatest successes in golden periods of their own with an elegant yet fiery competitor with gracious outgoing gentlemanly manners whose career crackled with re-inventive life.
After three leading parts of the gigantic career oeuvre of Puskás and beyond as one who distinguished himself favorably in managing teams on five continents, Puskás' life runs into many stories and Puskás' own personal journey is an entire odyssey. Not far from the roars of duty on the pitch Puskás was also somebody famously known to a great many people having managed on five continents and his coaching career takes a different telling.
How little the formative years sometimes tell about an individual's potentialities is exemplified by the fact that Puskás, who was known as Öcsi ('Sonny' or 'Little Kid Brother') in his youth were he mastered the game with a liberated intelligence and talent during the hardscrabble interwar years would lead a life of creativeness and wit, be involved in three of the most stupendous matches of the century from start to finish immersed in the atmosphere of the sensational that caused him to be ranked among the most celebrated players of all time and become a great sports figure of the classic past.
A whole generation will best remember Puskás as a great master player associated with five prestigious European Cup ('Champions League')' title matches while paired with iconic club players Alfredo Di Stéfano and Francisco Gento at Real Madrid. Playing alongside Di Stéfano and Gento from 1958-1964 Puskás was primarily the best and most effective top-flight goalscorer on the 20th Century's highest ranked top league team. By their insatiable passion and many dashes of brilliance showing more always in leading men by their hardworking exampling talents made these three energetic masters of the sport all time eminences. With three such famous steerers piloting events who met problems and dealt with solutions to set things right and doing the kinds of things that others could not Real Madrid reached heights with an insuperable pre-eminence over teams at the Bernabéu Stadium that defined the greatest league 'home-field advantage' in history after Puskás surpassed England's 90-year old legacy in 1953.
Another generation will joyously recall Puskás for his goals and enduring exploits with Budapest Honvéd and the Hungarian 'Golden Team' while teamed with Sándor Kocsis and Nándor Hidegkuti. There alongside Hidegkuti and Sándor Kocsis, Puskás formed the most powerful and greatest scoring trio and winning partnership in all international soccer history. Superlative big wins with Hungary in 1949, 1950, 1951, 1952, 1953, 1954, 1955 and 1956 became a revelation to the people of some great ecstatic sports order and were so shapely and heralded victories a whole new reinvented vision, an entire new conception seemed contained in those games that football became stronger, richer and more varied.
---
Hungary 2 : 0 Yugoslavia
August 2, 1952 in Helsinki.
(Puskás 70' + Assist | Czibor 88' )
1952 Summer Olympic Final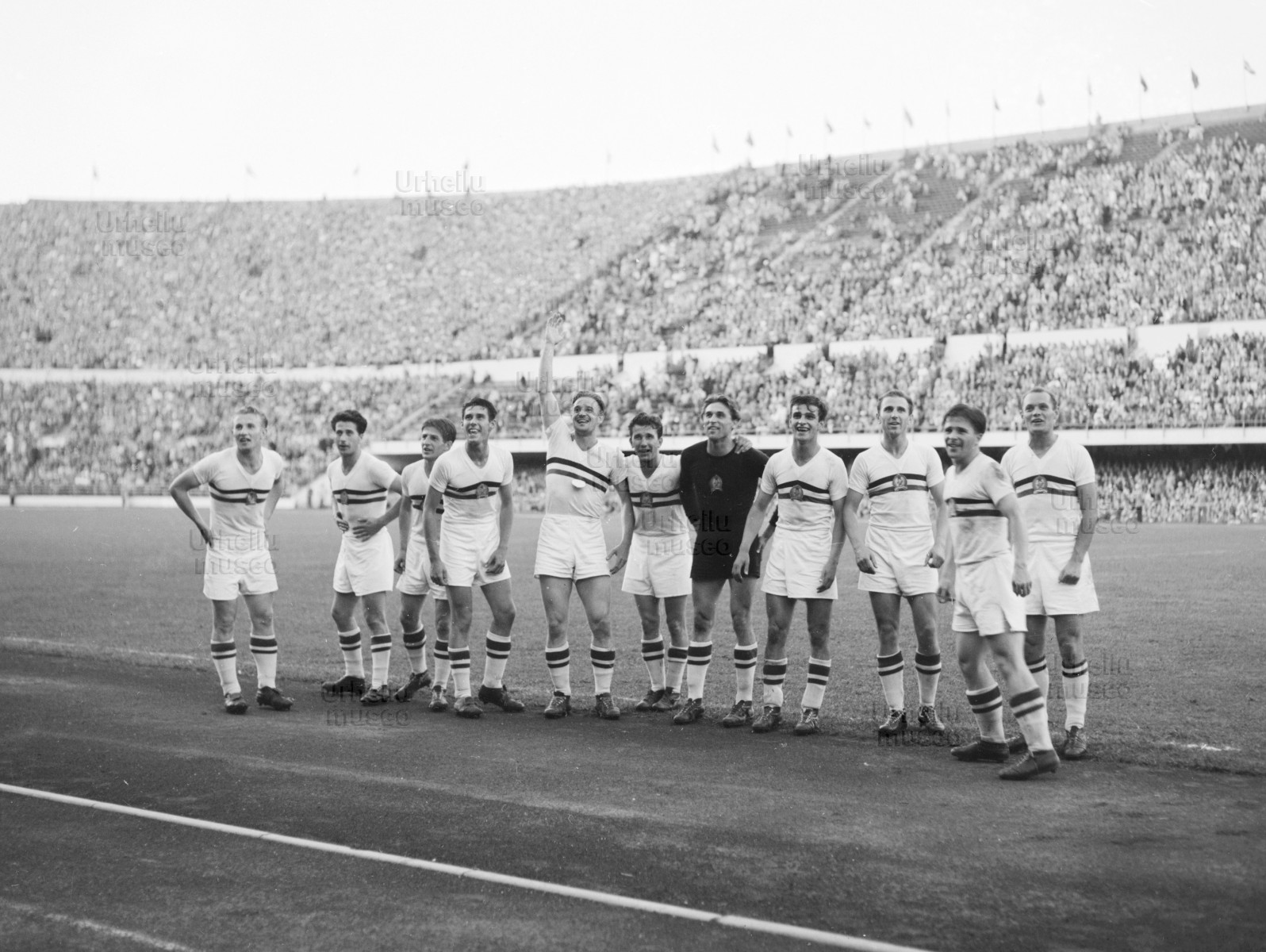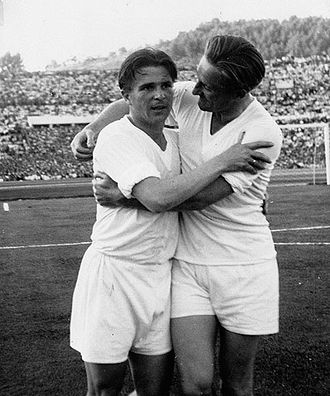 Hungary 3 : 0 Italy
May 17, 1953 in Rome.
(Hidegkuti 41' | Puskás 63', 68')
1948-1953 Central European International Cup Final
Hungary 9 : 0 South Korea
June 17, 1954 in Zürich. 1954 World Cup group.
(Puskás 12', 89' | Kocsis 24', 36', 50' | Palotás 75', 83' | Czibor 59' | Lantos 18')
Largest win margin in World Cup history, +9 goals.
Hungary 8 : 3 West Germany
June 20, 1954 in Basel. 1954 World Cup group.
(Puskás 17' | Kocsis 3', 21', 69', 78' | Hidegkuti 52', 54' | J. Tóth 75')
West Germany's Heaviest Loss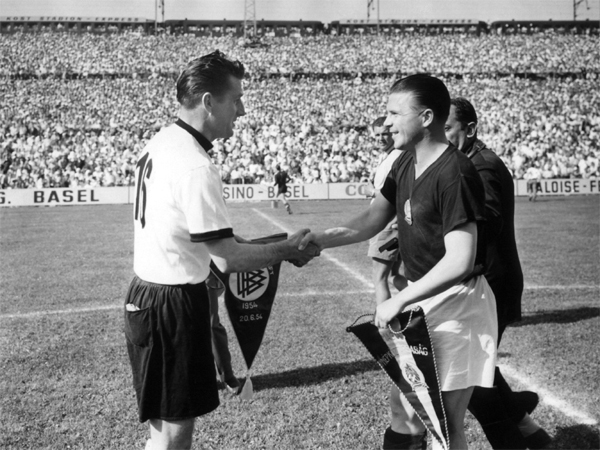 The captain of the unstoppable 'Golden Team', Puskás and Fritz Walter in the pennants exchange before the 8-3 emphatic rout of West Germany in group play at the 1954 World Cup. The 8-3 win is the all time heaviest loss for West Germany and was then a World Cup record for most combined goals.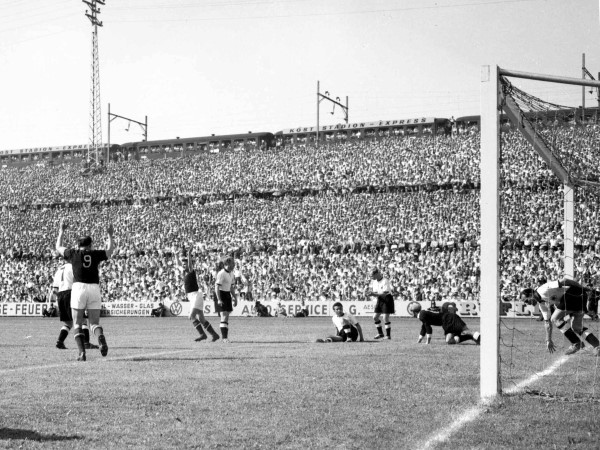 --- 'The Golden Team', 1945-1956 ---
*** The Final Placings of the 1947 Balkan Cup ***

Final
Country
Wins
Draws
Losses
Goal Diff. / Match
Gold
Hungary
4
0
0
+4.00
Silver

Yugoslavia

3

0

1

+1.00

Bronze

Romania

2

0

2

0.00

No. 4

Bulgaria

1

0

3

-2.25

Cup Top Scorer: Ferenc Deák (5 Goals) | 3 Goals Each (3rd):

Ferenc Puskás

, Nándor Hidegkuti

*** The Final Positions of the 1948 Balkan Cup ***

Country
Wins
Draws
Losses
Goal Diff. / Match
Hungary
4
1
1
+2.83

Yugoslavia

2

1

0

+1.00

Bulgaria

2

1

2

-0.20

Romania

2

1

1

-2.00

Cup Top Scorer:

Ferenc Puskás

(5 Goals) | 4 Goals Each (2nd): Ferenc Deák, Béla Egresi

***** The Final Placings of the 1952 Summer Olympics *****

Final
Country
Wins
Draws
Losses
Goal Diff. / Match
Gold
Hungary
5
0
0
+3.60
Silver

Yugoslavia

4

1

1

+2.17

Bronze

Sweden

3

0

1

+0.25

No. 4

West Germany

2

0

2

0.00

6 Goals: Sándor Kocsis (2nd) | 4 Goals Each (4th):

Ferenc Puskás

, Péter Palotás

**** The Final Placings of the 1948-1953 Central European Cup ****

Final
Country
Wins
Draws
Losses
Goal Diff. / Match
Gold
Hungary
5
1
2
+1.25
Silver

Czechoslovakia

4

1

3

+0.75

Bronze

Austria

4

1

3

-0.50

No. 4

Italy

3

2

3

+0.13

Cup Top Scorer:

Ferenc Puskás

(10 Goals) | 7 Goals (2nd): Ferenc Deák

***** Goal Differentials per Match Leading To The 1954 World Cup Final *****

Country
Wins
Draws
Losses
Goal Diff. / Match
Hungary
4
0
0
+4.50

West Germany

4

0

1

+2.00

Uruguay

3

0

2

+1.40

Austria

4

0

1

+1.00

Brazil

1

1

1

+1.00

Cup Top Scorer: Sándor Kocsis (11 Goals) | 4 Goals (3rd): Nándor Hidegkuti | 3 Goals,

Ferenc Puskás

**** The Final Placings of the 1955-1960 Central European Cup ****
Final
Country
Wins
Draws
Losses
Goal Diff. / Match
Gold
Czechoslovakia
7
2
1

+1.00

Silver

Hungary

6

3

1

+1.80
Bronze

Austria

4

3

3

0.00

No. 4

Yugoslavia

3

3

4

+0.80

Cup Top Scorer: Lajos Tichy (7 Goals) | 5 Goals (2nd):

Ferenc Puskás
***** Hungarian Rhapsody *****

***** 49 Consecutive Games Undefeated *****

Win Percentage: 95 %

Undefeated Percentage: 100 %

Matches

Wins

Draws

Losses

Score For

Score Ag.

Score Diff.

49

44

5

0

+4.33

-1.22

+3.11

From June 4, 1950 - February 18, 1956

(1954 World Cup Final Not Included)
' The Magical Magyars | The Mighty Magyars | The Magnificent Magyars | The Light Calvary '
Vying Against the Mountain Teams of Steel

1948-1956 Hungary versus

Top World No. 1-15 Elo-Ranked Teams

(1954 World Cup Final Not Included)

Match

Date

Venue

Occasion

Pre-Game Opp. Rank

Opposing Team

Sc

ore

1.

5.23.1948

Home

Balkan Cup

15

Czechoslovakia
2-1

2.

10.3.1948

Home

friendly

12

Austria
2-1

3.

5.8.1949

Home

Gero Cup

12

Austria
6-1

4.

6.12.1949

Home

Gero Cup

4

Italy

1-1

5.

6.19.1949

Away

friendly

3

Sweden

2-2

6.

10.16.1949

Away

friendly

12

Austria
4-3

7.

11.20.1949

Home

friendly

4

Sweden
5-0

8.

5.14.1950

Away

friendly

11

Austria

3-5

9.

10.29.1950

Home

friendly

11

Austria
4-3

10.

7.21.1952

Neutral

Olympic Grp

5

Italy
3-0

11.

7.28.1952

Neutral

Olympic SF

11

Sweden
6-0

12.

8.2.1952

Neutral

1952 Olympic Final

5

Yugoslavia
2-0

13.

4.26.1953

Home

friendly

12

Austria
1-0

14.

5.17.1953

Away

Gero Cup Final

11

Italy
3-0

15.

6.5.1953

Away

friendly

12

Sweden
4-2

16.

10.4.1953

Away

friendly

15

Czechoslovakia
5-1

17.

11.11.1953

Away

friendly

11

Austria
3-2

18.

11.15.1953

Home

friendly

13

Sweden

2-2

19.

11.25.1953

Away

'Match of Century'

3

England
6-3

20.

4.11.1954

Away

friendly

11

Austria
1-0

21.

5.23.1954

Home

'Match of Century II'

4

England
7-1

22.

6.20.1954

Neutral

WC Group

6

West Germany
8-3

23.

6.27.1954

Neutral

WC QFinal

3

Brazil
4-2

24.

6.30.1954

Neutral

WC SemiFinal

3

Uruguay
4-2

25.

11.14.1954

Home

friendly

6

Austria
4-1

26.

12.8.1954

Away

friendly

13

Scotland
4-2

27.

4.24.1955

Away

Gero Cup

7

Austria

2-2

28.

5.11.1955

Away

friendly

12

Sweden
7-3

29.

5.29.1955

Home

friendly

11

Scotland
3-1

30.

10.16.1955

Home

Gero Cup

7

Austria
6-1

31.

11.27.1955

Home

Gero Cup

11

Italy
2-0

32.

4.29.1956

Home

Gero Cup

7

Yugoslavia

2-2

33.

9.16.1956

Away

Gero Cup

5

Yugoslavia
3-1

34.

9.23.1956

Away

friendly

15

Soviet Union
1-0

35.

10.7.1956

Away

friendly

11

France
2-1

36.

10.14.1956

Away

friendly

7

Austria
2-0

36 Matches: 30 Wins, 5 Draws, 1 Loss

Win Percentage: 90.27%

Undefeated Percentage: 97.22%
The postwar renaissance age demanded a sports heralded game-changing powerhouse that was absolutely modern, winsome in approach and prim of no compromise and take-charging revolutionary as never before to resolutely outplay, outvie and brave the greatest teams of the era.
From the world war's nadir in 1945 to the sport's zenith in 1956 and in 1966 with Real Madrid all postwar teams with Ferenc Puskás that rumbled along had grown élite to maximal strength from the earliest days immediately following the war in August of 1945 that by 1966 had overtopped all world-class teams of steel; — in the beginning the 'Golden Team', a huge bombardment of flexible key heavers of Puskás-Kocsis-Hidegkuti-Bozsik-Czibor that also reigned with a revolutionary Gyula Grosics-quarterbacked 'Iron Curtain' defense for seven years had outvied the old vintage pre-war game as his oracle renaissance national team forever re-invented soccer in the 'new era'.
Entered to race, the rainmaker magnifico gold of their ample goals like sporting catholic bells tolling this 'Golden Team' appeared with Ferenc 'Sonny' Puskás' debut and whose race began on August 20th ('Saint Stephen's Day') in 1945 in Budapest against world-ranked No. 7 Austria where Puskás scored first in a very big 5-2 win and as a full team by decade's end in 1949 — it's a national sports treasure utilization of Olympian dreams with the immensity of history-molding numbers of never attainable praise in rhapsody of the unbeatable charm of the magical Hungarian 'Golden Team' of excellently and cleverly playing appropriate players amid a whirlwind of golden sound and thrilling roars of huge audiences with climatic, unpriceable sensational scoring action who got the beauty of 'the beautiful game' right and tremendous.
From the world war's closing welter and turmoil Ferenc Puskás, who arrived to the national 'beautiful game' aged but eighteen as a charming and intelligent young man with Nándor Hidegkuti ('The Elder') in 1945, Ferenc 'Bamba' Deák in 1946, midfield all-time iron man József Bozsik and Midas goalkeeper Gyula Grosics in 1947, the bona fide natural aerial header and shooter Sándor Kocsis in 1948 and Zoltán Czibor ('The Mad Winger') in 1949 they alighted a groundbreaking hard-charging cheer-bringing game of spectacular passages brandishing beauty bolts of speed, finesse, true vigor and players of multi-sided genius and the hardest scoring bandwidth that has found no peer. By May 1953 it is the most powerful team in the world.
Exultantly performed as by vast composers 35.59% (+1/3) of their 59 matches (omitting the 1954 World Cup Final match) from 1949 to 1956 were won by 5 goals or more in débâcles and tour de force routs with an average win margin of +3.19 goals/game with an abundant heraldic prodigious vault of goals. Bred east of the mountains the decisively highest scoring and highest rated team (2232 Elo points) of all time; Puskás' dashing men of the Danube who grew up beyond the mountains from central Europe that is ultimately the 'Greatest Ever Association Football Team' in substance and surroundings with ease to enter the checkered mass attack full of thundering scoring tide with a prim defense that can battle and answer ran more melodious in hours prophetic with a triumphant tutti beyond what gorgeous summer knows for a 9-year historic, athletic, record-breaking reign of sports' precedents.
At Hungary in 1949 a new socialist health takes hold of an already powerful Puskás-led Hungarian team primed with new plot and rhyme as head manager Gustáv Sebes rebuilt it with a finer forge of goal besetting tactics and a very good goalkeeper-bulwarked defense that led the soccer world for seven years as the star-studded 'Golden Team' of hammering goalscoring bravado.
The triple honor and prize-winning beam of Ferenc Puskás ('Sonny', 'The Galloping Major', 83 goals), Sándor Kocsis ('The Man With The Golden Head', 75 goals), the specialists Nándor Hidegkuti ('The Elder', 'The Playing Father of Total Football', 39 goals) and super-substitute Péter Palotás (18 goals), earlier great Ferenc Deák ('Bamba', 29 goals) and later the master apprentice the good striker Lajos Tichy ('The Nation's Bomber', 51 goals) rammed them into a roaring juggernaut where a central enigma had been formed by the fabulous team of capital reserves: — the alluring false No. 9 cunningly withdrawn new motion ace metronome cracksmen of Péter Palotás and Nándor Hidegkuti, who like half engineers and keys open hundreds of doors of space to exploit and disorder accustomed defenses with prelude, chicane and timed chance runs. There these great players of skill, talents superb in technique fade other teams in new strengths, unhampered team mobility and tactical rigors of the polyvalent 3-2-5/3-2-1-4/4-2-4 formation in 'socialist football's' stronger existence charged with unrelenting and unalterable winning outscoring pathos.
In 'Magical Magyar' glide laid an absolute team totality simultaneity concert of purely-proceeding spirits in original concord energy, the prodigal national players of the people heroically a-blazing with unmatchable athletic esprit and élan scoring 4.36 goals/game (from May 1949 to February 1956 in 59 matches) that they conquered their field of aim and endowed the worldwide famous team with the glows and renowned glories of cosmic and dynamic features.
Of the crowds of great teams who came and went aloud in the raptured ears of men beheld Puskás' Hungarian 'Golden Team' within the circuit of European football there entering a seven-year reign of a national Hungarian side that was peerlessly the best team of them all during a doctrinaire and the most extravagant and cavalier age, but Puskás and his strike partner Sándor Kocsis transformed them as 'statistically the greatest ever'.
---
' The Match of the Century '

The Historic Hallmark Visionary Wastershed Landmark

' World Championship Decider '

Match Attendance: 105,0000

November 25, 1953 in London.

The Divine Titan Near Perfect Maximum

Team of All Time

'The Golden Team'

May 8, 1949 to Nov. 24, 1953

Wins

Ties

Loss

Goals/Match

Goal Diff./Match

Wins

Ties

Loss

Goals/Match

Goal Diff./Match

36

3

0

5.23

+4.20

26

6

1

4.27

+3.18

Win Percentage: 96.15%

Undefeated Percentage:

100% All Time Since 1863

Win Percentage: 87.88%

Undefeated Percentage: 96.97%
***** ' The Matches of the Century I & II ' *****

Wins
Ties
Losses
Goal Diff. / Match
2
0
0
+4.50
Top Scorers (4 Goals):

Puskás

, Hidegkuti | 2 Goals: Sándor Kocsis
Hungary 6 : 3 England
(Hidegkuti 1', 20', 53' | Puskás 24', 27' + 2 Assists | Bozsik 50')
Puskás scored 2 goals and made 2 assists and became the world record holder for most national goals with 60 goals in 50 internationals.
Hungary 7 : 1 England
(Lantos 10' | | Puskás 17', 71' + 1 Assist | Kocsis 19', 57' | Hidegkuti 59' | J. Tóth 63')
The Strength of Major Teams On The Road To The 1954 FIFA World Cup Final

Hungary 7 - 0 Versus Top Ranked Teams With A Combined Best Form 200 Game Record Of:

155 Wins, 31 Draws, 14 Losses

(85.25 Win %)

World Rank

Competed Against Teams

Wins

Draws

Losses

Win %

Hungary Score

No. 5

1944 Elo

Yugoslavia (Last 23 Matches)

1952 Olympic Title Won

16

3

4

76.09%

2-0

No. 11

1863 Elo

Italy (Playing At Home Last 49 Matches)

1948-1953 European Championship Won

36

11

2

84.70%

3-0

No. 3

2022 Elo

England (All Time Since 1863 Playing At Home vs. Teams Outside Of British Isles)

Maiden International Defeat At Home

36

3

0

96.15%

6-3

No. 26

1677 Elo

South Korea

(All Time Since 1948)

Largest Win Margin

All Time In World Cup

11

4

2

76.47%

9-0

No. 6

1957 Elo

West Germany (Last 19 Matches)

West Germany's Heaviest All Time Loss

14

3

2

81.57%

8-3

No. 3

2037 Elo

Brazil (Last 29 Matches)

World Cup's All Time Toughest & Physically Most Brutal Match & Post-Game Ever

21

4

4

82.14%

4-2

No. 3

2018 Elo

Uruguay (All Time Since 1902 In All World Tournaments & Teams Outside Of South America)

Maiden Defeat All Time Since 1902

21

3

0

93.75%

4-2
***** ' The Greatests ' *****
The Fabulous Winning Crackerjack Ace Nine
of Hammering Goalscoring Bravado
(1954 World Cup Final Pre-Match, July 4th, 1954)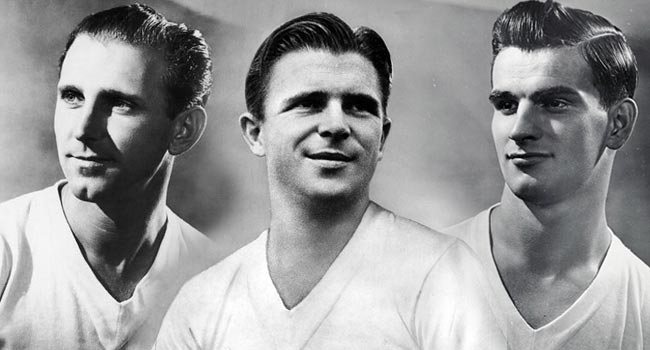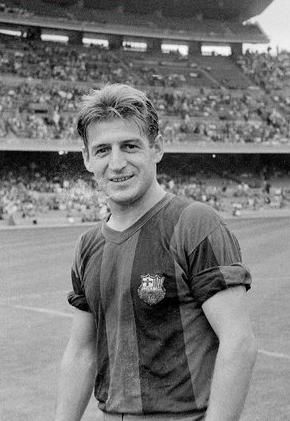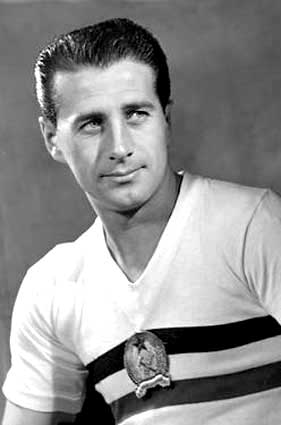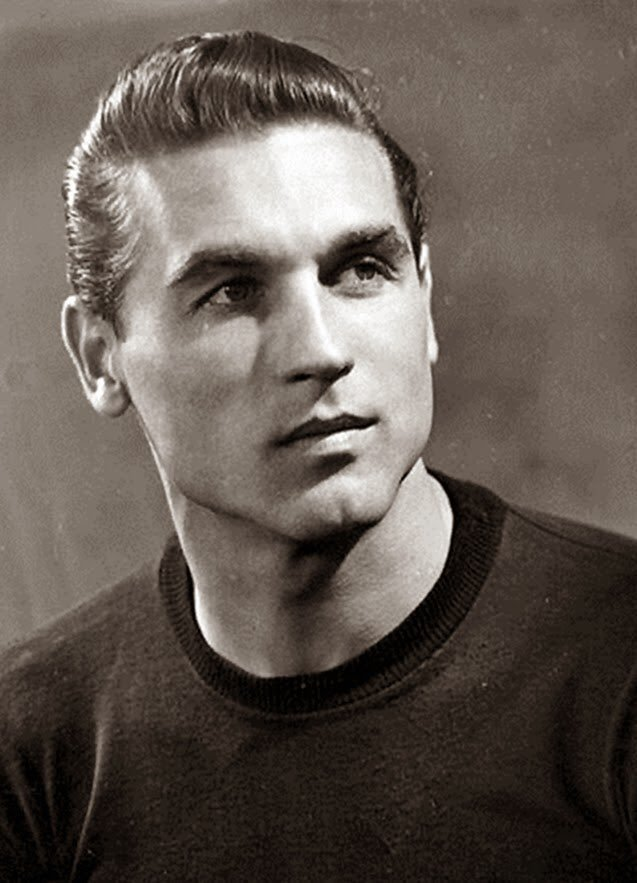 By Debut
Players
Goals
Matches
Goals/M.
Wins
Draws
Loss
Win %
Aug. 1945

Puskás

(Unmended hairline fracture ankle injury)

67

(World-Record Magic)

55

1.22

(Magic)

43
5
7

82.7%

(Magic)

Sept. 1945
Hidegkuti
30
37
0.81
34
3
1

95.9%

(Great Magic)

Oct. 1946

Ferenc 'Bamba' Deák

(Inactived in Nov. 1949)

29
20

1.45

(Magic)

14
2
4
75.0%
Aug. 1947
Bozsik
4
50
0.08
40
5
5

85.0%

(Magic)

June 1948
Kocsis
48
38

1.26

(Magic)

32
5
1

90.8%

(Magic)

May 1949

Budai II

(Not started in the 1954 Final on July 4)

7
23
0.30
18
4
1

86.96%

(Magic)

July 1949

Czibor

(Ill-suitedly replaced to Budai's right-wing position in the 1954 Final on July 4 with no prior playing experience in that role in entire career)

8
29
0.28
25
4
0

93.1%

(Magic)

Sept. 1950

Palotás

(Not started in the 1954 Final on July 4)

11
16
0.69
14
2
0

93.75%

(Magic)

Aug. 1947
Grosics (GK)

-1.06 conceded

(Magic)

30
3
0

95.5%

(Magic)
Players with 100+ Caps and 30+ International Goals (rsssf.com)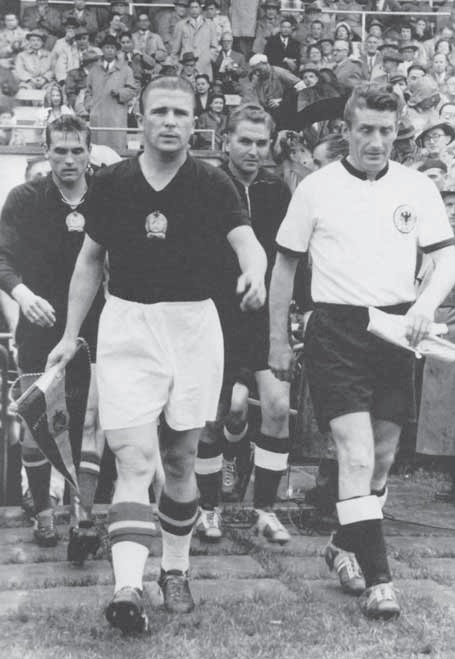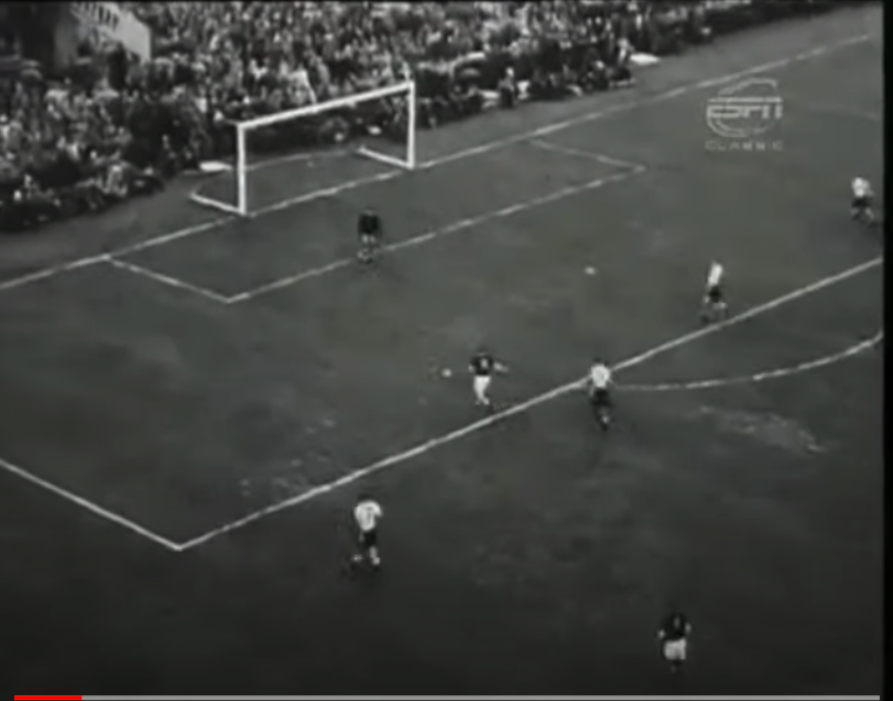 Hungary 2 : 0 West Germany
Puskás 6', Czibor 8'- 8th minute
---
Hungary 3 : 3 West Germany
Puskás 6', Czibor 8', Puskás 87' - 87th minute
July 4, 1954 | 1954 World Cup Final Title Game
On November 25, 1953 in the 'Match of the Century' it is the wonder game of the age. For these players led by the idyllic playmaking wiles of Puskás against England in London undefeated all time since 1863 comes the resplendent historic moment. It is the broad supreme super-spectacle of world sport broadcast to an immense international worldwide audience of radio and early live television coverage in Empire Wembley Stadium with 105,000 in attendance for the superincumbent team, England with the draught of vintage power. It is the old masterly invincible steamrolling heavy industrial 3-2-2-3 powerhouse mountain tower diamond team of football dreams of unearthly height with the legend-making titan team scoring 5.23 goals/match all time — beyond it the rarified zone, the Olympian Himalayas after a herculean sports feat achievement and a vista of eternal fame as heavily favored England clashed with the new technique of the Puskás-led visiting world-ranked No. 1 team.
This 'Match of the Century' was of a genuine world premier that arcs to a visionary game that virtually amounted to the sport's reinvention by blowing the game's new applauding scoring winds against the old savory, in vogue and definitive order of 'WM' (3-2-2-3) formation in the heralded game-changing historic and unrepeatable very famous 6-3 win there the favorited player Puskás scored two goals and made two assists and had reached soccer's summit touchstone and where he left his merry world-record treasure.
In this grand unofficial 'World Championship Decider' Puskás with an eye for the unique situation leading his heralds fired the goal heard around the athletic world with his 'Goal of the Century' that is a beautiful dreamed-out sculpture of skill and a bugle of Puskás' famous arrival as the world's greatest player and new No. 1 international record-holder with 60 goals in 50 matches. It became soccer's first new powerful and spectacular manifesto and a sport-shaping master match prophetic of the future that perhaps all 'modern football' can date from it. To beat the mountain tower diamond team of football dreams 6-3 in London and 7-1 in Budapest gives the team and its captain astral fame and genius.
For seven years that swept the boulevards of fame from 1949-1956 in a famous 60-game stand that hallowed their cause all national teams founder to new supercharged qualities that is too well made, the motoric fierce tang of aptly turned passes, prim specialties and outperformance of
famous athletes of the nation doubtless getting near their goal with goals that could not be got back nor resolving the stalwart and vaunted 'Total Team' Hungarian defense competent to praise and too little known with new acquired wisdom.
There a famous derring-do pioneering virtuoso goalkeeper, Gyula Grosics ('The Black Panther') bolstered and steadied the last line as a late intercepting defensive runner off the goal line under the bar with his spars and long sorties to teach succeeding revelations to all modern defenses. By early 1956 the physical gestalt of the mighty re-inventing postwar renaissance and 'socialist football's dream team of the ages crackling with game stood tangibly proud and undeniably great for all to see like a gothic building that generated life. The titan team had lost one game since June 1950, the 1954 World Cup Final on the 4th of July to West Germany.
As one could have Puskás captained a sensationally talented, near-perfect winning super-team that came to life that lost one match over the course of six years due to no reasons of his own or his team following a number of bizarre unhoped for happenings, two bad goal contentious referee decisions that went in favor of West Germany and cover-ups that deprived his team to be looked upon with general acceptance as the greatest team that ever was.
In the mythic and legendary 1954 World Cup Final Puskás and his teammates are characters out of a long unwritten about scandal with the game's sense of incompleted unfinished reach to initiating the question where reputed doping plays a part in championship level integrity including his team being sapped by two officiating calls when in the early minutes played a dozen superb persons to an apparent world title victory after leading 2-0. The controversial 1954 world title match ideally should have been won 1-0 by default in accords with the contemporary laws and standards of the game or, if ideally refereed, won 3-2 as here swoops in the game's half-injured lord Ferenc Puskás with his two legitimate master goals in the 6th and 87th minutes. Some days before Real Madrid's fantastic triumph over Eintracht Frankfurt in the spring of 1960 Puskás had publicly voiced a mighty secret after witnessing performance-enhancing syringes in the West Germans' post-game locker rooms.
On May 11, 1955 in a huge 7-3 away win over Sweden in Stockholm where Puskás scored two goals and Kocsis scored three goals this great team inherited an only first, the historic and unrepeatable occasion of fielding Puskás and Sándor Kocsis as the top two goal-leading national world record-holders who would play in tandem until Oct. 14, 1956 in a 2-0 away win over world-ranked No. 7 Austria in their final match for Hungary.
At Hungary, a great deal of their success located Puskás to be the center of most things involving the team as a sharp operator both on the field and off with a fine grasp of public relations. The indisputably star player was the uplifter of an already great Hungarian side who drove his teams with a demanding love for winning to heights unrivaled and raise their minds to brave thinking that gave spur to his country's postwar football flowering. The quintessential fact is that with Puskás at the helm Hungary became the most powerful sporting force in the world that lost a single game in six years.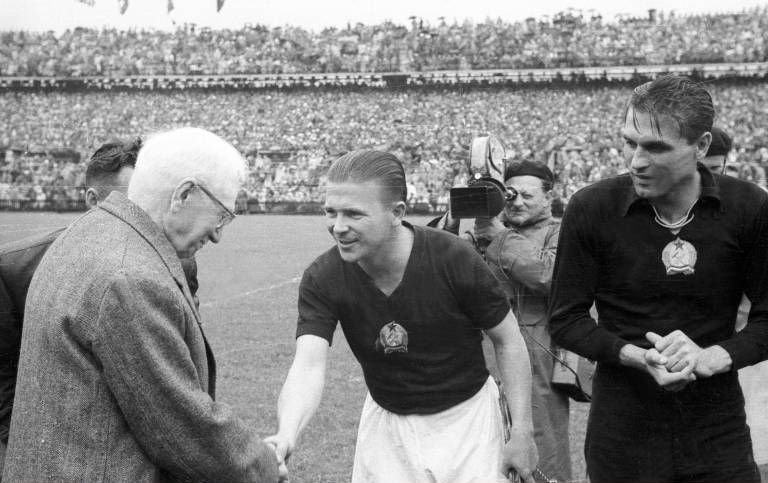 Former FIFA President Jules Rimet pays homage to two great
Midas-players, the greatest player in the world, Puskás and
Gyula Grosics, the greatest goalkeeper in the world prior to
the kickoff of at 1954 World Cup Final.
' The Greatest National Duo '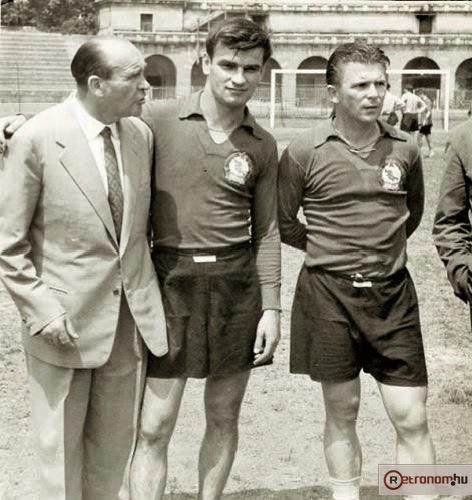 Legendary manager Béla Guttmann with
Sándor Kocsis and Puskás. The greatest and
most prolific national trio of all time
was Puskás-Kocsis-Hidegkuti
who
tallied a combined 194 career goals for Hungary on the
highest rated football team of all time.
---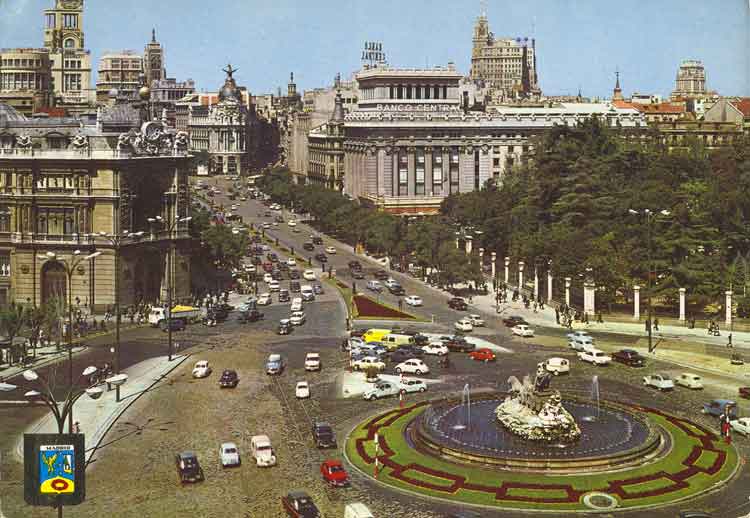 Madrid, Spain in the early 1960s.
Ferenc Puskás, as player or manager, is associated with six European Cup ('Champions League') title match appearances.

Hungarian players and head managers have won the European Cup on seven occasions (1959, 1960, 1961, 1962, 1966, 1972, 1973), and came in second place in the European Cup Finale four times (1961, 1962, 1964, 1971).

Star Players or Team Head Manager

Type of Championship Final

Alfredo Di Stéfano /

Ferenc Puskás

/

Gento

European Cup Finale

Ferenc Puskás

/ Alfredo Di Stéfano / Gentos

European Cup Finale

Ferenc Puskás

/ Alfredo Di Stéfano / Gento

Intercontinental Cup Finale (inaugural)

Sándor Kocsis, Zoltán Czibor, Lászlo Kubala

European Cup Finale

Béla Guttmann, manager of Benfica

Ferenc Puskás

/ Alfredo Di Stéfano / Gento

European Cup Finale

Béla Guttmann, manager of Benfica

Ferenc Pusksás / Alfredo Di Stéfano / Gento

European Cup Finale

Amancio /

Ferenc Puskás

/ Gento

European Cup Finale

Ferenc Puskás, head manager

European Cup Finale

Ferenc Puskás,

head manager

Intercontinental Cup Finale

István Kovács

, head manager

European Cup Finale

István Kovács

, head manager

Intercontinental Cup Finale

István Kovács, head manager

European Cup Finale

István Kovács, head manager

European Super Cup Finale (inaugural)
--- The Real Madrid Years, 1958-1966 ---
The Highest Scoring European Cup/'Champions League'

Champion Team of All Time

***** 1959-1960 Real Madrid *****

1960 Top Division European Champion

1960 World Club Intercontinental Champion

1959-1960 Spanish Primera División Silver Medal

Star Catalyst M.V.P.
Puskás' Tournament Bestowal
Team Goals
Gls./Match
Goals Ags.
Goal Diff.
Goal Diff./Match

Puskás' Full 1959-60 Campaign

Ferenc Puskás

1959-1960 Spanish Primera División Scoring M.V.P.

12 goals in 7 matches

(1.71 goals/game)

European Cup Scoring M.V.P.

31
+4.43
-10
+21

+3.00

1.29 goals/game

49 goals in 38 matches

12 goals + 6 Assists

2.57 G + A / Match

2.57 G + A / Match ÷ 4.43 Team Goals/Match = Puskás Scoring Play Team Bandwidth % = 58.01%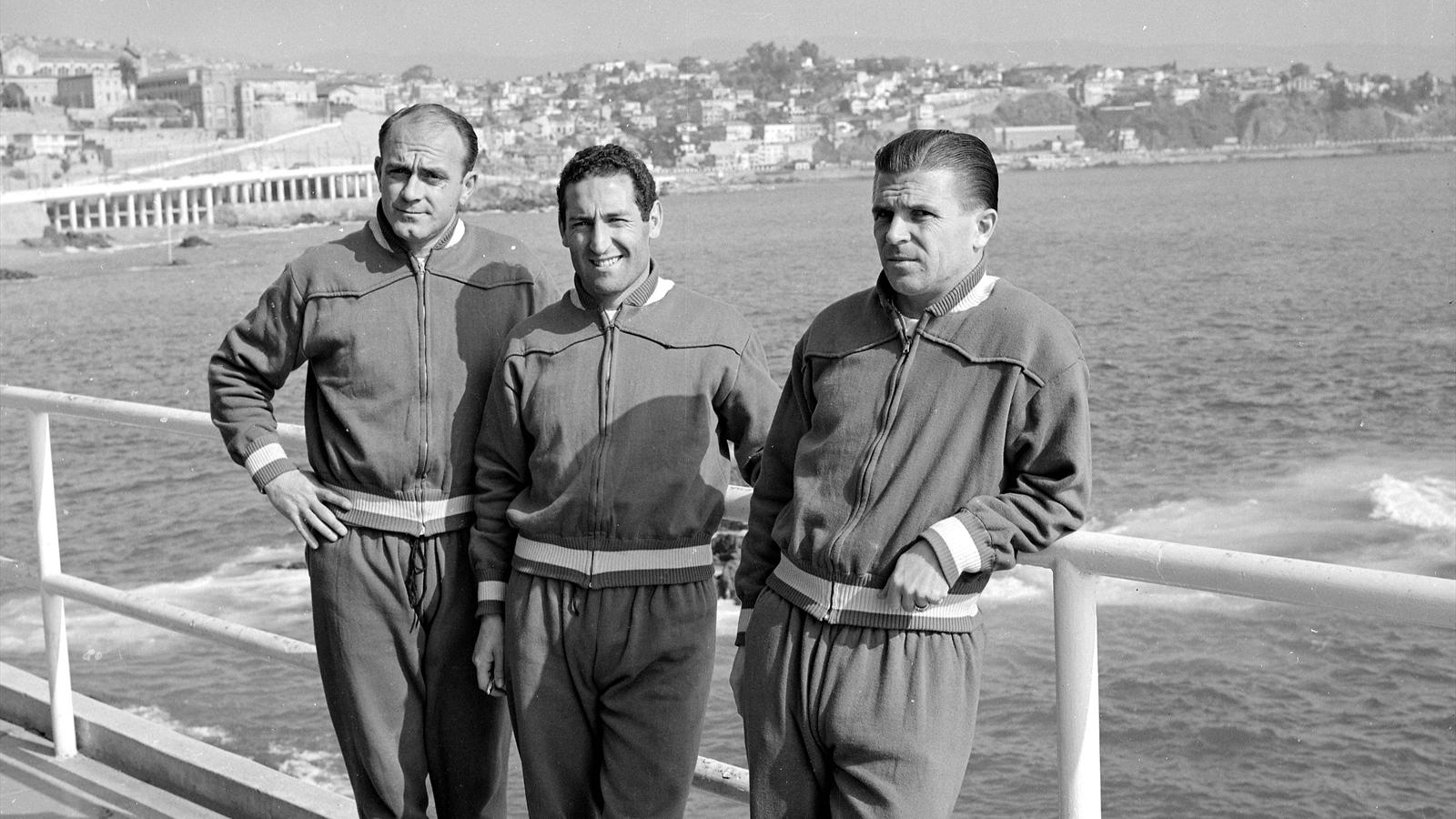 Three legendary and dazzlingly learned master craftsmen on the
'FIFA Club Team of the Century'
The most talented and greatest club strike trio of all time:
***** Di Stéfano-Gento-Puskás (1958-1964) *****
History's greatest, the most decorated forward
line with 14 won European Cup
titles between them, the three would combine for 437 goals
together in just six
years. At Real Madrid, Di Stéfano (five-time European Cup winner),
football's
greatest

club player and top-tier tournament extraordinaire, would score 307
total
goals out of 396 matches and Puskás (three time European Cup winner)
would score 242 goals
out of his total 262 matches. Francisco Gento is the
only man to have won six European Cup
titles as a player.
"The Greatest
Ever"
on the highest rated franchise team of last century.
' The Greatests '
Puskás, the greatest goalscorer in history with Real Madrid teammates José Santamaría, recognized as one of the greatest centerbacks in history and Alfredo Di Stéfano who was the 20th Century's greatest club player of all time.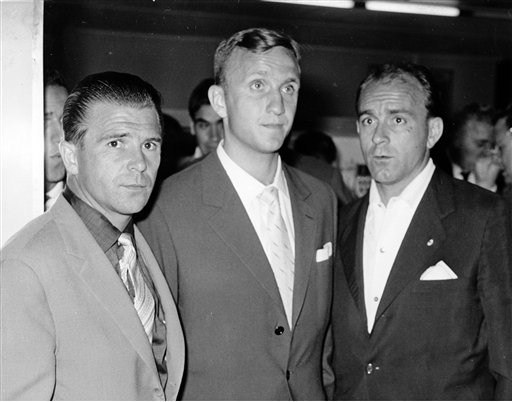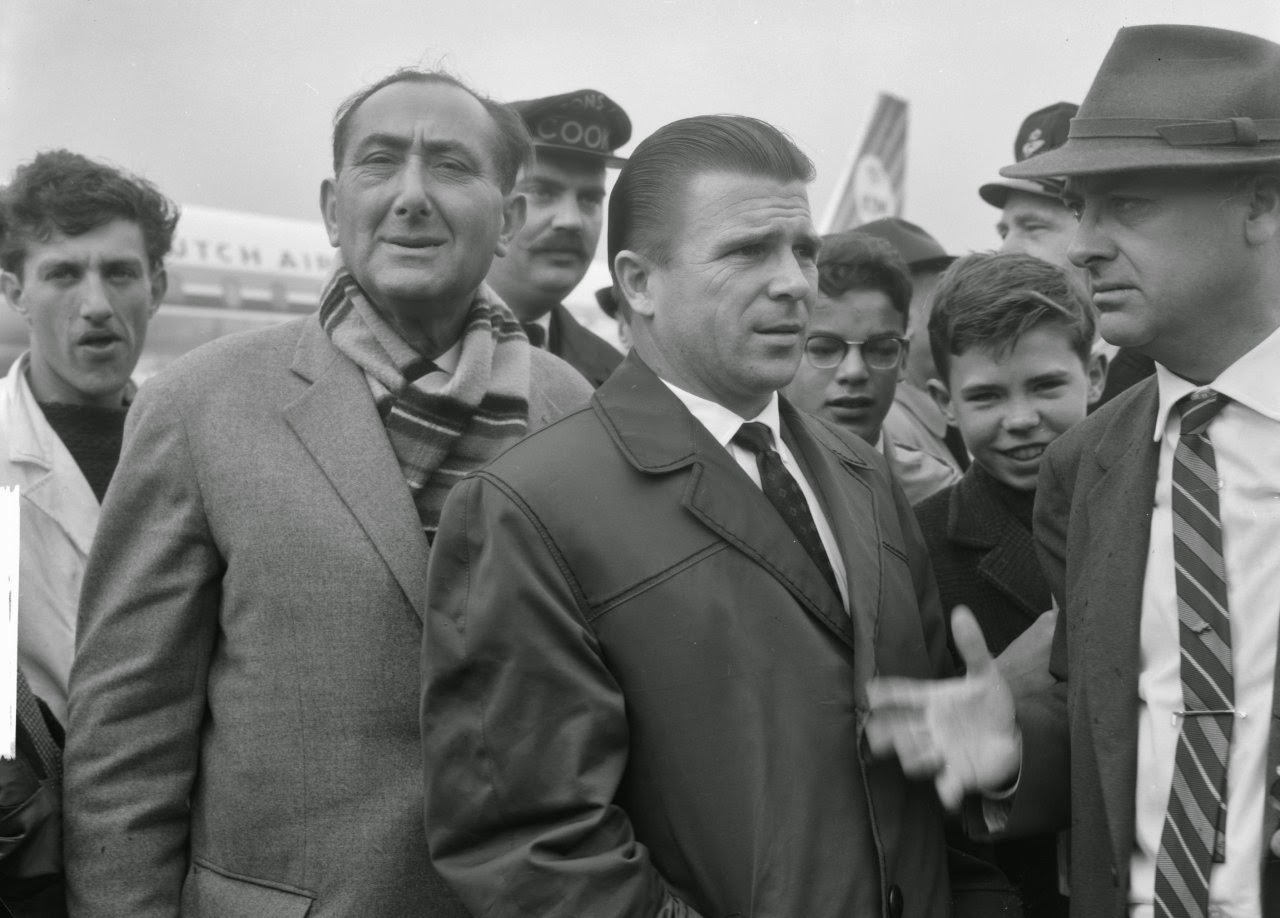 Famous sports hero 'Pancho' Puskás in May of 1962 prior to the 1962 European Cup Final versus great Hungarian manager Béla Guttmann's Benfica in Amsterdam. Puskás in the title game would go on to score 3 big goals and take a 2-0 and 3-2 lead at halftime for Real Madrid. Puskás holds the all-time record for best goal ratio in the European Cup ('Champions League') past 35 scores with 36 goals in 41 matches (0.878%)
' The Greatest '

All Time Greatest League 'Home Field Advantages'

source: http://rsssf.com/miscellaneous/unbeaten.html#hom

All Time Rank
Franchise
Home Undefeated Streak
Date Began

Streak End Date

Star Catalyst

Players

No. 1 Gold

Real Madrid
121 undefeated matches
Feb. 17, 1957
March 7, 1965

Puskás

Di Stéfano-Gento-Santamaría

No. 2 Silver

Crvena Zvezda

96

Aug. 29, 1998

Aug. 7, 2004

No. 3 Bronze

PSV Eindhoven

93

Sep. 17, 1983

Mar. 19, 1989

No. 4

FC Nates

92

May15, 1976

Apr. 7, 1981

No. 5

Cobreloa

91

1979

1985

No. 6

Spartak Trnava

89

Mar. 30, 1968

April 2, 1974

No. 7

Torino

88

Jan. 31, 1943

Nov. 6, 1949

No. 8

Chelsea

86

Mar. 20, 2004

Nov. 26, 2008

Tie No. 9
Panathinaikos *
85
April 8, 1973

April 16, 1978

* Puskás was head manager of Panathinaikos from 1970-1974.
' The Greatests '

All Time Highest Goals Difference Ratio

In A Single International Season For World Club Finalists

source: xtrahistory.blogspot.com/2014/04/Record-Statistics.html

Matches
Star Catalyst Player
Team
Matches
Goal Diff./Game
Years

1. Gold

Ferenc Puskás

Real Madrid

9

2.78

1959-1960

2. Silver

Bayern Munich

13

2.69

2019-2020

3. Bronze

Alfredo Di Stéfano

Real Madrid

7

2.57

1958-1959
Perhaps the foreign, narrow, rigid socialist world in which he lived was constructed to provoke the rebelliousness latent in Puskás' spirit. Later estranged from his homeland due to the reprisals that were the fallout of the failed 1956 Hungarian Revolt and what might have awaited him for his refusal to return from abroad and unconnected with interests in politics as Puskás was, he took that step that constituted a temptation to many, defecting from 1956 Hungary to escape the vindictive post-Revolt repression that followed back home.
The biggest name in Hungary, the captain and the pride of the 'Golden Team' had become a persona non grata by the communist authorities in Hungary after his defection and he was given an 18-month ban from playing by FIFA by demands of the new post-1956 Revolt Hungarian communist regime. Interspersed with problems of adjustment which faced him in language and customs, Puskás was adrift and languishing in exile his career and fortune apparently behind him but had decided to remain a player and who dreamed of going back to be the greatest, he was determination's totem.
On the wrong side of thirty and serving an 18-month ban from FIFA, Puskás, the famous epicurean was now mostly thought out of shape and in the twilight of his playing days. He has the capacity for change and sought to understand his new environment which molds the local mind and soon rose out of limbo and met the request of owner Santiago Bernabéu to find employ in the greatest club and one the richest sports institutions in the world, Real Madrid at the height of its powers to begin a second consecutive and stunning double career.
***** The Greatests *****
Real Madrid's 'Very Best and Greatests'
Major Players by Goal Ratio (minimum 171 total goals)
(Update 5.5.2021)
Source: https://en.wikipedia.org/wiki/List_of_Real_Madrid_C.F._records_and_statistics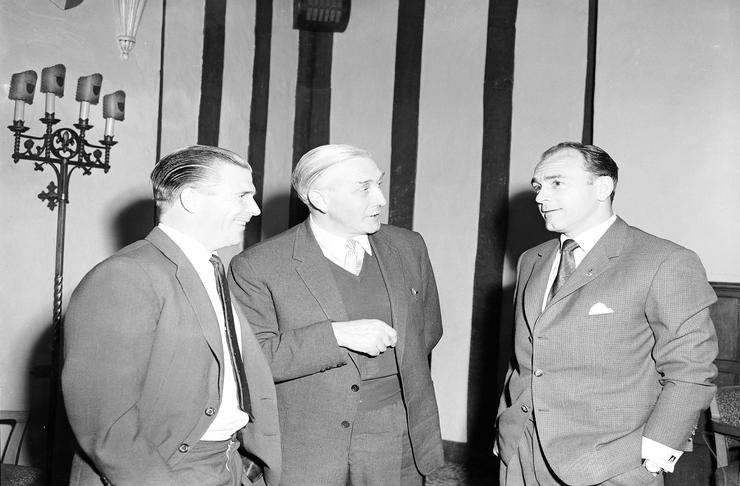 Ferenc Puskás with English pioneering legend Arthur Rowe, manager of Crystal Palace and advocate of the 'push and run' style and Alfredo Di Stéfano in 1962. Arthur Rowe was employed in Hungary as a consultant and a manager in 1938-1940 and also gave a series of lectures on the merits of the 'WM' system.
Real

Madrid Rank

Star Player

Total Goals

Total Matches

Goal Ratio

Year Active

No. 1. Gold

Cristiano Ronaldo

450

438

1.03

2009-2018

No. 2. Silver

Ferenc Puskás

242

262

0.92
1958-1966
No. 3. Bronze

Alfredo Di Stéfano

308

396

0.78

1953-1964

No. 4

Hugo Sanchez

208

282

0.74

1985-1992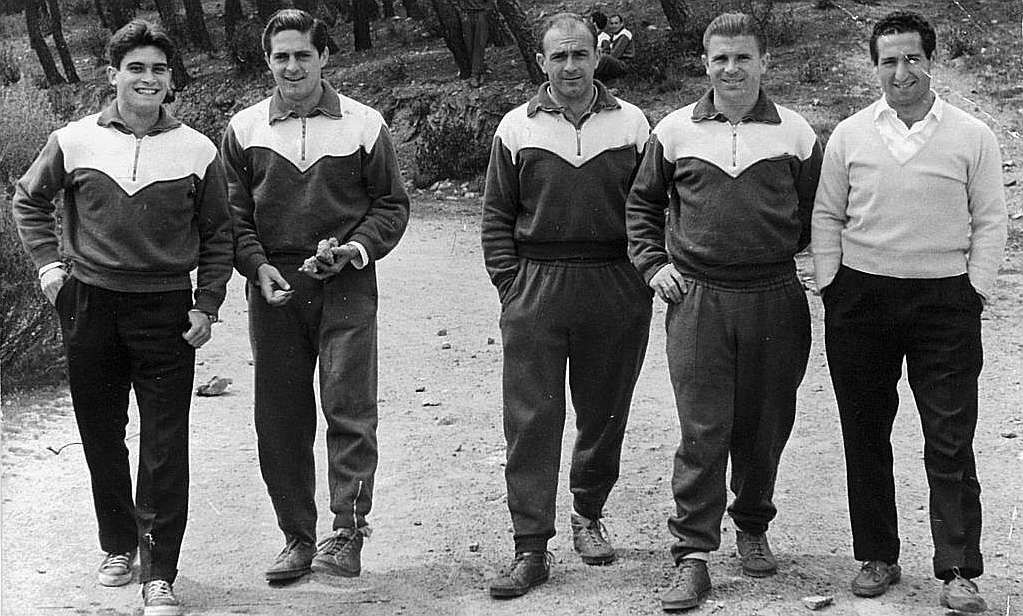 All Time Top Ace Crackerjack Goalscorers In The Champions League

(Minimum: 35 Goals)

(dated: 11.02.2022)

All Time
Player
Matches
Goals
Goals-per-Match
Puskás In Cup Finals
No. 1 Gold
Ferenc Puskás

41

36

.878

7 goals in 3 Finals

(all time co-record)

2.33 goals/Final

No. 2 Silver

Alfredo Di Stéfano

58

49

.845

No. 3 Bronze

Robert Lewandowski

111

91

.820

No. 4

Lionel Messi

161

129

.80
Crackerjack Seasons with Real Madrid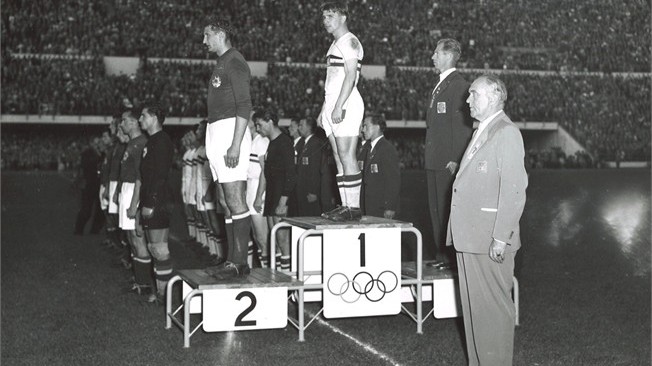 'Pancho' Puskás would score 156 goals in 180 in all La Liga matches and in his second season lead Real Madrid in team scoring for five straight years, achieve 5 national championships, earn Spain's vaunted Primera división's Pichichi MVP trophy four times, score 49 goals across all his 41 Copa del Rey matches and who played in European Cup tournament games better than perhaps anyone has seen by scoring an amazing 36 goals in the European Cup (Champions League) in 41 high-profile contests and has the all time best goal-ratio in the European Cup tournament past 35 goals.
' The Greatest '

All Time Ace Crackerjacks In The Spanish Cup (Copa del Rey)

(Minimum: 26 Goals)

source: Top goalscorers in Copa del Rey history (besoccer.com)

All Time Rank

Star Player

Matches

Goals

Ratio

No. 1 Gold
Ferenc Puskás
41
49
1.20

Silver

Zarra

74

81

1.09

Bronze

Rogelio

27

28

1.04

No. 4

P. Alcántara

34

34

1.00

Puskás In Spanish Cup Finals: 4 goals in 3 Finals (1962 Cup Winner)
' The Greatest '
Historic Hallmark Climatic Sensational Top Championship Landmark
Real Madrid 7 : 3 Eintracht Frankfurt
Press Described: One of the all time greatest ever matches
Match Attendance: 127,000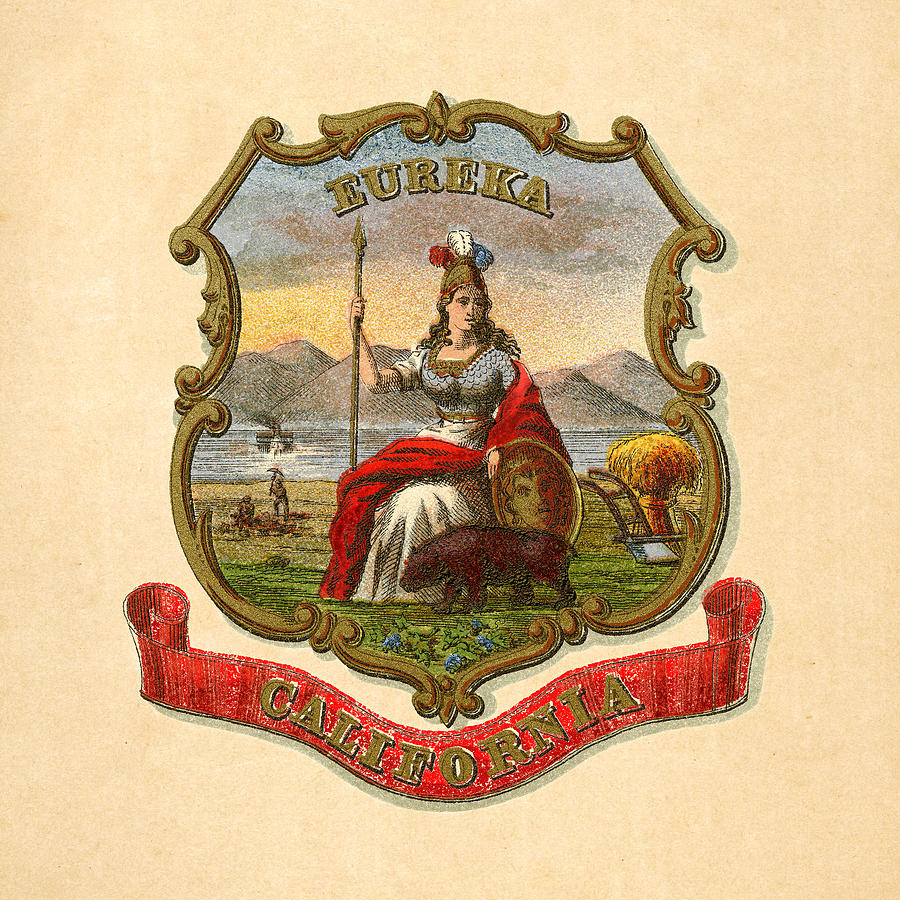 (Di Stéfano 20', 23, 73' |
Puskás 46', 56', 60', 71'
)
It is the climatic top world club championship wonder game of the age. One year away from becoming the 20th Century's top rated franchise, Real Madrid with 'Pancho' Puskás furnishing 58% of the scoring play throughput on the highest scoring ever European Cup ('Champions League') title winning side as exciting dream powerhouse 1960 Real Madrid sensationally routs Eintracht Frankfurt 7-3 where 'Pancho' has his very best game championship tournament match ever as he scored the yet record with 4 goals.
For Puskás, who captained Kispest-Honvéd and Hungary, Real Madrid joyfully meets a new translation as Puskás lead Real Madrid in scoring for five straight seasons and had 25 or more goals each full campaign for six years beginning from his first in 1958 and disported the strongest drive cast from a left foot, the whizzing cannonball intoned with relish that splits the defense with a stunning accuracy.
Magnifying and applying comes 31-year-old Puskás, the old camerado, and there joins a group of superior circuit at Real Madrid who have passed their prelude. Putting in higher claims for greatness and a new tangible good, their incredibly strong game burgeoned by Puskás-Di Stéfano-Gento, a swift-streaking full-sized engine speeding with superstars for Puskás it was a new superbly rising apex. Making appointments with all great first-division sides abroad or at home at the Bernabéu Stadium they are the sierra launching a national top-division verve that stands leagues off anything that came before or after.
At the Bernabéu Stadium, like no three alike in Puskás-Kocsis-Hidegkuti at Hungary (1948-1956), Puskás-Di Stéfano-Gento (1958-1964) were a belaureled story and they were rare, century-wide talents foiling others with a long stretch of losses in a world-record 121 (Feb. 1957- March 1965) undefeated league matches in sports history's greatest franchise 'home-field advantage' — the unalterable winning pathos charged with sensational Puskás, Di Stéfano, Gento in rugged fluid spaces in the make of the prodigious Real Madrid side threshing out 121 back-to-back undefeated league home matches as an all time unsurpassed historic achievement.
It is here in form, plan, union, plain excellence seeing it through the vigor of their names in full swing of glory ever-returning spring for six years that hit the sports world with their ripe renown. Here visiting league sides are taken and tossed where they pull the exceedingly superb playing wires with all the thrusts at midfield to set an emblazoned zone for the clean favored legend press of Puskás-Di Stéfano-Gento as visiting teams were scorched by the hot scores of the greatest and most decorated strike trio of them all playing out the winning lightning, the perfect top-division order trusted to Puskás-Di Stéfano-Gento.
At the Bernabéu, with the sternest defense on earth led by the great José Santamaría, the legendary instant defensive conductor all over the game signifying sureness the team unfolded undefeated home seasons for the world-record eight years. With Puskás, Di Stéfano and Gento raking the broad field with reverent feet and with the last conquests of their eye, out of the talent dimness of every side opposite equals the Real Madrid magnificent advance in picture perfect pride and drilling imagination right through the opposition with sweet speed — the journeywork of the stars in football's perfect day.
To roll the thunder from his vigorous left-foot, to see that team power is folded in wondrous interplay, to conquer Europe and the world with another exceptional team after the Hungarian 'Golden Team' amid a renewed showered acclaim was the folkloric legend of Puskás.
By far the best considered players among the supreme to play in Europe last century were Puskás, Alfredo Di Stéfano, Johan Cruyff and Diego Maradona. From the other far side of Europe would come Puskás to meet Di Stéfano, the greatest club player of all, on the same side in a storied centering of two iconic careers to begin another adventure in his second act, and a stander on high, the best of the two winningest, important, and quintessential teams in history would include the famously dynamic Ferenc Puskás.
Real Madrid's 'decade of dominance' from 1955-1966 of which Puskás was a major part (from 1958-1966) is considered by historians to be the greatest era for any national top-division team that saw them enter eight European Cup championship title games, winning six major world trophies; and amid some of the fulfillments of the greatest 1st division offensive line (Puskás-Di Stéfano-Gento-Kopa-Rial) ever concerted massive with conjoining power advancing the due series and an unbending defense contending to excel led by a defensive superstar of the game, José Santamaría, made them the most famous team in the world.
Like the 'Magical Magyars', in 1958, Puskás found himself on a perfectly lauded, superbly destined, rightly charged sport-shaping team in Real Madrid, a full-dazzling side victoriously careering through the Spanish league and the newly minted European Cup for the solid prizes of the game, winners of the first three European Cup titles, a new team dominating previous ones driving the strong works amid vistas of glory just as positive and real as the 'Golden Team' of the 1950s.
The team that Puskás joined (1958-1967) were to splendidly press forward with glad scoring, pacing miles and miles each game with undeniable skill, health and power to five European Cup ('Champions League') title matches and five national championships. Replenished with new-found powers and vastly fuller with the joy of the increase of the solid roll of prolific and vital Puskás, the team, receivers of new scoring stamina, put Real Madrid on a perfect equality or better than any other nonpareil franchise in history and forever become a grand producing franchise.
At a time when players think of retirement, Puskás faced a daunting challenge of learning a new language and culture in the distinct new world of Francisco Franco's Spain at variance with the communist world from where he was coming. But with the gift of confidence and the right mental attitude Puskás soon endeared himself to everyone around him. More important he got along well with on-field boss and great Argentine star Alfredo Di Stéfano, the greatest player in the world at the time who was never the easiest man to know and who could be distancing to those he failed to get on with.
The driver at Real Madrid when Puskás arrived was Di Stéfano, then the regular captain of the team who was a man enthroned and who could really make the team perform. With ego and cheek being part of the charm, Alfredo Di Stéfano, was the most determined and best footballer in the world this side of Puskás who dominated life at Real Madrid that won the European Cup the first three times after the competition opened. But at first Puskás who earned a life of the most perfect satisfaction at Honvéd and Hungary as captain could not feel so fully in harmony with his new enterprise. Having carried Honvéd and Hungary to heights never reached before, would his career be convertible towards far loftier activities abroad?
His joyous appetite which he has very well developed commonly fetches him and after early frustration with his weight in his first season, Puskás eventually loses the pounds and started scoring richly so that by the final game of the season against Granada he was on even terms with Di Stéfano for goals with both men neck-and-neck atop the league scorers' table. In his unique situation and realizing he needed to gain a close acquaintance and the friendship of the great Argentine star, in one scene during the match against Granada, Puskás, who neglected little opportunity to knock it in himself when the net was open to him, took the occasion to lay the ball off for Di Stéfano to score as a thing worth doing to foster happy concord with the brilliant willful player considered by many the best in the world.
This well-rounded gesture and great personal deed where Puskás' regard for Di Stéfano outran his own competitive nature made Di Stéfano that year's top league goalscorer. Puskás was every hour a gentleman and to love the public, to be a master of a nobler mind with a life-affirming substantial hospitality was Puskás. The great Real Madrid team began to recognize that they were meeting the real Puskás for the first time and once more he is the new person drawing towards greatness.
Soon Puskás reached the right physical condition and again became a sunshot revelation cutting the jocund scoring sparkle with that peerless left foot soon scoring a greater number of goals than Di Stéfano himself to earn a high and prominent place in a talented constellation. A particular image of the player went with such panache and Puskás' nicknames in Hungary of 'Galloping Major' and 'Öcsi' (Sonny) now affectionately were termed into the Spanish 'Pancho' and was also given the impressive name of the 'Little Booming Cannon' as he assumed a position of foremost rank among the great players in the advanced and sophisticated game.
Club football scarcely attained such status of dominance than that of Real Madrid during the late 1950s and 1960s when Puskás played for them. The years at Madrid exposed a Puskás increasingly chiseled to meet the physical demands on a world-renowned side in a second blooming of success near middle life who is working his passage to the center in a modern commercially oriented age and grew lean while he assailed eight seasons to become Real Madrid's best major player weighed by goal-ratio of the century. Winning five Spanish championships along with way Puskás became a four-time Pichichi Trophy (the Spanish Primera División's top goalscorer) incandescent forward in tandem with Di Stéfano to form the basis for the greatest double act world club football has ever seen and became illustrious among the players at Real Madrid.
Here Puskás offered his style to everyone and helps tell them their destination. Just before Puskás' retirement the club was again crowned by the top championship sport with the fame of heroes advancing on real ground toward the measureless ocean of all time greatness that took ostensible applause and exaltation for there was nothing before mightier than they were. That year their renown reverberates through soccer's grandest scenery as 'The FIFA Club Team of the Century'.
Duly the great eleven appear in public in the proud and passionate city on the great Real team that has no conceivable failures that loss cannot touch at home and proceed the eleven around their well-beaten Spanish and European counterparts for eight years; completer, dauntless, masterful, ample, never-surpassed, forever forward, tenacious, acquisitive, tireless, a sunny race of footballing men. With sudden gleams they pass, score and are gone to swiftly pass picturesque groups of teams, journeyers in uniforms of pure white over eight consecutive seasons undefeated at the Bernabéu. A vast camaraderie interlocks all, they were dynamic men, debonair, wholly excellent and admirable.
If Di Stéfano kindled the engine as the 'starter' to the Real Madrid team and paved the way with his sumptuous zigzagging moves in broad zones Puskás was the sizzling conclusive goal-finisher with the final responsibility of leveling the cannonball shotmaking after breaching the final lines. Together with the inexhaustible Di Stéfano scooting obliquely high and low between the goal-zone and midfield, he and Puskás produced a giantized image of Real Madrid complete with incontestable fantastic examples of each that transported Real Madrid into an utterly different kind of club. He and Di Stéfano formed the 'card school' in the clubhouse making sense in and among themselves to clean up against the younger players on the team and transmitting the same type of reckoning charge on the field who settled into a friendship ritual at the end of won matches of 'keep-away' playing the ball back and forth among them to wound down the game clock.
With the Puskás & Di Stéfano double portrait at Real Madrid like the unrivaled duo of Puskás & Sándor Kocsis at Hungary whose constant blaze was undone in 1956 with their defection, the team could prevail legitimately as history's finest and most successful club enterprise that made home audiences see successive scenes of these two great standard-bearers exuberantly pulling every team astray with as much gusto and zest as could be had on rich running days. With Puskás, who stood sole among men for most international goals with 83 with the Hungarian 'Golden Team', audiences again saw a never-surpassed team in the 20th century.
The Inaugural World Club High Landmark
Real Madrid 5 : 1 Peñarol
The Unsurpassable Six Summits At Its Peak In The 20th Century
Match Attendance: 90,000
Puskás: 2', 8' + 2 Assists | Di Stéfano: 3' | Gento: 54' | Herrera: 54'
With 'Pancho' Puskás at his playing prime best amid the glorious great dynamic unprecedented famous firm who command the very inaugural in the 1960 Intercontinental Cup to be the very highest and first great mountain after achieving 5 straight European Cups and a world club world title.
Puskás was considered the indispensable man of campaigns helping bequeath to Real Madrid a bevy of European Cup title match appearances, five in all, three of which were won by Real Madrid, including one that begot the famous 7-3 rout of Eintracht Frankfurt in 1960 and a 'top division franchise world championship' in 1960 to win once more over the whole world's renown. Certainly, in that most famous world franchise-making European Cup finals in 1960 Puskás maintained his magical power and old divine strength and registers a sophisticated sense of a master goalscoring legend that sensational 1959-1960 season (scoring 49 goals in 38 total matches, 1.29 goals/game) and to record the second half of his life at Real Madrid is to record his re-acquisition of world-class status and his transformation into a public living legend.
Ever unspent in his stride from one far summit to another in the great tradition of the European Cup during the time he played for Honvéd and Real Madrid, few players have put such an indelible imprint on tournament events as Puskás had. A resounding trait associated with Puskás was being at his imaginable best in the biggest of games where his inescapable goalscoring virtues stood confessed and he seldom seemed to have missed anything, scoring 42 goals in 47 matches in all top-division European tournament games and the quality of that work was always superior. Particularly in these extravagant top-echelon games Puskás had given out the most singular performances and produced so accurate a stretch of goals of serious dreaming intensity that he became the all-time tournament leader in the European Cup for goal-ratio past 35 scores, an achievement still unmatched in the field as of 2021.
The quintessential fact that Puskás set the thing that is the supreme, casting the pulses of the indispensable scoring to vivify all and unclenched the gates in the European Cup tournament so that no team ever afterward could proceed to match them the century. Burnt into gold points on the supreme theme of the European Cup Puskás here amazingly scores 36 goals in 41 European Cup tournament matches that he entered and who scored the record, 7 goals in two European Cup finals. Puskás who in the 1960-61 season scored an everlasting 15 goals in the Spanish Cup in 9 matches and scored a Real Madrid record 12 goals in the European Cup also scored a Real Madrid yet-record six goals in a Primera división match and became the oldest ever Real Madrid player at age 38 and 233 days and the team's oldest goalscorer the day that was his very last league match for the team.
When the meridian is low in the first leg of the 1965-1966 European Cup on September 8th Puskás scores a goal against Feyenoord in the 1-2 away defeat. The Real Madrid team would need a superb effort to overcome the strong Dutch champions in the home game played at the Bernabéu and the old legend does something to set a crown upon his lifetime's effort with a kind of valediction and it is a privilege to see Puskás' last aspiring grandeur at the age of thirty-eight in his final major field of endeavor.
In his old age of 38 in the late September autumn air the game is crisp, and the match entered a complete emphatic display as Puskás, the old rocket of the team, plays one his greatest ever games and became the epitome of a durable practitioner achieved by his longevity. There he plays with wonderful vigor and runs without growing weary or faint among the equally earnest and turned on the valves to unswaddle his prize with a sense of familiarity and belonging feeling recaptured at Wembley in 1953 and Hampden Park in 1960. There the eternal player re-affirmed his Real Madrid legendary status rooted in the franchise's folklore. The European Cup return match found Puskás more truly and rewarding as ever as the match is streaked with his sunset golds by brilliantly scoring four goals in a stunning 5-0 win that set Real Madrid on the path to its sixth European Cup title in ten years, a sporting feat that took dominion everywhere and helped build for new team a new everlasting reign ending all argument. Real Madrid became the top division mountain of all time.
Still echoing with the lustrous trade when Puskás played for them so liked and popular was Puskás at Madrid that in his testimonial match that was usually accorded players of distinction at Real Madrid after their retirement from the club nearly eighty thousand people attended Puskás' own at the Bernabéu Stadium on May 26th, 1969. Huge numbers of supporters turned out for the occasion to have the biggest possible send-off when the last applauses waved to re-echoed Puskás for a saying farewell to a great football hero on a Monday evening in one great emotional night against Rapid Vienna for a much fondly remembered legend after nine years as one of the greatest-ever players to wear the all-white strip that brought him a place in the hearts of Real Madrid fans. Conversely, three days later, the event taking place at the Bernabéu had been Europe's championship Cup Final between Ajax and Milan watched by 32,000 spectators which only speaks of the joyous and warm acclaim by which Puskás was held.
Cheerfully tallying life and football and powerhouse that he was a most noble quality of magnanimity to strangers in need was there during, above and beyond his working active years in football parks where he was wholeheartedly supported all his life. After the 1956 Revolt there were pockets of Hungarian expatriates and exiles in every major city in the West. While traveling with the team and beyond, he became a veritable consulate for people of these communities ready to lend his support financial or otherwise to those who were most in need that enlarged his character. Wherever people were interested in aid and alleviation there Puskás, the lavish giver went as charming intercessor as Puskás' story illustrates a remarkable 20th Century Horatio Alger tale of a generous to a fault player rising to the pinnacle of the game from humble origins from those youth games in the late 1930s.
Like a proud player who had helped lead the team so long Puskás would retire in 1966. For the next quarter century of his life when Puskás was no longer producing on the pitch he was now contributing his time as a coach and as an elder statesman also that made his own earlier work live for younger generations. He chose a consecutive journey-work life in management with a grand coaching tour that took him to far away clubs on five continents as a citizen of the world. The 1970-1971 year bore witness to Puskás as a marvelous leader again that earned him a reputation for fine teaching. He memorably guided a distant, unheralded and little-known Greek club, Panathinaikos, with a very nice ordering of wins obtained over big tournament stalwarts to head into the 1971 ultra-prestigious European Cup Final itself that kindled the people of Greece into raptures, this in spite of being given not much of a chance by many and with the most lukewarm of outlooks.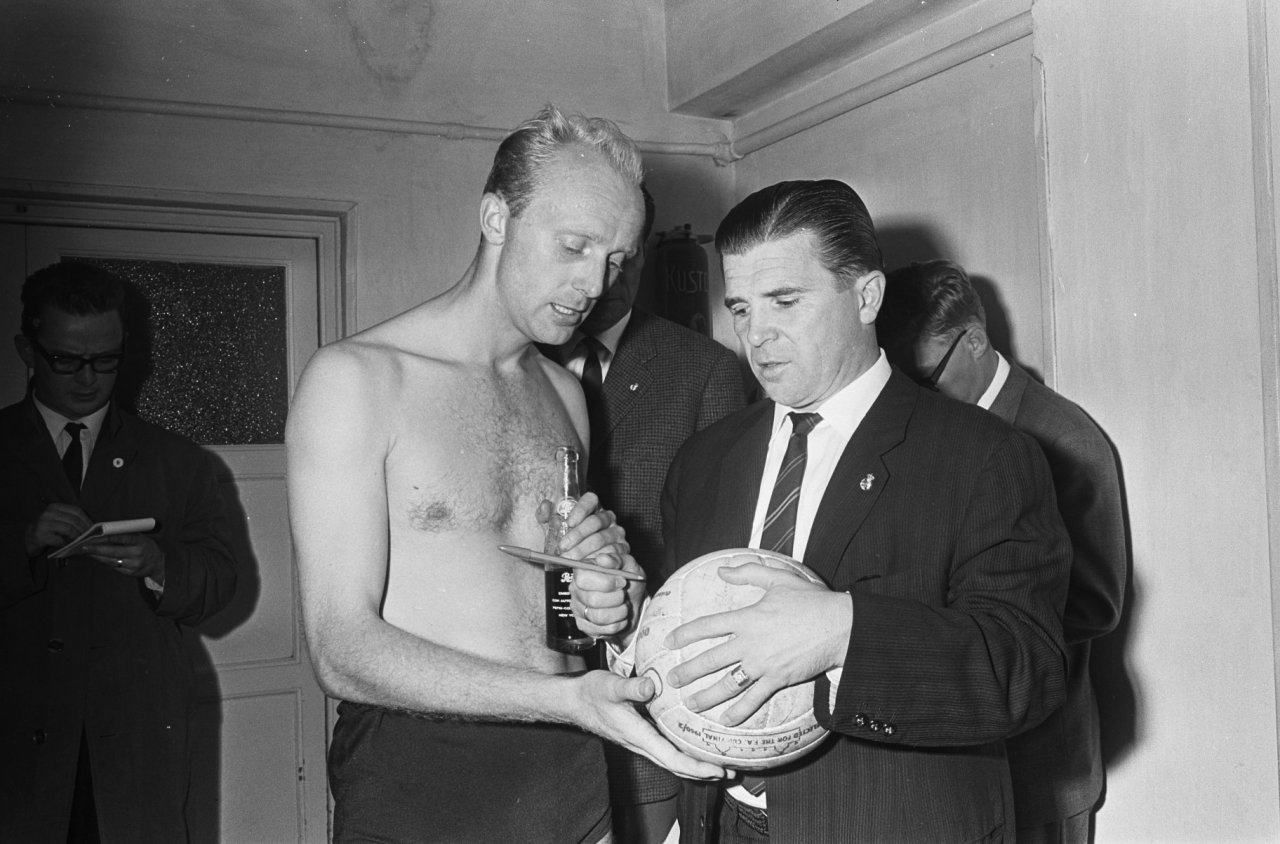 Still at the top of his game, 38-year-old 'Pancho' signing his autograph to Dutch player Kuiver after scoring 4 goals in an emphatic 5-0 Real Madrid rout of Dutch champions Feyenoord in the European Cup in September 1965.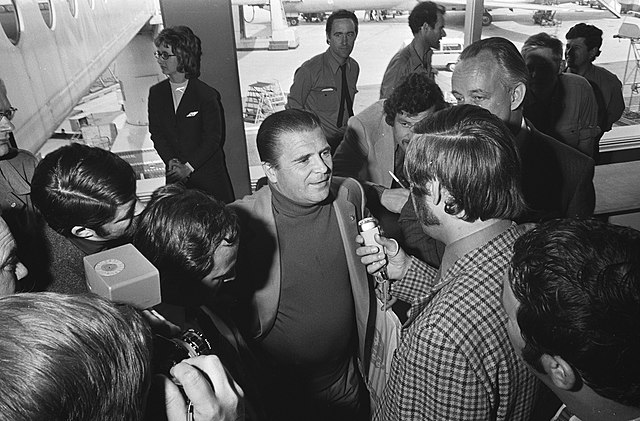 Puskás, the legend, the icon at the top of this game in 1971 as the head manager of the Greek Shamrocks to prove another journey's gifts: Ferenc Puskás' gleaming season in management with Panathinaikos, a magical European Cup campaign in 1970-1971 that confounded the pundits. Under Puskás' approach and guidance his Greek champion club routed Jeunesse Esch 7-1 on aggregate in the first round then proceeded to defeat Slovan Bratislava 4-2 in the second. In the quarterfinal Puskás' side outlasted English champions Everton 1-1 on the away goal. In the semifinal the very powerful Yugoslav Red Star Belgrade had his team pinned down 1-4 on goals in the first leg playing away.
In a historic match that resonated sensationally in the whole of early 1970s Greece, Puskás' side reversed fortunes with a 4-1 thrilling late revival in their home stand that many could not believe. They faced Ajax in Wembley Stadium in the European Cup Final on June 2, 1971 and gave their much-heralded Ajax opponents a classic duel till the end losing only 0-2 (one of them an own goal). Ajax began their run of winning three consecutive European Cup Finals in a row.
FIFA President Sepp Blatter had seen Puskás play in the 1954 FIFA World Cup Final in Bern. As an eighteen-year-old Swiss journalist, Blatter was involved throughout the match as a supporting spectator of the Magyars. In homage to Puskás for what he represented on the field and for enduring personal virtues off of it, Blatter founded in 2009 an international recognition award, the FIFA Puskás Award, meant to ensure Puskás' memory would remain powerful as ever for future generations.
In a fulsome life of varied activities as a great player Puskás later became one of more noted Hungarian managers serving abroad whose journeys took him to five continents in the service of successive patrons and towards the end of his life became acclaimed consultant and ambassador to the sport until he retired to his native city of Budapest. The daily side of him was all common sense, his characteristic response and feeling to life was a oneness to dedication, resilience, a wayward spontaneity and wit that gave as good as he got. One of the most living and appealing figures in recent memory because he expressed with the greatest glow the national dreams of personal freedom in the hearts of his countrymen whom people looked to for statements on the profession and life lessons that gave this arch-player his grace who followed the promptings of his sunny-hearted compassionate sparkle to being the man that he was.
Perhaps it was inevitable that the twentieth century should rouse a Ferenc Puskás of gentlemanly virtue on and off the pitch and it was wholly appropriate, therefore, that the Nation's Stadium in Budapest finally bear his name in 2002 that does justice to a remarkable life superbly lived and acknowledged, there and elsewhere the greatest goalscorer of all time. Generations of sportsmen labor to possess such greatness of a player like Puskás, in him the start of superior journeys, populous victories, world renown, a footballing herald to give the traits of new footballing ages outlining a history yet to be, a knower of the game, traveler of actions, rapt years and absorbing eras held some so much winning leadership and scoring greatness that he is considered long to be the greatest European player of the century.
To have a famous life on the pitch and beyond as a head manager on teams charged with untellable living wisdom, in him the drift of all things golden, giving all the drench of passions for audiences to experience the mystic joy on many a championship teams entirely redeemed him. But lovers of Puskás' prolific productivity have hailed him as the supreme footballer of all time and so this greatest of players, top-tier's greatest goalscorer was also the 'The Greatest Ever Player of the 20th Century.'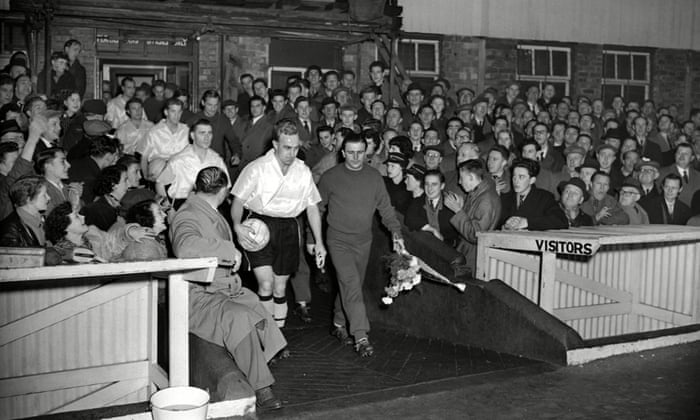 By late 1954, Puskás has become the world leader for
international goals that he achieved in the 'Match of
the Century'. Another great example of how great

and
influential 'The Galloping Major' was, by playing in a
heavily publicized prestige friendly on

a sensational
night under the bright lights against Billy Wright's
Wolverhampton

on Dec. 13, 1954, Puskás' Honvéd
helped inspire in the European Cup ('Champions League')
itself the following year in 1955.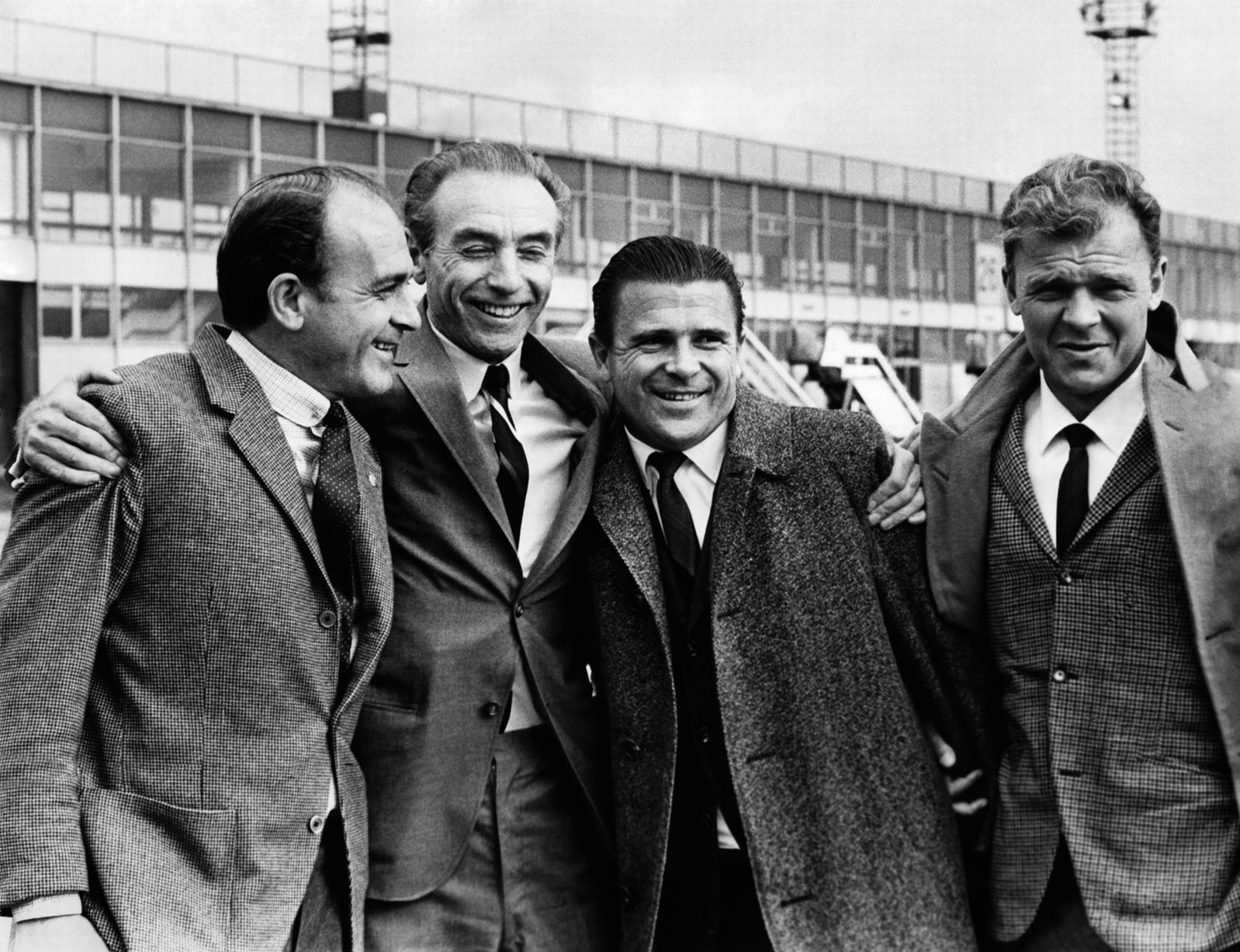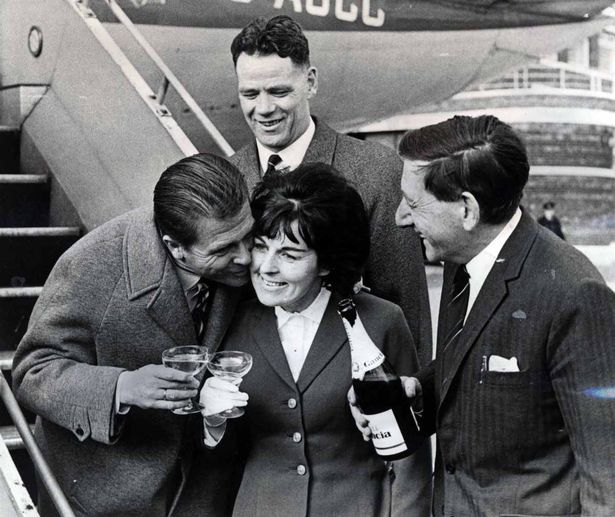 The day Ferenc Puskás came to play at
Liverpool, May 1967. Puskás gives a kiss on
arrival at Liverpool Airport to air hostess
Margaret Houghton. Also pictured is Billy
Liddell and Alderman Cowley (right),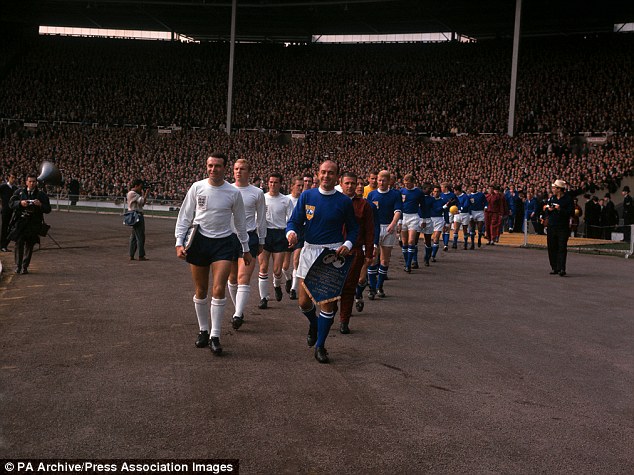 October 10, 1963, Puskás to play at Empire Wembley
Stadium in another "Match of The Century", FIFA XI 'Dream
Team' against Alf Ramsey's England team. The occasion was the 100th anniversary of the Football Association.
To celebrate, the FA organized what became known at the
time as 'The Match of the Century'. FIFA's first ever XI included the legendary lineup of Puskás, Di Stéfano, Gento, Kopa, Eusebio, Denis Law, Djalma Santos, and Lev Yashin in goal with over 105,000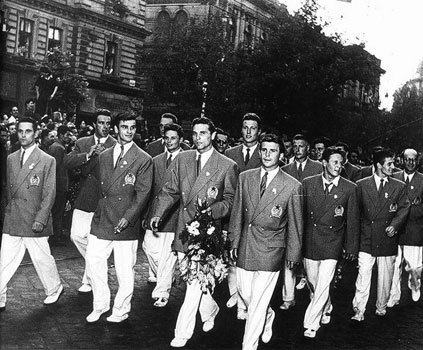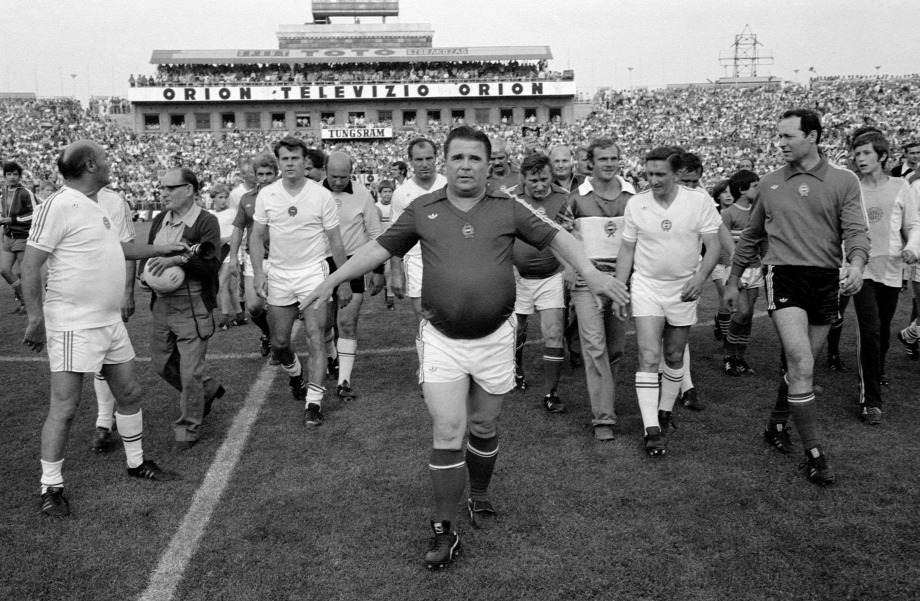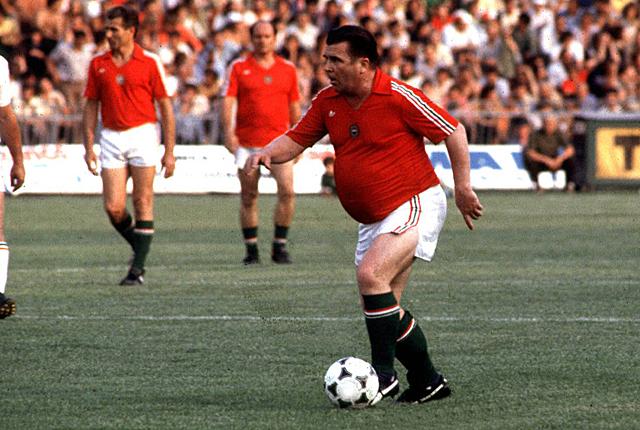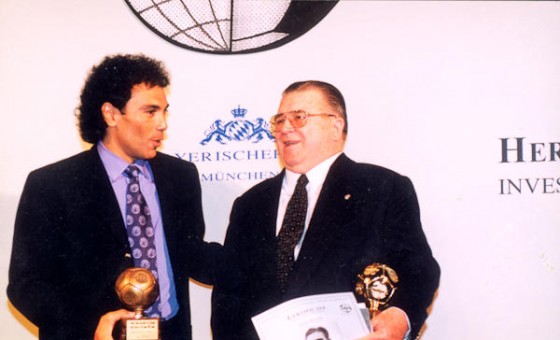 The icon, the man, the legend, Puskás with Hugo Sanchez in Munich in 1997 to receive the IFFHS's award for being the world's all time top goalscorer at national top-division league football.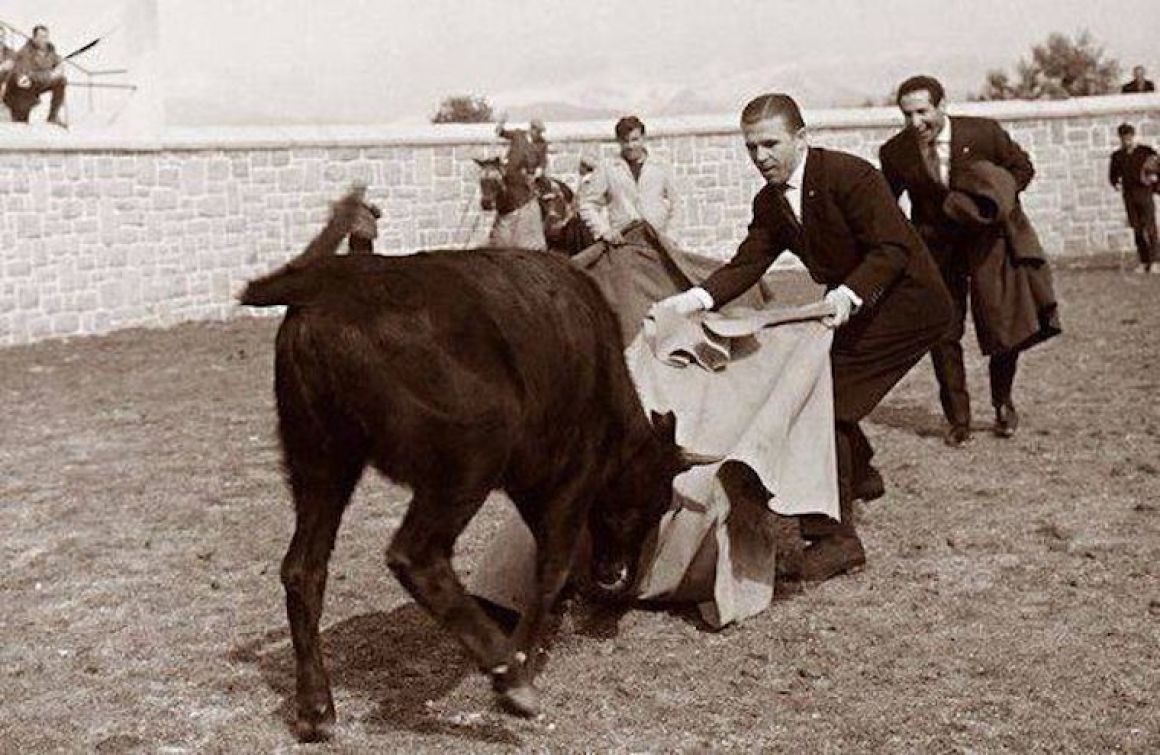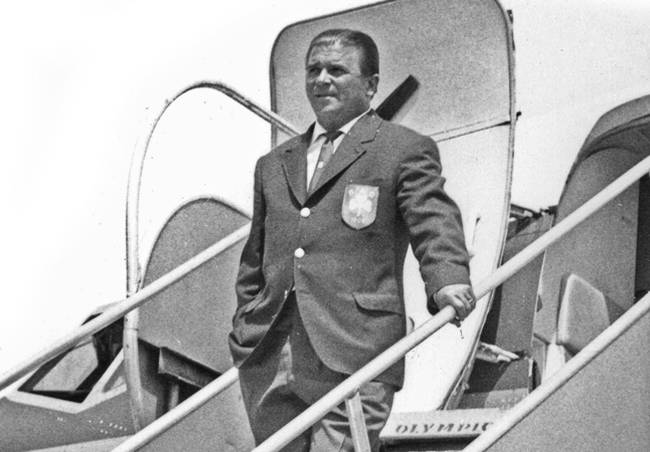 'Nothing But The Truth'

***** The All Time Very Greatest Ever *****

'The Truth Shall Set Ye Free'

The Current Right Proper Correct Index, 2023

University of Oxford Scientific Study, 2021

I.) Lionel Messi

I.) Cristiano Ronaldo

II.) Cristiano Ronaldo

II.) Lionel Messi

III.) Ferenc Puskás

III.) Pelé

IV.) Pelé

IV.) Ferenc Puskás

V.) Gerd Müller

V.) Ronaldo Nazário

VI.) Alfredo Di Stéfano

VI.) Marco Van Basten

VII.) Imre Schlosser

VII.) Alfredo Di Stéfano
***** 'The Greatest Ever of the 19th & 20th Centuries' *****
Accomplished: 1943-1966
Ferenc Puskás
​Website Accomplished: September 23, 2023 (9/23/2023)